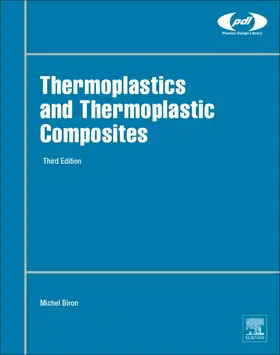 Biron
Thermoplastics and Thermoplastic Composites
---
Buch, Englisch, Reihe:
Plastics Design Library
1164 Seiten, Gebunden, Format (B × H): 221 mm x 282 mm, Gewicht: 3414 g
Vorauflage:
Thermoplastics and Thermoplastic Composites, 2. Auflage 2012, 978-1-4557-7898-0
---
---
---
---
---
---
---
Thermoplastics and Thermoplastic Composites, Third Edition bridges the technology and business aspects of thermoplastics, providing a guide designed to help engineers working in real-world industrial settings. The author explores the criteria for material selection, provides a detailed guide to each family of thermoplastics, and explains the various processing options for each material type. More than 30 families of thermoplastics are described with information on their advantages and drawbacks, special grades, prices, transformation processes, applications, thermal behavior, technological properties (tenacity, friction, dimensional stability), durability (ageing, creep, fatigue), chemical and fire behavior, electrical properties, and joining possibilities.

In this third edition, standards and costs have been updated for all materials, and more information on topics such as bioplastics, 3D printing and recycling have been added. In addition, an entirely new chapter on the concept of 'Industry 4.0' has been added, with guidance and suggestions on the incorporation of virtualization, connectivity, and automation into the plastics engineering process to reduce materials and processing failure.



- Includes detailed case studies that illustrate best practices across a wide range of applications and industry sectors
- Presents a new chapter on the 'Industry 4.0' concept
- Suggests software solutions to assist with design, decision-making and management, along with other forms of automation
Autoren


Biron, Michel
Michel Biron is a plastics consultant based in Les Ulis, France, and is a Graduate Chemist Engineer from the Institut National Supérieur de Chimie Industrielle
de Rouen and Polymer Specialist from the Institut Français du Caoutchouc. He has authored numerous technical papers and books on plastics.


1. Outline of the Actual Situation of Plastics Compared to Conventional Materials
2. The Plastics Industry: Economic Overview
3. Basic Criteria for the Selection of Thermoplastics
4. Detailed Accounts of Thermoplastic Resins
5. Thermoplastic Processing
6. Thermoplastic Composites
7. Plastics Solutions for Practical Problems
8. Plastics Rush Into Digitalization Through Industry 4.0
9. Future Prospects for Thermoplastics and Thermoplastic Composites
<p>Engineers involved in the design, manufacturing and use of thermoplastic and composite products; equipment manufacturers. Sectors: automotive, aerospace, ship-building, industrial and military equipment, electrical engineering, offshore, sports and leisure, medical devices, consumer goods and packaging</p>