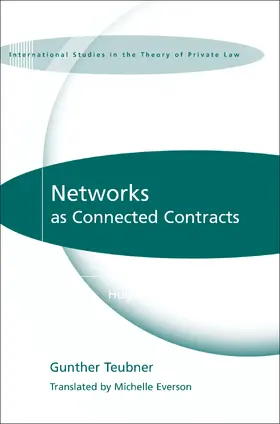 Collins / Teubner
Networks as Connected Contracts
Edited with an Introduction by Hugh Collins
1. Auflage 2011
ISBN: 978-1-84946-174-0
Verlag: Hart Publishing
Seite exportieren
---
(inkl. MwSt.)
versandkostenfreie Lieferung
Lieferfrist: bis zu 10 Tage
---
---
---
---
---
---
Business networks consist of several independent businesses that enter into interrelated contracts, conferring on the parties many of the benefits of co-ordination achieved through vertical integration in a single firm, without creating a single integrated business such as a corporation or partnership. Retail franchises are one such example of a network, but the most common instance is a credit card transaction between a customer, retailer, and the issuer of the card. How should the law analyse this hybrid economic phenomenon? It is neither exactly a market relationship - because that overlooks the co-ordination, relational qualities and interdependence of the contracts - nor is it a type of business association or company, since it lacks a centralised co-ordinating authority that receives the residual profits.

This book is a translation of Gunther Teubner's classic work on networks, setting out his novel legal concept of 'connected contracts'. In it he explains how this concept addresses the problems posed by networks, such as the question whether the network as a whole can be held legally responsible for damage that it causes to third parties such as customers. A substantial introduction by Hugh Collins explains the analysis of networks in the context of German law and the systems theory from which Teubner approaches the topic. The introduction also explores how far the concept of connected contracts might assist in the common law world, including the UK and the USA, to address the same problems that arise in cases involving networks. As well as making a contribution to comparative law and legal theory, the book will be of interest to scholars interested in contract law, commercial law and the law of business associations.
Autoren

Herausgeber


Teubner, Gunther
Hugh Collins is Professor of English Law at the London School of Economics.
Gunther Teubner is Professor of Law and Principal Investigator at the Cluster of Excellence "Formation of Normative Orders", Goethe University Frankfurt am Main and Distinguished Professor at the International University College, Torino.


Introduction to Networks as Connected Contracts by Hugh Collins
1 Between Market and Organisation
2 The Inadequacy of Legal Conceptions of Networks
3 Sociological Jurisprudence
4 The Distinctive Properties of Networks
5 The Challenge of Comparative Sociological Jurisprudence
6 The Concept of Connected Contracts
7 Network Effects on Interpretation of Bilateral Contracts
8 Internal Network Liability
9 External Network Liability
10 Conclusion
Introduction: The Aims of Legal Analysis of Networks
Chapter 1
The Network Revolution: New Risks – Unsolved Legal Issues
I. Two 'Irritating' Legal Cases
II. Appropriate Doctrinal Responses?
III. Legally Relevant Networks
IV. The New Economic Relevance of Pre-modern Networks
V. Forms of Network and their Regulatory Problems
VI. Specific Risks of Networks
Chapter 2
Socio-economic Analyses and Legal Characterisation
I. Market Regime: Networks as Contracts?
II. Organisational Regime: Networks as Business Associations?
III. Hybrid Regimes: Networks as Institutionalised Contradictions?
IV. Communitarian Regime: Networks as 'Communities'?
V. Mixed Regime: Networks as a Type of Mixed Contract?
VI. Polycorporate Regime: Networks as Corporate Groups?
VII. Idiosyncratic Regime: 'Network Contract' as a New Legal Concept?
Chapter 3
Networks as Connected Contracts
I. Generalisation of Connected Contracts and their Re-specification for Networks
II. Structural and Functional Equivalances
III. A Productive 'Unsustainable' Contradiction
IV. The Legal Construct of Reality: the Dual Constitution as Contract and Association
V. Legal Consequences: Selective Attribution to Contractual Partners and to the Network
VI. Legal Problems of Institutionalised Networking
Chapter 4
The Effects of Networks on Bilateral Contracts
I. Differentiated Discounts
II. Structural Contradiction: Bilateral Exchange versus Multilateral Connectivity
III. The Purpose of the Network as the Yardstick for Duties of Loyalty
IV. Selected Duties of Loyalty toward the Network
V. Profit Sharing?
VI. Risk Distribution? Network Purpose and the Judicial Review of Standard Form Contracts
Chapter 5
Piercing Liability Within the Network: The Special Relationship between Members of the Network who Are Not Contractual Partners
I. Free Riding in the Network
II. Structural Contradiction: Competition versus Co-operation
III. Piercing Within the Network?
IV. Piercing Liability within Parallel Contracts
V. Extra-Contractual Duties of Loyalty
VI. Protective Obligations, Performance Obligations, Promotion Obligations
VII. Analogies to Company Law: Derivative Action within the Contractual Network?
VIII. Hierarchical Multilateral Network
Chapter 6
External Liability of Networks: Expanding the Range of Responsibility
I. Franchising in Services: 'Organised Irresponsibility'
II. Structural Contradiction: Unitas Multiplex
III. External Liability of Networks
IV. Decentralised Network Liability
V. Selected Constellations of Liability
versandkostenfreie Lieferung
---
87,24 €

(inkl. MwSt.)
Lieferfrist: bis zu 10 Tage
Aufgrund der Corona-Krise kann es in Einzelfällen zu deutlich längeren Lieferzeiten kommen.
---
Webcode: sack.de/dla6y
Bitte ändern Sie das Passwort