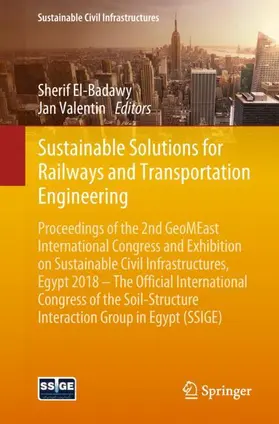 El-Badawy / Valentin
Sustainable Solutions for Railways and Transportation Engineering
Proceedings of the 2nd GeoMEast International Congress and Exhibition on Sustainable Civil Infrastructures, Egypt 2018 - The Official International Congress of the Soil-Structure Interaction Group in Egypt (SSIGE)
1. Auflage 2019
ISBN: 978-3-030-01910-5
Verlag: Springer, Berlin
Seite exportieren
Proceedings of the 2nd GeoMEast International Congress and Exhibition on Sustainable Civil Infrastructures, Egypt 2018 - The Official International Congress of the Soil-Structure Interaction Group in Egypt (SSIGE)
1. Auflage 2019, 162 Seiten, Kartoniert, Book, Format (B × H): 156 mm x 234 mm, Gewicht: 278 g Reihe: Sustainable Civil Infrastructures
ISBN: 978-3-030-01910-5
Verlag: Springer, Berlin
Seite exportieren
---
(inkl. MwSt.)
versandkostenfreie Lieferung
sofort versandfertig, Lieferfrist: 1-3 Werktage
---
---
---
---
---
---
---
This volume brings together scientific experts in different areas that contribute to the railway track and transportation engineering challenges, evaluate the state-of-the-art, identify the shortcomings and opportunities for research and promote the interaction with the industry. In particular, scientific topics that are addressed in this volume include railway ballasted track degradation/settlement problems and stabilization/reinforcement technologies, switches and crossings and related derailments causes, train-induced vibrations and mitigation measures, operations, management and performance of ground transportation, and traffic congestion and safety procedures. The volume is based on the best contributions to the 2nd GeoMEast International Congress and Exhibition on Sustainable Civil Infrastructures, Egypt 2018 – The official international congress of the Soil-Structure Interaction Group in Egypt (SSIGE).
Herausgeber


El-Badawy, Sherif
Sherif El-Badawy is associate professor at Mansoura University, Egypt. He serves as the director of Highway and Airport Engineering Laboratory, Director of the Center of Scientific, Experimental, and Technical Services, Mansoura University. He received a BSc degree with honor in Civil Engineering and MSc from Mansoura University, Egypt. Dr. El-Badawy pursued his PhD Degree at Arizona State University (ASU), USA in 2006. He worked as a Postdoctoral Research Associate at ASU from June 2006 until July 2007 and as a Research Fellow at University of Idaho from December 2009 until January 2012. He has more than 20 years of experience in pavement structural analysis, design and characterization. Dr. El-Badawy has participated in several state and national projects during his employment in the US. He was one of the team members under Professor Witczak in the NCHRP 1-37A and 1-40D Projects which focused on the development of the Mechanistic-Empirical Pavement Design Guide (MEPDG). He serves as a TRB Committee Member on Flexible Pavement Design (AFD60) since April, 2012. He is an elected board member of the Middle East Society of Asphalt Technologists (MESAT), a member of the International Geosynthetic Society (IGS), Transportation and Traffic Society (TTS), International Association of Computer Science and Information Technology (IACSIT), and Chi-Epsilon Honor Society. He developed and taught many undergraduate and postgraduate course in USA and Egypt. His research interest focuses on pavement material characterization and modeling, Mechanistic-Empirical pavement design methods, and traffic characteristics. Dr. EL-Badawy was the Chief Editor of the ASCE GPS "Innovative Technologies for Severe Weathers and Climate Changes". Through research and graduate advising, he published more than 70 technical publications and reports.
Jan Valentin, Ph.D.: Active in the civil engineering (focus on pavement and road engineering) form more than 15 years. Since 2004 employed by Faculty of Civil Engineering, Czech Technical University in Prague. Presently deputy head of the Department of Road Structures and senior researcher. Part time also working as a specialist for the international company HOCHTIEF. He got his Ph.D. from CTU in Prague focusing on cold recycling performance characterization in 2009.

His main areas of research and scientific interest are: recycling, warm mix asphalts, modification of bitumen incl. rubber, performance testing of bitumen and asphalt mixtures focusing actually mainly on deformation behavior. He is further interested in PPP schemes and in introducing digitalization to the road construction industry in the Czech Republic.
Jan represent Czech Republic in the HSE committee of European Asphalt Pavements Association, he is a member of IASS and member of some TC within RILEM.


Estimation of railway track longitudinal profile using vehicle-based inertial measurements.- Soil reinforcement using recycled plastic waste for sustainable pavements.- Overview of soil stabilization methods in road construction.- Sustainability of the ballasted track - a comprehensive review on reducing the use of mineral aggregates and the role of sub-ballast as a protective layer.- Impact of climate change on traffic controls in developing countries.- Reaction behavior of drivers to road markings: case study of main south road lesotho - n8 road south africa.- Resilient characteristics of asphalt stabilized soil.- Analytical study of headway time distribution on congested arterial: a case study palestine road in baghdad city.- Attenuation effect of material damping on impact vibration responses of railway concrete sleepers.- Peridynamic modeling of rail squats.- Influence of oil palm shell (ops) on the compaction behavior and strength improvement of soil-ops composites: a pilot study.- Multi-modal transportation system using multi-functional road interchanges.- Deformation behavior for different layered cushion material after freeze-thaw cycles.- Detecting of mud pumping using tubing-floater device.
versandkostenfreie Lieferung
---
149,79 €

(inkl. MwSt.)
sofort versandfertig, Lieferfrist: 1-3 Werktage
---
Webcode: sack.de/y1vbv
Bitte ändern Sie das Passwort