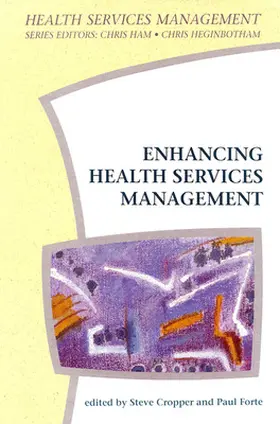 Enhancing Health Services Management
Erscheinungsjahr 1997
ISBN: 978-0-335-19634-0
Verlag: McGraw-Hill Education
Seite exportieren
---
Buch, Englisch,
0 Seiten, Kartoniert, Format (B × H): 155 mm x 229 mm, Gewicht: 449 g
Erscheinungsjahr 1997, 0 Seiten, Kartoniert, Format (B × H): 155 mm x 229 mm, Gewicht: 449 g
ISBN: 978-0-335-19634-0
Verlag: McGraw-Hill Education
Seite exportieren
---
(inkl. MwSt.)
versandkostenfreie Lieferung
Lieferfrist: bis zu 10 Tage
---
---
---
---
---
---
"It is a pleasure to strongly recommend this book to all health service managers, professionals and students interested in the concepts of decision support systems and their application." - Duncan Boldy, Professor of Health Policy and Management, Curtin University of Technology, Western Austraila

* What are decision support systems?
* How can they enhance decision making in health services management?
* Where are there examples of decision support systems working in the field?

This book has been written for practitioners and students of health services planning and management. It will also appeal to information specialists interested in developing means of supporting health service managers. It focuses on a critical area for management - enhancing the decision making process.

Both the quality of decisions and the manner of decision making reflect the ability of managers to recognize and address the complexities of health services management tasks and to balance differing demands. These include pressures for efficiency in use of resources, calls for improved quality and effectiveness in meeting objectives, and a concern to increase openness and accountability.

In fifteen chapters, this comprehensive volume introduces computer-based decision support systems - frameworks, methods and techniques - which provide help in defining problems, what information is needed and how it can be most usefully analysed to support decision making. Use of such systems can enhance decision making in the health service by promoting careful analysis, considered judgement and the ability to explain the basis on which decisions are made. Case studies of the development and use of these systems illustrate how decision making in the National Health Service can be enhanced in strategic and operational service planning and in the management of organizations.

Features:

* First comprehensive text on decision support systems in NHS management
* Non-technical account of computer-based systems written for managers & planners
* Detailed case-studies of DSS applications cover a variety of health management tasks
Autoren



Steve Cropper is Senior Lecturer at the Centre for Health Planning and Management, Keele University. Previously he was Senior Research Fellow in the Department of Management Science, Strathclyde University. He is Director of the MBA (Health Executive) and also teaches on management programmes for doctors and clinical managers. His research is into aspects of organizational performance, including inter-organizational collaboration, strategic management, doctors in management and decision support.

Paul Forte has a part-time appointment as lecturer in the Centre for Health Planning and Management, Keele University, and is an independent health planning and management consultant. Previously he was six years with the Department of Health Operational Research Service, and four years in health services research at the University of Leeds. His research and project work has had a focus on decision support systems development and application throughout this period.


Foreword
Preface
Part 1: Context and definition
The context of decision making in the NHS
The nature of decision support systems
Part 11: Strategic service planning
Spatial decision support systems for health care planning
Improving the balance of elderly care services
Activity and capacity planning in an acute hospital
Capital investment appraisal in the NHS
Part 111: Operational service planning and management
Decision support in primary care
The MaTS maternity staffing model
A decision support system for planning continuity of midwifery services
Queue management
what has a DSS approach to offer to improve the running of outpatient clinics?
Decision support systems in neurosciences measurement and analysis of clinical activity
Part 1V: Policy and organizational learning
A management flight simulator for community care
Decision support in objective setting, monitoring and review
Part V: Future prospects for DSS
Future prospects
issues, informatics and methodologies
Conclusions
Index.
versandkostenfreie Lieferung
---
43,00 €

(inkl. MwSt.)
Lieferfrist: bis zu 10 Tage
Aufgrund der Corona-Krise kann es in Einzelfällen zu deutlich längeren Lieferzeiten kommen.
---
Webcode: sack.de/j4njy
Bitte ändern Sie das Passwort