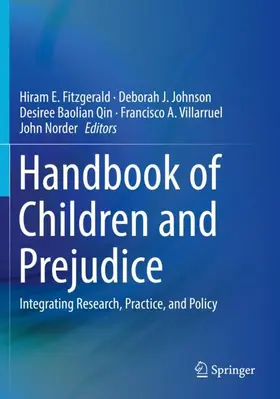 Fitzgerald / Johnson / Qin
Handbook of Children and Prejudice
Integrating Research, Practice, and Policy
1. Auflage 2019
ISBN: 978-3-030-12230-0
Verlag: Springer, Berlin
Seite exportieren
---
Buch, Englisch,
633 Seiten, Kartoniert, Paperback, Format (B × H): 181 mm x 37 mm, Gewicht: 1267 g
Erhältlich auch als
Integrating Research, Practice, and Policy
1. Auflage 2019, 633 Seiten, Kartoniert, Paperback, Format (B × H): 181 mm x 37 mm, Gewicht: 1267 g
ISBN: 978-3-030-12230-0
Verlag: Springer, Berlin
Seite exportieren
---
(inkl. MwSt.)
versandkostenfreie Lieferung
Lieferfrist: bis zu 10 Tage
---
---
---
---
---
---
---
This handbook examines the effects and influences on child and youth development of prejudice, discrimination, and inequity as well as other critical contexts, including implicit bias, explicit racism, post immigration processes, social policies, parenting and media influences. It traces the impact of bias and discrimination on children, from infancy through emerging adulthood with implications for later years. The handbook explores ways in which the expanding social, economic, and racial inequities in society are linked to increases in negative outcomes for children through exposure to adverse childhood experiences (ACEs). Chapters examine a range of ACEs – low income, separation/divorce, family substance abuse and mental illness, exposure to neighborhood and/or domestic violence, parental incarceration, immigration and displacement, and parent loss through death. Chapters also discuss discrimination and prejudice within the adverse experiences of African American, Asian American, European American, Latino, Native American, Arab American, and Sikh as well as LGBTQ youth and non-binary children. Additionally, the handbook elevates dynamic aspects of resilience, adjustment, and the daily triumphs of children and youth faced with issues related to prejudice and differential treatment.

Topics featured in the Handbook include:

- The intergenerational transmission of protective parent responses to historical trauma.

- The emotional impact of the acting-white accusation.

- DREAMers and their experience growing up undocumented in the USA.

- Online racial discrimination and its relation to mental health and academic outcomes.

- Teaching strategies for preventing bigoted behavior in class.

- Emerging areas such as sociopolitical issues, gender prejudice, and dating violence.

The Handbook of Children and Prejudice is a must-have resource for researchers, graduate students, clinicians, therapists, and other professionals in clinical child and school psychology, social work, public health, developmental psychology, pediatrics, family studies, juvenile justice, child and adolescent psychiatry, and educational psychology.
Herausgeber


Fitzgerald, Hiram E.
Hiram E Fitzgerald, Ph.D is University Distinguished Professor in the Department of Psychology at Michigan State University.  His major areas of research include the study of infant and family development in community contexts, the impact of fathers on early child development, 0-5 age boys and risk, the etiology of alcoholism, and implementation of systemic community models of organizational process and change.  He is a member of the Native Children's Research Exchange, the Tribal Research Center for American Indian/Alaska Native Early Childhood Education,  the national advisory board for the University of Nebraska Buffett Early Childhood Institute, and the external advisory board for the Oklahoma State University Center for Integrative Research on Childhood Adversity.  He is a Fellow of the Association of Psychological Science, and of five Divisions of the American Psychological Association.   Deborah J. Johnson, Ph.D. is professor of Human Development and Family Studies and is also Director of the Diversity Research Network, a faculty serving entity under the auspices of Michigan State University's Office for Inclusion and Intercultural Initiatives. Her research explores racially and culturally related development, parental racial socialization and coping, cultural adjustment from early childhood through emerging adulthood, in both domestic and international children and youth. Current work focuses on the influence of early bias preparation and coping at the intersection of gender and race among African American and Latina College women, and the impact on their well-being and school performance. Recent books, address the global rights of children and private/charter school experiences of African American children. Additionally, she studies cultural adjustment and identity development among unaccompanied Sudanese refugee minors and majors, and in international settings. Further  explorations emphasize positive youth development and identity reformation of immigrant and refugee groups. John Norder, Ph.D. (Spirit Lake and Turtle Mountain) is the Director of the Michigan State University Native American Institute, and an Associate Professor in Anthropology. His research and teaching interests include: Native American and First Nations archaeology, ethnohistory and anthropology, particularly in the Great Lakes region of North America. Current and ongoing work has focused on the ways in which traditional Indigenous knowledge is used as a tool of mediation between issues of identity, cultural and natural resource heritages, and economic development in the context of local and state level political negotiations.Desiree Baolian Qin, Ed.D.,  is Associate Professor of Human Development and Family Studies at Michigan State University. Her research, funded by the William T Grant Foundation and the Spencer Foundation, focuses on understanding how immigration, culture, gender, and ecological contexts, especially family, impact adolescent and emerging adult development. Drawing on mostly mixed-method, longitudinal data, He er research has highlighted many nuanced, complex family processes that have been overlooked in Asian immigrant families, especially struggle in parent-child relations, e.g., emotional alienation, parent-child conflicts, communication challenges, and parent-child separation. Her findings also point to negative effects of tiger parenting in child/adolescent development. Dr. Qin's most recent project examines academic and psychosocial adaptation challenges of Chinese undergraduate students. Francisco A. Villarruel, Ph.D. is Professor and  Associate Chair for Education in the Department of Human Development and Family Studies, and  a University Outreach and Engagement Senior Fellow at Michigan State University.  He is a founding faculty member of the GPI-Youth Development program - an


PART 1: FRAMING LIFECOURSE IMPACTS OF PREJUDICE .- Chapter 1. Ethnic and Racial Prejudice Across the Lifespan.- Chapter 2. Experience of Intergenerational Transmission of Trauma on Identity.- PART 2: INFANCY THROUGH CHILDHOOD .- Chapter 3. Prejudice, Pregnancy, and Early Childhood Development.- Chapter 4. Understanding Implications of Systems of Privilege Within the Field of Early Childhood Education for American Indian and Alaska Native Children.- Chapter 5. Implicit and Explicit Forms of Prejudice in Childhood.- Chapter 6. Prejudice Against Latino Children in the United States.- Chapter 7. An Ecological Approach to Childhood Prejudice: The Case of Arab Americans.- Chapter 8. Discord Disrupts Discourse: Prejudice and Muslim Children.- Chapter 9. The Effects of Stereotypes on American Indian Children Inside and Outside of the Classroom.- Chapter 10. In the Nyitting Time: The Journey of Identity Development for Western Australian Aboriginal Children and Youth and the Interplay of Racism.- Chapter 11. Teacher Race and Other Race-Related Socialization Factors as Moderators of Achievement Outcomes Among African American Children.- PART 3: TRANSITION TO YOUTH .- Chapter 12. Racial Discrimination and Adjustment Among Asian American Youth: Vulnerability and Protective Factors in the Face of "Chinks", "Dog-eaters", and "Jackie Chan".- Chapter 13. When Things Go Viral: Youth's Discrimination Exposure in the World of Social Media.- Chapter 14. Gender Prejudice and Subsequent Development of Dating Violence, Intersectionality Among Youth.- Chapter 15. LGBTQ Youth and Sexual Minority-Related Prejudice.- Chapter 16. (No) Space for Prejudice! How Negative Outgroup Attitudes Develop or May Be Prevented in the Classroom.- Chapter 17. Racial Socialization in Early Childhood Contexts: Implications for Prejudice Development.- Chapter 18. Feeling of Being Caught Between Family and Peer Settings: Cultural Incongruence and Adolescent Well-being.- PART 4. YOUTH TO ADOLESCENCE .- Chapter 19. Youth of Color in Care: Intersecting Identities and Vulnerabilities.- Chapter 20. Understanding the Complex Relations Between Discrimination and Prosocial Behaviors in Latino Youth in the United States.- Chapter 21. Experiences of Discrimination and Prejudice Among Native American Youth: Links to Psychosocial Functioning.- Chapter 22. Mistaken Identities, Discrimination, and Sikh Youth Development.- Chapter 23. Juvenile Injustice: A System Developed to Facilitate Youth Development that Challenges Healthy Outcomes.- Chapter 24. The Role of Gender Nonconformity in Identity-Based Victimization of LBGTQ Youth.- PART 5. FROM ADOLESENCE TO EMERGING ADULTHOOD .- Chapter 25. Adolescents and the Psychological Impact of the Acting White Accusation.- Chapter 26. Ethnic/Racial Identity as a Moderator of the Relationship Between Discrimination and Adolescent Outcomes.- Chapter 27. Online Racial Discrimination, Adjustment, and the Protective Function of Adolescent Cultural Assets.- Chapter 28. Latino Adolescents' Experiences with Ethnic Discrimination and Protective Factors: A Practical Understanding.- Chapter 29. African American Adolescents Speak: A Mixed-Methods Investigation of Racial Identity, Individual Race-Related Stress, and Depressive Symptoms.- Chapter 30. Dreamers: Growing up in America.- Chapter 31. Sexual Stigma and Sexual Prejudice: Understanding the Unique Experiences of Sexual Minority Male Youth.- Chapter 32. "Are You a Boy or a Girl?" The Impact of Gender-Based Prejudice on Gender Diverse Children.- Chapter 33. Gender Nonconformity During Adolescence: Links with Stigma, Sexual Minority Status, and Psychosocial Outcomes.- Chapter 34. "I Can Feel that People Living Here Don't Like Chinese Students": Perceived discrimination and Chinese International Student Adaptation.- Chapter 35: A Developmental Science Perspective on Children and Prejudice.




versandkostenfreie Lieferung
---
139,09 €

(inkl. MwSt.)
Lieferfrist: bis zu 10 Tage
---
Webcode: sack.de/cm1nd
Bitte ändern Sie das Passwort