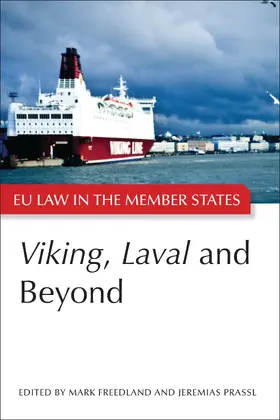 Freedland / Adams-Prassl
Viking, Laval and Beyond
Viking, Laval and Beyond
1. Auflage 2015
ISBN: 978-1-84946-624-0
Verlag: Hart Publishing
Seite exportieren
---
---
---
---
---
---
EU Law in the Member States is a new series dedicated to exploring the impact of landmark CJEU judgments and secondary legislation in legal systems across the European Union. Each book will be written by a team of generalist EU lawyers and experts in the relevant field, bringing together perspectives from a wide range of different Member States in order to compare and analyse the effect of EU law on domestic legal systems and practice.

The first volume focuses on the uneasy relationship between the economic freedoms enshrined in Articles 49 and 56 TFEU and the right of workers to take collective action. This conflict has been at the forefront of EU labour law since the CJEU's much-discussed decisions in C-438/05 Viking and C-341/05 Laval, as well as the Commission's more recent attempts at legislative reforms in the failed Monti II Regulation. Viking, Laval and Beyond explores judicial and legislative responses to these measures in 10 Member States, and finds that the impact on domestic legal systems has been much more varied than traditional accounts of EU law would suggest.
Herausgeber


Freedland, Mark R
Mark Freedland QC (hon), FBA is Emeritus Professor of Employment Law in the University of Oxford, and a Senior Research Fellow at St John's College, Oxford.

Photo courtesy of Faculty of Law, University of Oxford.

Adams-Prassl, Jeremias
Jeremias Adams-Prassl is Deputy Director at the Institute of European and Comparative Law, University of Oxford and Fellow and Tutor in Law at Magdalen College, Oxford.

Photo courtesy of Faculty of Law, University of Oxford.


1. Viking, Laval and Beyond: An Introduction
Mark Freedland and Jeremias Prassl

2. Viking and Laval: The EU Internal Market Perspective
Steve Weatherill

3. Viking and Laval: The International Labour Law Perspective
Alan Bogg

4. The Right to Strike in the EU after Accession to the ECHR: A Practical Assessment
Vilija Velyvyte

5. The Life of a Death Foretold: The Proposal for a Monti II Regulation
The Adoptive Parents

6. Three Dimensions of Heterogeneity: An Overview of Member State Experiences
Jeremias Prassl

7. Austria
Eva Tscherner

8. Estonia
Tatjana Evas

9. Germany
Bernd Waas

10. Greece
Aristea Koukiadaki

11. Italy
Edoardo Ales

12. Norway
Stein Evju

13. Poland
Leszek Mitrus

14. Sweden
Mia Rönnmar

15. The United Kingdom
Tonia Novitz and Phil Syrpis

16. Civilising the European Posted Workers Directive
Nicola Countouris and Samuel Engblom

17. Broader Lessons for European and Domestic Labour Law
Robert Rebhahn

18. Conceptualising Conflict between the Economic and the Social in EU Law after Viking and Laval
Dorota Leczykiewicz

19. EU Law in National Courts: Viking, Laval and Beyond
Michal Bobek

20. Epilogue
Ulf Bernitz