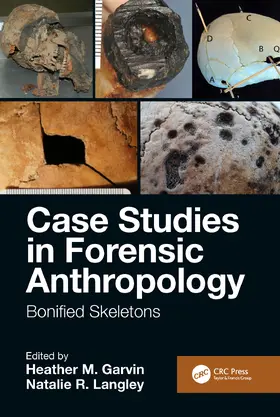 Garvin / Langley
Case Studies in Forensic Anthropology
Bonified Skeletons
1. Auflage 2019
ISBN: 978-1-138-34765-6
Verlag: Taylor & Francis Ltd
Seite exportieren
---
Buch, Englisch,
312 Seiten, Gebunden, Format (B × H): 316 mm x 261 mm, Gewicht: 920 g
Erhältlich auch als
Bonified Skeletons
1. Auflage 2019, 312 Seiten, Gebunden, Format (B × H): 316 mm x 261 mm, Gewicht: 920 g
ISBN: 978-1-138-34765-6
Verlag: Taylor & Francis Ltd
Seite exportieren
---
(inkl. MwSt.)
versandkostenfreie Lieferung
Lieferfrist: bis zu 10 Tage
---
---
---
---
---
---
Through a set of unique case studies written by an international group of practicing forensic anthropologists, Case Studies in Forensic Anthropology: Bonified Skeletons prepares students and professionals for the diverse range of cases and challenges they will encounter in the field.
Every forensic anthropology case is unique. Practitioners routinely face new challenges and unexpected outcomes. Courses and introductory texts generally address standard or ideal cases. In practice, however, forensic anthropologists must improvise frequently during forensic archaeological recoveries and laboratory analyses based on case circumstances. Most forensic anthropologists have encountered unconventional cases with surprising results. While these cases act as continuing education for practitioners—better preparing them for future encounters— such learning opportunities may be limited by the extent of personal experiences. This text exposes practitioners and students to a diverse array of case examples they may not otherwise encounter, sharing experiential knowledge and contributing to the advancement the field.
Case Studies in Forensic Anthropology aims to both prepare aspiring forensic anthropologists and inform current practitioners. The cases are interesting and unique, detailing how specific challenges contribute to the body of forensic anthropological knowledge and practice.

Key Features

Full-color photographs illustrate the scenes and skeletal features

"Lessons Learned" sections for each case study emphasize take-away points

Thought-provoking "Discussion Questions" encourage readers to think critically and facilitate group discussions

Actual case experiences by diverse array of forensic anthropologists who discuss innovative methods and unique challenges
Herausgeber


Garvin, Heather M.
Heather M. Garvin, PhD, D-ABFA holds a B.A. in Anthropology, a B.S. in Zoology from the University of Florida, an M.S. in Forensic and Biological Anthropology from Mercyhurst College, and a PhD in Functional Anatomy and Evolution from Johns Hopkins University School of Medicine. Dr. Garvin is a Diplomate of the American Board of Forensic Anthropology and has served on the Editorial Board for the Journal of Forensic Sciences since 2015. A Fellow in the American Academy of Forensic Sciences and a Member of the American Association of Physical Anthropology, Dr. Garvin has been heavily involved in casework and research. She is widely published in the field and is currently Associate Professor of Anatomy at Des Moines University.

Natalie R. Langley, PhD, D-ABFA received a B.A. and M.A. in anthropology from LSU and a PhD from the University of Tennessee in Knoxville. She is a Fellow of the American Academy f Forensic Sciences, and a member of the American Association of Anatomists and American Association of Clinical Anatomists. Dr. Langley has authored numerous publications, including two forensic anthropology textbooks and is currently Associate Professor of Anatomy at the Mayo Clinic College of Medicine and Science.


I: Estimation of the Biological Profile & Positive Identification
1: Death Along the Tracks: The Role of Forensic Anthropology and Social Media in a Homicide Investigation, Eric J. Bartelink

2: The Skull in Concrete: A Multidisciplinary Approach to Identification, Kristen Hartnett-McCann and Ruth E. Kohlmeier

3: The Use of Medical Implants to Aid in the Identification Process, Jennifer Vollner

4: Biomechanical Analysis of Long Bones Provides the Crucial Break in Decedent Identification, Daniel J. Wescott

5: Race and the Role of Sociocultural Context in Forensic Anthropological Ancestry Assessment, Michala K. Stock and Katie M. Rubin

6: Globalization, Transnationalism, and the Analytical Feasibility of Ancestry Estimation, Joseph T. Hefner and Jennifer F. Byrnes
II: Forensic Taphonomy

7: What Forensic Taphonomy Can Do for You: A Case Study in Rural Pennsylvania, Andrea M. Ost, Rhian R. Dunn, and Dennis C. Dirkmaat

8: Dismembered, Burned, and Dumped: But in What Order?, Lindsay H. Trammell

9: Body in the Barrel: Complex Body Disposal and Recovery, Soren Blau and David Ranson

10: Sealed for Your Protection: A Triple Homicide Involving the Use of a Corrosive Agent to Obscure Identity, Laura C. Fulginiti, Kristen M. Hartnett-McCann, and Frank Di Modica

11: Differential Diagnosis in Forensic Entomology: Mites vs. Pathologies and Taphonomy, César Sanabria-Medina, Luz Elena Cifuentes, and Maria Alexandra Lopez-Cerquera

12. Lacustrine Skeletal Taphonomy from Southeastern Tennessee, Murray K. Marks, Jonathan D. Bethard, and Darinka Mileusnic-Polchan
III: Trauma

13: Who Pulled the Trigger…First? Bone Biomechanics Recreate the Story Behind a "Police Shooting," Steven A. Symes, Ericka N. L'Abbé, and Mark M. LeVaughn

14: Forensic Anthropological Contributions to Manner of Death in a Case of Multiple Suicidal Gunshot Wounds, Diana L. Messer

15: A Unique Case of Skeletal Trauma Involving Scissors, Alexandra R. Klales

16: Sharp Force Trauma with Subsequent Fire Alteration: A Complicated Case Study, Erin N. Chapman

17: Forensic Anthropology's Role in Clarifying Cause of Death in the Appeal of a No Body Homicide Conviction, Ashley E. Kendell, Eric J. Bartelink, and Turhon Murad
IV: Human Rights and Mass Disasters

18: A Multi-Year Forensic Archaeological Recovery of Human Remains from a C-124 Cargo Aircraft Crash on Colony Glacier, Alaska, U.S.A., Gregory E. Berg, Owen L. O'Leary, and Kelley S. Esh

19: Quadrilateral Defects in the Tuskulenai and Leon Trotsky Cases: Skeletal Trauma Associated with Soviet Violence in Two Different Contexts, Cate E. Bird and Rimantas Jankauskas

20: Sexual Offense in Skeletonized Cadavers: Analysis, Interpretation, Documentation and Case Report, César Sanabria-Medina, Jorge Andrés Franco Zuluaga, and María Alexandra Lopez-Cerquera

21: Making the Best of Limited Resources and Challenges Faced in Human Rights Investigations, Eugénia Cunha, Maria Teresa Ferreira, Cristina Cordeiro, and Duarte Nuno Vieira

22: Search for Spanish Civil War Victims in the Cemetery of Sant Ferran, Formentera (Spain): Oral Witness Testimonies, Secondary Deposition Site and Peri-Mortem Trauma, Almudena García-Rubio, Juanjo Marí Casanova, Glenda Graziani, Francisca Cardona, Pau Sureda, Sergi Moreno, Nicholas Márquez-Grant

23: Excavation and Analysis of Human Remains from Mass Graves in the Western Sahara, Francisco Etxeberria, Lourdes Herrasti, and Carlos Martin-Beristain
V: Other Considerations

24: The Use of Human Skeletal Remains in Palo Rituals in Orange County, Florida, John J. Schultz, Ashley E. Green, Ronald A. Murdock II, Marie H. Hansen, Joshua D. Stephany, and Jan C. Garavaglia

25: To Understand the Parts, it is Necessary to Understand the Whole: The Importance of Contextualizing Patterns in Forensic Anthropology Casework, Laura C. Fulginiti, Andrew Seidel, Katelyn Bolhofner

26: Perpetrators, Pack Rats, and Postmortem Disturbances: A Case Study Involving Multiple Contexts, Jurisdictions, and Identities, Angela Berg, Kent Buehler, and Carlos Zambrano

27: The Case of the … Cases: The Flow of the Ordinary into a Medical Examiner's Office, James T. Pokines
versandkostenfreie Lieferung
---
72,00 €

(inkl. MwSt.)
Lieferfrist: bis zu 10 Tage
Aufgrund der Corona-Krise kann es in Einzelfällen zu deutlich längeren Lieferzeiten kommen.
---
Webcode: sack.de/k090l
Bitte ändern Sie das Passwort