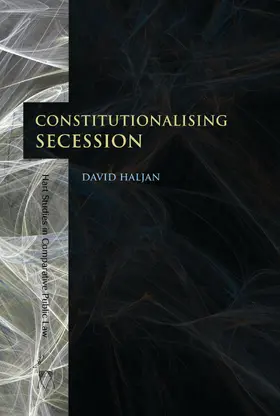 Haljan
Constitutionalising Secession
---
(inkl. MwSt.)
versandkostenfreie Lieferung
Lieferfrist: bis zu 10 Tage
---
---
---
---
---
---
Constitutionalising Secession proceeds from the question, 'What, if anything, does the law have to say about a secession crisis?' But rather than approaching secession through the optic of political or nationalist institutional accommodation, this book focuses on the underpinnings to a constitutional order as a law-making community, underpinnings laid bare by secession pressures. Relying on the corrosive effects of secession, it explores the deep structure of a constitutional order and the motive forces creating and sustaining that order. A core idea is that the normativity of law is best understood, through a constitutional optic, as an integrative, associative force. Constitutionalising Secession critically analyses conceptions of constitutional order implicit in the leading models of secession, and takes as a leading case-study the judicial and legislative response to secession in Canada. The book therefore develops a concept of constitutionalism and law-making - 'associative constitutionalism' - to describe their deep structure as a continuing, integrative process of association. This model of a dynamic process of value formation can address both the association and the disassociation of constitutional systems.
Autoren


Haljan, David
David Haljan is an Affiliated Senior Researcher in the Institute for Constitutional Law of the Faculty of Law at the University of Leuven,and Co-Editor of the Constitutional Law Series, International Encyclopaedia of Laws.


1 Constitutionalising Secession?
Constitutional Order and Disorder
Disorder: A Secession Crisis
A Right Ordering of Secession
Ordering the Right to Secede
Terms of Reference
A Note on Nationalism
Reference Terms
Outline of the Book
Canada?
In a Broader Context
2 Associative Constitutionalism
The Realist's Challenge
Form and Function: Structural Concepts
National Constitutional Law Generally
Constitution and Association
Form's Legacy: Reification
Reification and Constitutional Stress
Civil Society
Associative Constitutionalism
Associations, Morality and Values
Government and Constitution
Government: Control and Authority
Authority: Legality and Legitimacy
Rules and Associations
The Hart of a Constitution
Nature of Rules
Articulating the Constitution
Associations, Institutions and Law
A Theory of Institutions
Transformation: Institutional Premise, Constitutional Promise
A Constitutional View on Secession
3 Primary Right Theory
Consent as Primary
Consent, Obligation and Secession
Insufficiency of Tacit Consent
Insufficiency of the Fairness Principle
What is Really Consented To?
Consent and Group Rights
From Primary Right to an Instrumentality Needing Just Cause
Consent as Insufficient Grounds
An Instrumental Concept Based on Just Cause
Law and Politics of Consent Theory
4 Remedial Right or Just-Cause Theory
Oppression as Justification for Secession
Concept of Oppression
Fundamental Difference from the Primary Right Model
From Right to Remedy
A Right Understanding of Secession
Continuity Condition
Mutuality Condition
Parsing Remedies
Institutions and Rights to a Remedy
The Remedy of Secession
Responsibility for Constitutional Collapse
Implications of Transformative Failure: Remedial Secession
What Gives Rise to Remedial Secession?
5 Remedial Secession and Disassociation
Discriminatory Redistribution
Discrimination as the Violation of Equality
Equality, Commensurability and Associative Relationships
Cultural Preservation and Self-defence
A Nationalist Application of the Oppression Grounds?
Rectificatory Justice
Law and Politics of Just-Cause Theory
6 Nationalist Theory of Secession
The Core of Nationalist Secession: National Self-determination
Nationalism's Gloss on Remedial Rights: A Primary Right to Cultural Identity
Nationalism's Affinity for Primary Rights: the Nation as Rights-Holder
Summary: Different Strokes for Different Volks
The Nation as the Summum Bonum
A Concept of a Nation
Culture of a Nation
Subjective Standard: Imagining a Nation
Nationalism and Politics
Considerations on Subjectivity in Nationalism
Next Steps: Who's the Boss?
7 Nationalism and Association
Nation and Identity
Protection of Identity
Priority of National Identity: Enforcing the Boundaries
Identity and Transformation
Sources of the 'National' Self
Law and Politics of Nationalism Theory
8 Constitutional Text and Context
Of Text
Hard Realities of Drafting
A Questionable Achievement?
Of Context
Structure of Context
Context of Structure
Context of Amending Powers
Context of Constitutional Rights and Freedoms
Secession and Federal Constitutions
Structure and Politics
Federalism and Voice
Conclusion
9 Negotiating Secession: Of Voice and Veto
Background
Bertrand v Québec
Bertrand v Québec (No 1)
Bertrand v Québec (No 2)
Québec v Constitution of Canada
Setting the Reference
References and Constitutional Interpretation
The Supreme Court's Opinion
Preliminary Objection
Justiciability and Constitutionality
Question 1: the Constitution and Unilateral Secession
Unwritten, Basic Constitutional Principles
Federalism and Provincial Autonomy
Deliberative Democracy and Qualified Majorities
Bound by the Law: the Rule of Law and Constitutionalism
Protecting Minorities
Unconstitutionality of Unilateral Secession
Primary Right Modelling of Constitutional Secession
Questions 2 and 3: International Law, Secession and Constitutions
Question 2: International Law and Secession
Question 3: Domestic Law v International Law
Justiciability and Justifiability
Remedial Right Modelling
Summary
Of Voice and Veto: Popular Sovereignty and the Rule of Law
Democratic Will and Constitutional Amendment
Secession and Constitutional Veto
Of Voice and Veto: Law, Politics and Secession
Conclusion
10 Legislating Rules for Secession?
Origins of the Clarity Act
What the Clarity Act Says
A Liminal Issue: Characterising the Powers under the Act
Being Clear on the Constitutional Questions
No Interference with Québec's Referendum Jurisdiction
No Clear Violations of the Charter of Rights
No Vagueness to the Act's Provisions
No Interference with Parliamentary Sovereignty
The Absence of 'Clarity'
No Definition of 'Clarity'
Strategic Bargaining
Restricted to Province-oriented Secession Attempts
No Reference to Majorities Outside of a Secessionist Province
A Clearly Positivist Approach to Constitutional Secession
Process and Structure
Pitfalls of the Positivist Approach
11 Conclusions
Disassociating the State
Disassociation and Theories of Secession
Law, Politics and Beyond
versandkostenfreie Lieferung
---
93,06 €

(inkl. MwSt.)
Lieferfrist: bis zu 10 Tage
Aufgrund der Corona-Krise kann es in Einzelfällen zu deutlich längeren Lieferzeiten kommen.
---
Webcode: sack.de/954b8
Bitte ändern Sie das Passwort