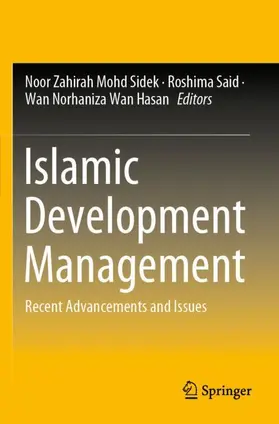 Hasan / Said / Sidek
Islamic Development Management
Recent Advancements and Issues
1. Auflage 2019
ISBN: 978-981-1375-86-6
Verlag: Springer, Berlin
Seite exportieren
---
Buch, Englisch,
370 Seiten, Kartoniert, Paperback, Format (B × H): 156 mm x 23 mm, Gewicht: 599 g
Erhältlich auch als Buch
Recent Advancements and Issues
1. Auflage 2019, 370 Seiten, Kartoniert, Paperback, Format (B × H): 156 mm x 23 mm, Gewicht: 599 g
ISBN: 978-981-1375-86-6
Verlag: Springer, Berlin
Seite exportieren
---
(inkl. MwSt.)
versandkostenfreie Lieferung
Lieferfrist: bis zu 10 Tage
---
---
---
---
---
---
---
This book examines a range of current issues in Islamic development management. The first part of the book explores practical issues in governance and the application of Islamic governance in new areas such as quality management systems and the tourism industry, while the second delves into questions of sustainability. The book proposes a new Islamic sustainability and offers new perspectives on CSR in connection with waqf (Islamic endowments) and microfinance. The third part of the book addresses Islamic values and how they are applied in entrepreneurship, inheritance, consumer behavior and marketing. The fourth part examines the issues of waqf and takaful (a form of insurance in line with the Islamic laws), while the fifth discusses the fiqh (the study of Islamic legal codes) and legal framework from the perspectives of entrepreneurship, higher education, reporting and inheritance (wills). The final chapter is dedicated to the application of Islamic principles in various other issues.
Written in an accessible style, the book will appeal to newcomers to the field, as well as researchers and academics with an interest in Islamic development management.
Hasan, Wan Norhaniza Wan
Noor Zahirah Mohd Sidek is a Senior Lecturer at the Department of Economics, Universiti Teknologi MARA (UiTM), Kedah, Malaysia. She holds a Master and PhD in Economics from the International Islamic University, Malaysia. She is also a certified Shariah Registered Financial Planner (SRFP00513).
Roshima Said (PhD) is an Associate Professor at the Universiti Teknologi MARA, Malaysia.  Her research interests are in the areas of Corporate Governance, Corporate Social Responsibility, Ethics and Financial Criminology. 
Wan Norhaniza Wan Hasan is a Senior Lecturer at the Centre for Islamic Development Management Studies (ISDEV), Universiti Sains Malaysia (USM). She holds a Master of Social Sciences (Islamic Development Management) and PhD in Islamic-based Development, both from the USM. Her main research interest is in Islamic-based development with a focus on sustainability and development indexes, and on the measurement of sustainable development based on Islamic principles.




1. Effective Board Governance Structure for a University Endowment Fund.- 2. Corporate and Shariah Governance Mechanisms and Earnings Quality in Islamic Banks: A Review and Evaluation of Patterns.- 3. The Corporate Ethical Identity of Shari'ah Compliant Companies on Islamic Corporate Social Responsibility Disclosure.- 4. Halal-Green: The New Quality Management System.- 5. Muslim Friendly Hospitality: An Overview of the Emerging Hospitality Industry in Malaysia.- 6. Corporate Governance Mechanisms and Financial Performance: A Comparative Study between Local Islamic Banks and Local Conventional Banks in Malaysia.- 7. Reconstruction of the Islamic Sustainable Development Index.- 8. Enhancing Strategic CSR for Sustainability through Moderating Effect of Waqf Orientation: A Solution Through CSR-VBI Canvas.- 9. Challenges for Sustainable Islamic Microfinance Institutions in Malaysia.- 10. Exploring the Islamic Value Based Entrepreneurship in Malaysia.- 11. The Awareness of Wasiyyah (Will Writing) Practice Among Muslims.- 12. Impulse Buying Behaviour from Islamic Perspective: A Conceptual Paper.- 13. Islamic-Based Relationship Marketing: An Integration of Internal and External Marketing.- 14. Development Framework for Affordable Housing on Waqf Land.- 15. Application of Maqasid al-Shariah Principles in Auto Takaful Underwriting Practices.- 16.  Is Hajiyat still the Basis for Takaful Operators to Resort to Conventional Re-insurance? An Appraisal on Malaysian Takaful Industry.- 17. A Critical Analysis of Zakat and Waqf  in Sustaining the Development and Survival of Pondok Institution in Kedah.- 18. The Fiqh Method in Islamic Social Entrepreneurship: An Introduction.- 19. Legal Framework and Approaches In Appointing a Higher Education Institution as Waqf Manager.- 20. The Need for Credible Reporting of Shari_ah Non-Compliance Event by Islamic banks in Malaysia.- 21. Wasiyyah Wajibah Law in Malaysia - Concept, Application and Practices.- 22. Contextual Meaning of Project Management Elements from The Quran,- 23. The Identity of Islam in Project Development and The Public Realm Resisting global mimicry and returning to contextualised inventiveness.- 24. The Applicability of the Theory of Reasoned Action in Predicting the Intention to Save for Retirement.- 25. Zakat VS Taxation: An Overview of the Implementation in Malaysia.- 26. Employability and Performance of Islamic Studies Graduates in UNISHAMS.- 27. Muslim Minority in China: A Case of Uyghur Muslims in Xinjiang.

versandkostenfreie Lieferung
---
90,94 €

(inkl. MwSt.)
Lieferfrist: bis zu 10 Tage
Aufgrund der Corona-Krise kann es in Einzelfällen zu deutlich längeren Lieferzeiten kommen.
---
Webcode: sack.de/q5xe2
Bitte ändern Sie das Passwort