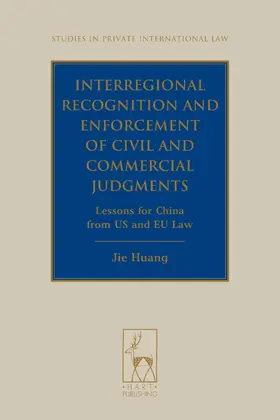 Huang
Interregional Recognition and Enforcement of Civil and Commercial Judgments
Lessons for China from US and EU Law
1. Auflage 2014
ISBN: 978-1-84946-434-5
Verlag: Hart Publishing
Seite exportieren
---
---
---
---
---
---
Judgment recognition and enforcement (JRE) between the US states, between EU Member States, and between mainland China, Hong Kong and Macao, are all forms of 'interregional JRE'. This extensive comparative study of the three most important JRE regimes focuses on what lessons China can draw from the US and the EU in developing a multilateral JRE arrangement for mainland China, Hong Kong and Macao.Mainland China, Hong Kong and Macao share economic, geographical, cultural, and historical proximity to one another. The policy of 'One Country, Two Systems' also provides a quasi-constitutional regime for the three regions. However, there is no multilateral JRE scheme among them, as there is in the US and the EU; and it is harder to recognise and enforce sister-region judgments in China than in the US and the EU. The book analyses the status quo of JRE in China and explores its insufficiencies; it proposes a multilateral JRE arrangement for Chinese regions to alleviate current JRE difficulties; and it also provides solutions for the macro and micro challenges of establishing a multilateral arrangement, drawing upon the rich literature on JRE regimes found in the US and the EU.

ENDORSEMENTS
'Professor Huang has completed a highly readable and comprehensive study of the issues governing recognition and enforcement of judgments among the three distinct legal regimes of the People's Republic of China.Her ideas will surely enrich the Chinese debate as well as provide interesting scholarly material for non-Chinese seeking greater understanding of legal reform in the PRC'.
Peter D Trooboff, Senior Counsel, Covington & Burling LLP, Washington DC, USA

'The book shows meticulous, analytical and comparative scholarship. Dr Huang's proposal of a multilateral arrangement makes an original and valuable contribution to the study of interregional judgment recognition and enforcement among Mainland China, Hong Kong, and Macao'.
Renshan Liu, Professor and Dean, Law School of Zhongnan University of Economics and Law, China

'Dr Huang's timely work provides an insightful analysis of one of the more vexed aspects of the inter-regional legal relations in Greater China. Her careful investigation makes a valuable contribution to the academic and practical work on the recognition and enforcement of judgments between China and her two special administrative regions. The comparative approach she adopts represents the true utility of comparativism for legal scholarship'.
Bing Ling, Professor of Chinese Law, Sydney Law School, Australia

PREFACE AND FOREWORD
Please click on the link below to read the preface and foreword:

www.hartpub.co.uk/Huang_Preface_Foreword.pdf

The book won the First Prize for Excellent Scholarship awarded by the China Society of Private International Law in 2015.
Autoren


Huang, Jie (Jeanne)
Jie Huang is an Associate Professor of Law and Associate Dean at Shanghai University of International Business and Economics School of Law and Director of China Association of Private International Law.


1. Introduction
A. Introduction: Theme and Contribution of this Book
B. Concept of Interregional JRE
C. A Comparative Perspective 6i. Introduction to the Method: Comparative Studies
D. The Need for, and Feasibility of, a Multilateral JRE Arrangement 23i. Need: Economic Integration
E. Structure of What Follows

1. Scholarly Achievements in Chinese Interregional Conflict of Laws
A. General Theory of Chinese Interregional Conflict of Laws
B. Interregional Judgment Recognition and Enforcement
C. Comparative Studies

3. The Existing JRE System among Mainland China, Hong Kong and Macao
A. Regional JRE Laws
B. Interregional JRE Laws
C. The Next Stage: a Multilateral JRE Arrangement

4. Three Serious Macro Challenges and their Solutions
A. Conflicts between Socialist Law and Capitalist Law
B. Conflicts between Civil Law and Common Law
C. Weak Mutual Trust
D. Conclusion

5. Selected Rules of the Proposed Multilateral JRE Arrangement
A. Scope
B. Requirement for JRE: Finality
C. Grounds for Refusing JRE
D. Summary

6. Implementation of the Proposed Multilateral JRE Arrangement
A. Legal Form
B. Coordination Mechanism for Implementing the Proposed Multilateral JRE Arrangement
C. Relationship with Other Interregional and International JRE Instruments

7. Conclusion