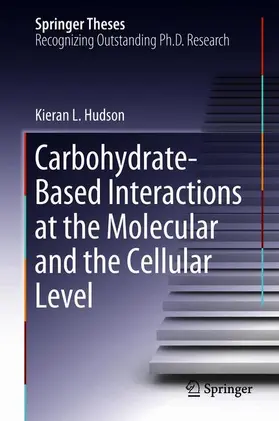 Hudson
Carbohydrate-Based Interactions at the Molecular and the Cellular Level
---
Buch, Englisch, Reihe:
Springer Theses
198 Seiten, Gebunden, Format (B × H): 155 mm x 235 mm, Gewicht: 3421 g
Erscheinungsjahr 2018, 198 Seiten, Gebunden, Format (B × H): 155 mm x 235 mm, Gewicht: 3421 g Reihe: Springer Theses
ISBN: 978-3-319-77705-4
Verlag: Springer
Seite exportieren
---
---
---
---
---
This book offers a clearly written and highly accessible account of two different aspects of carbohydrate chemistry. Carbohydrates are an essential component of life and have many important biological functions, but the details of how carbohydrates interact with other biomolecules to mediate biological signalling remain unclear. Firstly, this thesis details innovative methods to mine protein structural data to uncover new features of carbohydrate-based interactions. It also explains these findings using physical chemistry, specifically CH–pi interactions associated with the properties of the interacting partners.

Carbohydrates are also critical for tissue growth and development, yet are underexploited in the materials science that underpins much of regenerative medicine. As such, the second part of this thesis describes a diverse array of techniques ranging from synthetic chemistry and enzymatic synthesis to prepare a wide variety of carbohydrates, and materials chemistry to prepare glycosylated hydrogels, to cell biology to determine the effects on cellular development for tissue engineering applications.


Autoren


Hudson, Kieran L.
Dr Kieran Hudson received a Master of Chemistry degree from the University of Oxford, UK in 2011. During his research there he developed an interest in the intersection of chemistry and biology, particularly in how small structural differences in biomolecules have substantial effects in nature. He developed this interest during his postgraduate research at the University of Bristol, UK, from where he obtained a PhD with a Faculty of Science Commendation in 2016. Dr Hudson is currently continuing his research as a postdoctoral fellow at the University of British Columbia, Canada.