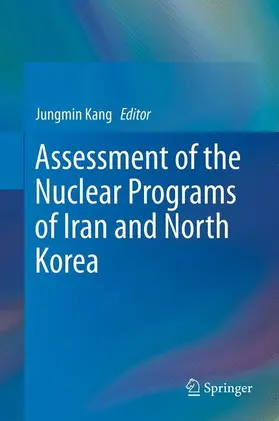 Kang
Assessment of the Nuclear Programs of Iran and North Korea
---
Buch, Englisch,
131 Seiten, Gebunden, Book, Format (B × H): 165 mm x 236 mm, Gewicht: 377 g
Erhältlich auch als Buch
2013, 131 Seiten, Gebunden, Book, Format (B × H): 165 mm x 236 mm, Gewicht: 377 g
ISBN: 978-94-007-6018-9
Verlag: Springer Netherlands
Seite exportieren
---
(inkl. MwSt.)
versandkostenfreie Lieferung
sofort versandfertig, Lieferfrist: 1-3 Werktage
---
---
---
---
---
---
---
When we are looking at proliferation cases, there are a number of lessons – positive and negative – learnt. First, facts reported by the IAEA are essential for the international community in assessing the compliance and risks of possible clandestine activities. Second, the IAEA verification scheme is biting when it fully exercises its verification rights, and when it is provided with the requisite cooperation. Third, when countries face questions raised by the IAEA, those that chose to turn the course and / or cooperated to remove concerns and ambiguities resolved their nuclear dossiers in a satisfactory manner and fairly swiftly. Fourth, when states adopt the course of confrontation, as are currently the cases with Iran, Syria and North Korea, the situation becomes more complicated and more difficult to resolve. Fifth, dragging non-compliance and challenging of the authority of the United Nations Security Council and the IAEA Board of Governors erodes the international non-proliferation regime. This book addresses two proliferation cases, Iran and North Korea providing extensive snapshots on the currently known nuclear programs, and analyses failures and weaknesses of past verification activities, and makes innovative suggestions for ways forward.
Herausgeber


Kang, Jungmin
Dr. KANG is currently a visiting professor at Lee Byong Whi Nuclear Energy Policy Center, Department of Nuclear and Quantum Engineering, Korea Advanced Institute of Science and Technology (KAIST). Kang has considerable expertise in technical analyses of nuclear issues, including nuclear fuel cycles, spent fuel management, and nuclear nonproliferation. Kang has authored and co-authored papers on the cooperative threat reduction program in North Korea, verification of plutonium production in North Korea, proliferation-resistance of advanced fuel cycles, spent-fuel storage, plutonium disposition, converting Russian icebreaker reactors from HEU to LEU fuel, etc. Kang also has contributed many popular articles to South Korea's newspapers and magazines about North Korea's nuclear-weapon program and South Korea's spent-fuel issues. Kang received a Ph.D. in nuclear engineering from Tokyo University, Japan, and M.S. and B.S. degrees in nuclear engineering from Seoul National University, South Korea. Kang was a researcher at KAERI in 1990-1993. Kang worked in Princeton University's Program on Science and Global Security in 1998-2000 and Center for International Security and Cooperation (CISAC), Stanford University in 2006-2008. Before joining to the KAIST, Kang spent two years at the Paul H. Nitze School of Advanced International Studies (SAIS), Johns Hopkins University as a visiting scholar. Kang is a member of the International Panel on Fissile Materials (IPFM), a group of independent experts from 17 countries that analyzes programs and proposals to advance nuclear disarmament and reduce the dangers of nuclear proliferation and nuclear terrorism.


Preface by Olli Heinonen. Introduction by Jungmin Kang.

Part One: North Korea.

1 Nuclear Developments in North Korea; Siegfried S. Hecker.

2 Verifying the DPRK Nuclear Program; Jin-Soo An.

3 Using the Graphite Isotope Ratio Method to Verify the DPRK's Plutonium-Production Declaration; Jungmin Kang.

4 Cyclical Patterns of North Korean Nuclear Crises and Solutions: A South Korean Perspective; Bong-Geun Jun.

Part Two: Iran.

5 The Feasibility of a Diplomatic Solution to the Confrontation over Iran's Nuclear Program; Frank von Hippel.

6 Iran's Nuclear Program: The Case for Engagement; R. Scott Kemp.

7 The verification of the peaceful nature of Iran's nuclear program; Olli Heinonen.

8 The Status of Iran's Nuclear Programs; Jung-Hyun Lee.

Part Three: North Korea - Iran Connection.

9 North Korean-Iranian Cooperation in Ballistic Missile Development; Nelson E. Hansen.
versandkostenfreie Lieferung
---
128,39 €

(inkl. MwSt.)
sofort versandfertig, Lieferfrist: 1-3 Werktage
---
Webcode: sack.de/s0jhh
Bitte ändern Sie das Passwort