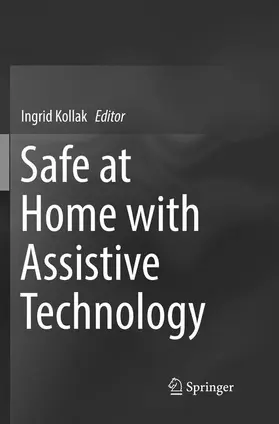 Kollak
Safe at Home with Assistive Technology
Softcover Nachdruck of the original 1. Auflage 2017
ISBN: 978-3-319-82687-5
Verlag: Springer, Berlin
Seite exportieren
---
Buch, Englisch,
230 Seiten, Kartoniert, Paperback, Format (B × H): 160 mm x 233 mm, Gewicht: 373 g
Erhältlich auch als Buch
Softcover Nachdruck of the original 1. Auflage 2017, 230 Seiten, Kartoniert, Paperback, Format (B × H): 160 mm x 233 mm, Gewicht: 373 g
ISBN: 978-3-319-82687-5
Verlag: Springer, Berlin
Seite exportieren
---
---
---
---
---
---
---
This book describes how assistive technology can help handicapped, elderly and acutely sick people to manage their daily lives better and stay safe in the home. It discusses how safety is understood from an ethical, technical and social perspective, and offers examples of the problems that users, their helpers and professional carers have with assistive technology in everyday situations.The book provides insights from user-centred research and uses photographs to illustrate the main topic: how users and technology can work together to ensure safety. User-focused and combining experience with research, the book will interest users of these kinds of technology, health professionals who might introduce and/or prescribe them, engineers who develop and sell assistive technological gadgets, and architects who build safe homes – as well as researchers and students who work in these fields. It provides an overview of the existing technology, examines ways to test its effectiveness from the point of view of users, health professionals and researchers from different fields (architecture, education, engineering, facility management, medicine, nursing, occupational therapy, rehabilitative medicine, physiotherapy, social science and speech therapy), and lists useful addresses, websites and literature
Herausgeber


Kollak, Ingrid
Ingrid Kollak is currently a professor in the fields of health care and nursing with more than 20 years experience with direct client and patient contacts. A leader of studies on health care and technology, which cooperate with users, health professionals from different fields as well as small companies developing assistive technology and counsellors, Professor Kollak is also an author of a range of books on self-care, health-care organisation and health interventions.


Prerequisits.- Living safely and actively in and around the home Four applied examples from avatars and ambient cubes to active walkers.- Using gaze control for communication and environment control How to find a good position and start working.- Caring TV - for older people with multimorbidity living alone Positive feedback from users in Berlin and rural Mecklenburg-West Pomerania.- Arm rehabilitation at home for people with stroke: staying safe Encouraging results from the co-designed LifeCIT pro-gramme.- Telemonitoring in home care Creating the potential for a safer life at home.- Empowering the elderly and promoting active ageing through the Internet The benefit of e-inclusion programmes.- Use and development of new technologies in public wel-fare services A user-centred approach using step by step communication for problem solving.- Parents' experiences of caring for a ventilator-dependent child: a review of the literature.- Evaluation and outcomes of assistive technologies in an outpatient setting - a technical-nursing science approach.- Assistive technology for people with dementia: ethical considerations.