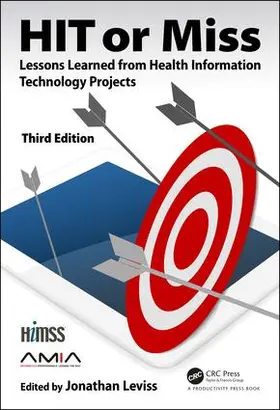 Leviss
HIT or Miss, 3rd Edition
Lessons Learned from Health Information Technology Projects
3. New Auflage 2019
ISBN: 978-0-367-14346-6
Verlag: Taylor & Francis Ltd
Seite exportieren

Teilen
---
Buch, Englisch, Reihe:
HIMSS Book Series
26 Seiten, Gebunden, Format (B × H): 261 mm x 346 mm, Gewicht: 684 g
Erhältlich auch als
Lessons Learned from Health Information Technology Projects
3. New Auflage 2019, 26 Seiten, Gebunden, Format (B × H): 261 mm x 346 mm, Gewicht: 684 g Reihe: HIMSS Book Series
ISBN: 978-0-367-14346-6
Verlag: Taylor & Francis Ltd
Seite exportieren

Teilen
---
(inkl. MwSt.)
versandkostenfreie Lieferung
Lieferfrist: bis zu 10 Tage
---
---
---
---
---
---
This third edition presents and dissects a wide variety of HIT failures so that the reader can understand in each case what went wrong and why and how to avoid such problems, without focusing on the involvement of specific people, organizations, or vendors. The lessons may be applied to future and existing projects, or used to understand why a previous project failed. The reader also learns how common causes of failure affect different kinds of HIT projects and with different results.
Cases are organized by the type of focus (hospital care, ambulatory care, and community). Each case provides analysis by an author who was involved in the project plus the insight of an HIT expert. This book presents a model to discuss HIT failures in a safe and protected manner, providing an opportunity to focus on the lessons offered by a failed initiative as opposed to worrying about potential retribution for exposing a project as having failed. Access expert insight into key obstacles that must be overcome to leverage IT and transform healthcare.
Each de-identified case study includes an analysis by a group of industry experts along with a counter analysis. Cases include a list of key words and are categorized by project (e.g. CPOE, business intelligence). Each case study concludes with a lesson learned section. Thought provoking commentary chapters add additional context to the challenges faced during HIT projects, from social and organizational to legal and contractual.
Autoren

Herausgeber


Leviss, Jonathan
Editor
Dr. Jonathan Leviss, MD FACP, has championed technology-enabled transformation in healthcare for over 20 years, including serving as: the first CMIO at New York City Health + Hospitals, a decade before Meaningful Use; CMO at Sentillion, making single sign-on a standard in healthcare; and a physician leader creating value across large and small health systems, health plans, and for profit and not for profit companies. Dr. Leviss is the Medical Director for Adult Medicine at the Greater New Bedford Community Health Center in Massachusetts and faculty at the Brown University School of Public Health. He is board-certified in internal medicine by the American Board of Internal Medicine (ABIM) and in the subspecialty of clinical informatics by the American Board of Preventive Medicine (ABPM).
Associate Editors
Dr. Melissa Baysari, PhD, is Associate Professor in Digital Health at the University of Sydney, Australia. Her research interests include human factors and computerized decision support, with a focus on digital solutions to support medication management. Prior to focusing on medication safety since 2009, Dr. Baysari studied railway safety and train driver errors.
Dr. Christopher Corbit, MD, is the Medical Informatics Director for SC TeamHealth and the Facility Medical Director for Colleton Medical Center. He previously served as the Chief Medical Informatics Officer for Emergency Medicine Physicians/US Acute Care Solutions for over 8 years. He is a practicing emergency medicine physician and also a Principal at the HealthLytix Consulting Group.
Dr. Catherine Craven, PhD, is a Senior Clinical Informaticist at the Institute of Healthcare Delivery Science and the IT Department of the Mt. Sinai Health System in New York. She has worked in industry, provider healthcare, and library sciences. She received her PhD in clinical informatics as a National Institutes of Health (NIH)/National Library of Medicine Health Informatics Research Fellow at the University of Missouri.
Mr. David Leander is an MD-MBA candidate at Dartmouth University, class of 2020. He worked on EHR projects at many health systems before medical school as a project manager at Epic Systems and continues as a consultant since entering medical school. Mr. Leander hopes to continue his formal informatics training in residency.
Dr. Karl Poterack, MD, is board-certified in clinical informatics as well as anesthesiology. He serves as the Medical Director for Applied Clinical Informatics for Mayo Clinic; he practices anesthesiology at the Mayo Clinic Hospital in Phoenix, Arizona.
Dr. Eric Rose, MD, is the Vice President of Terminology Management at Intelligent Medical Objects (IMO), responsible for managing terminology content creation operations as well as contributing to company-wide product, go-to-market, and partner engagement strategy. Dr. Rose has held numerous health informatics leadership positions in health systems and industry; he is also a family physician and clinical faculty at the University of Washington School of Medicine.
Dr. Richard Schreiber, MD, is an Associate CMIO for the Geisinger Health System at Geisinger Holy Spirit Hospital; the Regional Assistant Dean of the Geisinger Commonwealth School of Medicine; a practicing hospitalist; and an informatics researcher focusing on clinical decision support, documentation, and venous thromboembolic disease. He is board-certified in clinical informatics.
Dr. Christina Stephan, MD, PhD, has over 15 years of experience in advancing innovative health technology and EHR solutions for clinical and population health systems through strategic planning, education, research and development, including the Director of Medical Informatics at Health Book, an Associate Director of Health Management and Informatics at the University of Missouri School of Medicine, and the Co-chair of the AMIA Public Health Informatics Working Group.
Dr. Kai Zheng, PhD, focuses on consumer-facing technologies and design; he is an Associate Professor of Informatics at the Donald Bren School of Information and Computer Sciences and the Director of the Center for Biomedical informatics at the Institute for Clinical and Translational Science, both at the University of California—Irvine. He is the Chair of the AMIA CIS-WG.
Contributing Experts, Authors, and Author Teams
Jeffrey Adams, PhD, RN; Audrey Parks, MBA; and Virginia Williams, MSN, RN
Lawrence B. Afrin, MD; Frank Clark, PhD; John Waller, MD; Patrick Cawley, MD; Timothy Hartzog, MD; Mark Daniels, MS; and Deborah Campbell, RN
Melissa Baysari, PhD
Pam Charney, PhD, RD
Christopher Corbit, MD
Catherine Craven, PhD
Chris Doyle, MD
Wen Dombrowski, MD
Michael Gallagher, MD, MPH
Nicholas Genes MD, PhD, and Romona Tulloch, MS, RN
Justin Graham, MD, MS
Brian Gugerty, DNS, RN
Christopher Harle, PhD; Marvin Dewar, MD, JD; and Laura Gruber, MBA, MHS
Jacqueline Henriquez, RNC, MSN
Melinda Jenkins, PhD, FNP
Henry W. Jones III
Bonnie Kaplan, PhD
Gail Keenan, PhD, RN
David Leander
Christoph Lehmann, MD; Roberto A. Romero, BS; and George R. Kim, MD
Jonathan Leviss, MD
Steven Magid, MD, Richard Benigno, and Jessica Kovac
George McAlpine, MBA RN and Aditi Vakil, MBBS, MHA
Sandi Mitchell, BS Pharm, MSIS
Ilene Moore, MD
Kenneth Ong, MD, MPH
Paul Oppenheimer, MD
Larry Ozeran, MD
Patrick A. Palmieri, EdS, RN
Liron Pantanowitz, MD and Anil V. Parwani, MD, PhD
Eric Poon, MD, MPH
Brad Rognrud, MS, RPh
Eric Rose, MD
Karl Poterac, MD
Richard Schreiber, MD, and John Knapp, MSISEM
Robert Schwartz, MD
Scot Silverstein, MD
Christina Stephan, MD, PhD
Diane Stevens, RN
Walton Sumner, MD and Phil Asaro, MD
Aditi Vakil, MBBS, MHA and Ken Koppenhaver, BSN, PhD
Vivian Vimarlund, Bahlol Rahimi, and Toomas Timpka
Riikka Vuokko, Anne Forsell, and Helena Karsten
Edward Wu, MD
Kai Zheng, PhD


About the Editors and Contributors. Acknowledgments. Forward. Introduction and Methodology. PART I: Hospital Care Focus.Chapter 1Build It with Them, Make It Mandatory, and They Will Come. Chapter 2 One Size Does Not Fit All. Chapter 3 Putting the cart before the horse--IDN Integration. Chapter 4 Hospital Objectives vs. Project Timelines. Chapter 5 Clinical Quality Improvement or Administrative Oversight. Chapter 6 Business Intelligence--legacy shortfall reinforces a new endeavor. Chapter 7 Legacy Data Viewer--when value endures. Chapter 8 Medication Alerts--usability reigns supreme. Chapter 9 Antibiotic approvals--A mobile app that didn't. Chapter 10 Disruptive Workflow Disrupts the Rollout: Electronic Medication Reconciliation. Chapter 11 Anatomy of a Preventable Mistake: Unrecognized Workflow Change in Medication Management. Chapter 12. Failure to Plan, Failure to Rollout. Chapter 13 Enterprise EHR for Obstetrics--Fitting a square peg into a round hole. Chapter 14 Basic Math. Chapter 15 Mobile Devices--when in with the new does not mean out with the old. Chapter 16 Pharmacy System Upgrade--first time failures ensured later success. Chapter 17. Device Selection—No Other Phase Is More Important. Chapter 18 ICU Data Capture—how many systems is too many. Chapter 19 Fetal Monitoring--simultaneous systems migration. Chapter 20 Critical Lab--notification failure. Chapter 21 Collaboration Is Essential: Care Planning and Documentation. Chapter 22 Lessons beyond Bar Coding. Chapter 23 A Single Point of Failure. Chapter 24 Vendor and Customer. Chapter 25 Communications Upgrade--the phone's on, but nobody's home. Chapter 26 Ready for the Upgrade. Chapter 27 Effective Leadership Includes the Right People. Chapter 28 Chronic Care Model--Organizational Culture eats Implementation Strategy for Lunch. Chapter 29 Shortsighted Vision. Chapter 30. Committing Leadership Resources. Chapter 31 When to throw the towel--ED Downtime. Chapter 32 Voice Recognition--when life throws you lemons, make lemonade. Part II: Ambulatory Care Focus. Chapter 33 All Automation Isn't Good. Chapter 34 Start Simple. Chapter 35 It's in the EHR…but where?? CHapter 36 All Systems Down…What Now? Ambulatory EHR. Chapter 37 Weekends Are Not Just for Relaxing. Chapter 38 104 Synergistic Problems. Chapter 39 What defines "failure"?--A Small Practice EHR. Chapter 40 Digital does't always mean easier. Part III: Community Focus. Chapter 41 Push vs. Pull. Chapter 42 HIE Alerts--disconnecting primary care providers. Chapter 43 Loss Aversion. Chapter 44 Care Coordination--Improved population management requires management. Part IV: Points of View. Chapter 45 Theoretical Perspective. Chapter 46 EHR Transitions--deja vous. Chapter 47 User Interface--poor designs hinder adoption. Chapter 48 Exploring HIT Contract Cadavers To Avoid HIT Managerial Malpractice. PART V: Appendices. Appendix A -HIT Project Categories. Appendix B -Lessons Learned Categories. Appendix C -Text References and Bibliography of Additional Resources. Index
versandkostenfreie Lieferung
---
56,50 €

(inkl. MwSt.)
Lieferfrist: bis zu 10 Tage
Aufgrund der Corona-Krise kann es in Einzelfällen zu deutlich längeren Lieferzeiten kommen.
---
Webcode: sack.de/hgd5h
Bitte ändern Sie das Passwort