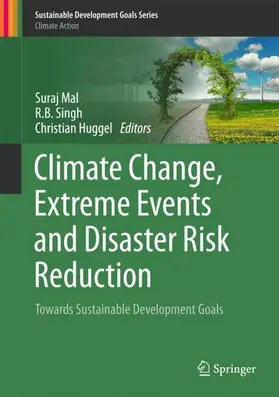 Mal / Singh / Huggel
Climate Change, Extreme Events and Disaster Risk Reduction
Towards Sustainable Development Goals
1. Auflage 2018
ISBN: 978-3-319-56468-5
Verlag: Springer, Berlin
Seite exportieren
---
(inkl. MwSt.)
versandkostenfreie Lieferung
sofort versandfertig, Lieferfrist: 1-3 Werktage
---
---
---
---
---
---
---
This book discusses the science, causes, impacts and risk reduction strategies for climate change and disasters. It focuses on the use of traditional knowledge, new innovation and education to build a culture of safety and resilience at all levels in order to promote sustainable development goals in general and disaster risk reduction in particular.

The global climate has changed substantially over the last century. There is strong evidence of global climate change in the form of increase in air and sea surface temperature, recession of glaciers, changes and shifting of climate regimes, increasing number of extreme events and sea levels changes. The increasing frequency of climate change induced disasters in particular is posing a threat to resilience, lives and livelihoods at global, regional and local levels. Major ecosystems of the world have experienced several climate induced disaster events in recent past.

This book provides new insights into the occurrence and impacts of climatic extremes and strategies for disaster risk reduction. It includes studies on rainfall and temperature trends, floods and drought disasters, weather and climatic related disasters in mountains, changes in plant activities, risk assessment and responses in different ecosystems of the world. The book is particularly useful for environmental and disaster managers, researchers and graduate students, as well as policy makers.
Herausgeber


Mal, Suraj
Dr. Suraj Mal (Chair, Biogeography and Biodiversity Commission, International Geographical Union) is Assistant Professor at Department of Geography, Shaheed Bhagat Singh College, University of Delhi. His areas of research interests include Himalayan Glaciology and Climatology, Remote Sensing of Glaciers, Glacial Hazards and Environmental Issues in Indian Himalaya. He has received the DAAD award for his short research stay at Hamburg University in Germany. Dr. Mal has published several research papers in international journals, often written together with Prof. Dr. R.B. Singh. He is co-editor of Springer Series on Sustainable Development Goals. He has co-edited a Springer volume on Climate Change, Glacier Response and Vegetation Dynamics in the Himalaya. He is also part of two international collaborative research projects in High Himalaya. Dr. Mal is a member of the International Association of Hydrological Sciences and National Association of Geographers, India.
Professor Dr. R.B. Singh (Vice-President, International Geographical Union (IGU)) is Professor since 2002 and Coordinator UGC-SAP-DRS III, Department of Geography, University of Delhi, India; Earlier served as UGC Research Scientist-C/Professor (1996-2002), UGC Research Scientist-B/Reader (1988-1996) and Lecturer (1985-1988); He is Springer Series Lead Editor of Advances in Geographical and Environmental Sciences and Sustainable Development Goals and IAP-Global Network of Science Academies representative on Disaster Risk Reduction.
He was awarded prestigious JSPS Research Fellowship at Hiroshima in 2013 and Several Travel Fellowships/ Support from UNEP, UNITAR,UNU, UNCRD, WCRP, IAHS, IGU, NASDA, INSA, UGC, SICI, MAIRS and Univ. of Delhi etc. for participating and presenting papers, Chairing session and discussing research projects in more than 30 countries. Prof. Singh has specialized in Environmental Studies, Climate Change, Urban Regional Development, Disaster Management, Remote Sensing and GIS. He has to his credit 11 Books, 33 edited research volumes and more than 200 research papers published in national and international journals. He was Special Series Editor of prestigious journals like Sustainability, Advances in Meteorology, Physics and Chemistry of the Earth. He was also associated with prestigious international collaborative research programs such as ICSSR-IDPAD, CIDA-SICI, DFID and Ministry of Agriculture. He was also associated with Nordic Inst. of Asian Studies, Copenhagen (also associated Denmark) in 1998 and Visiting Professor for delivering invited Lectures at the University of Turku (Finland). He was as one of the contributors in the famous -The World Atlas- Earth Concise, Millennium House Ltd., Australia.
Dr. Christian Huggel is at the Department of Geography, University of Zurich and head of the research group Climate & Environment: Impacts, Risks and Adaptation (Eclim). He focuses on climate impacts, risks and adaptation to climate change, mainly in mountain and high-mountain regions. His aim is to understand how climate and climate change affects environmental and socio-environmental systems, how these systems respond in the context of multiple drivers of change, and what changes can be attributed to climate change and other drivers. Dr. Huggel recognizes the importance to adequately approach these research fields from an interdisciplinary perspective. In his research he also studied glacier and other mountain hazards such as glacier lake outburst floods, avalanches and landslides; volcano-ice interactions; hazard, vulnerability and risk assessments; integrated monitoring and risk management such as early warning systems. His working experiences stretches from the European Alps, the Andes, Mexico, Alaska, the Caucasus, to Central Asia and the Himalayas. Dr. Huggel was a Lead Author of the IPCC Working Group II 5th Assessment Report and has been a science advisor of the Swiss delegation at the UNFCCC Conferenc


Introducing the Linkages between Climate Change, Extreme Events and Disaster Risk Reduction.- Analysis of weather- and climate-related disasters in mountain regions using different disaster databases.- Influence of climate change on environmental hazards and human well-being in the urban areas - Warsaw case study versus general problems.- Physiographic Influence on Rainfall Variability: A Case study of Upper Ganga Basin.- Water Deficit Estimation under Climate Change and Irrigation Conditions in the Fergana Valley, Central Asia.- Long-Term Trend of NDVI Response to Rainfall: A Geo-Spatial Approach.- Variability of Temperature and Rainfall in the Upper Beas Basin, Western Himalayas.- The Impact of Extreme Weather Events on Food Security.- Sedimentation Induced Depositional Lands of the Gumti River of Tripura and its Land Use Pattern.- Landscape Changes in the Activity of Higher Altitude Vascular Plants Species in the OB Plateau (Altai Krai, Russia).- Application of Classification and Regression Trees for Spatial Prediction of Rainfall Induced Shallow Landslides in the Uttarakhand Area (India) Using GIS.- Is Climate Change the Nemesis of Rural Development?: An Analysis of Patterns and Trends of Zimbabwean Droughts?.- Entering the new +2°C Global Warming Age and a Threat of World Ocean Expansion for Sustainable Economic Development.- Climate change and coastal mega-cities: disaster risk assessment and responses in Shanghai City.- La Niña event 2010-2011: hydroclimatic effects and socioeconomic impacts in Colombia.- The Experience of Disaster Risk Reduction and Economic Losses Reduction in Malaysia during the Water Crisis 1998 in the Context of the Next El Niño Strongest on Record Maximum 2015.- Sustainable disaster risk reduction in mountain agriculture: Agroforestry experiences in Kaule, mid-hills of Nepal.- Building Community Resilience to Flash Floods: Lessons Learnt from a case study in the Valles Urban Area, SLP, Mexico.- Quantification of Geodiversity of Sikkim (India) and its Implications for Conservation and Disaster Risk Reduction Research.- Peak Discharge Analyses for Flood Management in Lower Gandak Basin.
versandkostenfreie Lieferung
---
171,19 €

(inkl. MwSt.)
sofort versandfertig, Lieferfrist: 1-3 Werktage
---
Webcode: sack.de/h6tbe
Bitte ändern Sie das Passwort