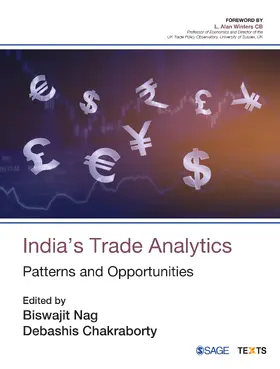 Nag / Chakraborty
India's Trade Analytics
Patterns and Opportunities
1. Auflage 2019
ISBN: 978-93-5328-275-2
Verlag: SAGE Text
Seite exportieren
---
Buch, Englisch,
448 Seiten, Kartoniert, Paperback, Format (B × H): 189 mm x 246 mm, Gewicht: 860 g

Patterns and Opportunities

1. Auflage 2019, 448 Seiten, Kartoniert, Paperback, Format (B × H): 189 mm x 246 mm, Gewicht: 860 g
ISBN: 978-93-5328-275-2
Verlag: SAGE Text

Seite exportieren
---
(inkl. MwSt.)
versandkostenfreie Lieferung
Lieferfrist: bis zu 10 Tage
---
---
---
---
---
---
Provides a structured application of major concepts and methodologies in trade analytics, geared towards identification of export markets and products as well as their competitiveness.

Designed as a practical guide for management graduates, researchers, corporate executives and policy-makers, India's Trade Analytics familiarizes the readers with various technical approaches to the analysis of international trade flows, market identification and competitiveness measurement procedures. The book also addresses emerging issues in international trade patterns along with the description of standard trade indices and trade modelling techniques. It aims to enable the readers to adopt modelling and analytical tools as relevant to their research problem.

The chapters are closely woven with India's trade issues at both macro and micro levels. While the macro aspects include the analysis at the country level (i.e., overall trade indices for India involving its trade partners), the product-specific analysis (e.g., competitiveness for individual export items from India at disaggregated level) is conducted in the micro discussions.

Key Features:

• Critical analysis of data drawn from important multilateral trade databases.

• Application of crucial methodologies like ex post and ex ante analyses, and partial and general equilibrium models, along with in-depth interpretation of the derived output (e.g., competitiveness analysis, effect of tariff reform) for partner markets.

• Discussion on identifying the non-tariff barriers (NTBs).

• Explains the role of trade facilitation measures and trade costs in international business.
Herausgeber


Nag, Biswajit
Biswajit Nag is Professor of Economics at the Indian Institute of Foreign Trade (IIFT), New Delhi. He has been involved in empirical economic research for more than two decades in addition to having taught in both India and overseas. Dr Nag has completed a number of projects for the Government of India and international agencies such as the UN, World Bank, Asian Development Bank, World Trade Organization (WTO), European Union, Department for International Development (DFID) and Japan International Cooperation Agency (JICA). He is also an advisor on global value chain (GVC) to Asia-Pacific Research and Training Network on Trade (ARTNet), promoted by the UNESCAP. His current research interest covers areas of international production networks (IPNs), GVCs, trade in services, regional trade agreements (RTAs), trade and development and so on. He is well known for advising on sector-based strategies to access the international market. Dr Nag is currently working on trade and technology with a focus on the firm's ability to absorb new technology and accelerate its involvement in international trade. He is also conducting research on technology integration and employment dynamics in Indian exportable sector. He has also recently reviewed 'Digital Trade Facilitation in Asia and the Pacific', a report published by the UN. His book My World with Rafiki: An Economic Travelogue and Miscellany focuses on changing international business environment and is based on case studies used in MBA classes. His another book Business Innovation and ICT Strategies (co-authored) deals with decision-making strategies using Information and Communications Technology (ICT) tools and role of open innovation in aligning technical capabilities and market knowledge.

Dr Nag has trained a large number of officials and corporate managers in India and abroad on trade policy and development issues including quantitative tools to analyse developmental impact of policy change and international business.

Chakraborty, Debashis
Debashis Chakraborty is Associate Professor of Economics at Indian Institute of Foreign Trade (IIFT), Kolkata. His research interests include international trade and WTO policy issues, RTAs, environmental sustainability considerations, economic development in India and India's intra-industry trade (IIT) relations. Dr Chakraborty has completed a number of projects for the Government of India, corporate bodies and international agencies including World Bank, Commonwealth Secretariat and others. He has been involved in empirical economic research for more than a decade and extensively published his research articles in national and international refereed journals. He also has 11 volumes (including both co-authored and co-edited ones) to his credit. His co-edited volume entitled Trade, Investment and Economic Development in Asia: Empirical and Policy Issues has been published recently. Dr Chakraborty is currently working on the level and determinants of India's IIT across sectors with partners and its implications on labour market outcomes. Of late, he is also focusing on the popularization of sustainability narrative among readers in wider forums. Dr Chakraborty is presently a co-editor of Foreign Trade Review (SAGE), which is a comprehensive forum for disseminating theoretical and empirical research on the issues related to international trade and investment.

Over the years, Dr Chakraborty has been involved in training a large pool of government officials and corporate executives on trade policy and competitiveness analysis, and the application of quantitative techniques to form future policy decisions.


Foreword - L. Alan Winters CB
Preface
Introduction: Trade Analytic Tools for Policymaking and Business Decisions—Application and Interpretation - Biswajit Nag and Debashis Chakraborty
PART A: STRUCTURE AND USE OF TRADE DATA AND INDICES
India's Trade Pattern and Opportunities with Central Asian Countries: An Application of Select Trade Indices - Debashis Chakraborty and Zaki Hussain
Emerging Patterns in Intra-industry Trade: An Analysis of India–EU Trade with Select Sectors - Biswajit Nag and Zaki Hussain
PART B: SECTOR-BASED TRADE OUTCOME ANALYSIS
Export Competitiveness of India's Leather Exports: Application of Select Indices - Debashis Chakraborty and Zaki Hussain
A Constant Market Share Analysis of India's Export to ASEAN Countries - Debashis Chakraborty, Triptendu Prakash Ghosh and Zaki Hussain
Shift Share Analysis: An Application to Analysis of Indian Exports - Bibek Ray Chaudhuri
International Production Networks (IPNs) and Global Value Chains (GVCs) between India and Northeast Asia: An Analysis of Value-added Trade in Selected Industries - Biswajit Nag and Jaewook Lee
PART C: ASSESSMENT OF OPEN ECONOMY INDICATORS
Balance of Payment Analytics: Application of Select Indices - Ranajoy Bhattacharyya
Exchange Rate Dynamics and Measuring Balance of Payment Implication - Ashima Puniani and Jaydeep Mukherjee
PART D: TRADE IN SERVICES
Measuring Services Trade: Major Challenges in India and the Way Forward - Arpita Mukherjee and Tanu M Goyal
Services Trade Restrictiveness Index, Methodology and Application: The Indian Context - Hildegunn Kyvik Nordås
PART E: TRADE FACILITATION
Interpreting Trade Facilitation Indices Towards a Smooth Regional Trade in Asia-Pacific - Yann Duval, Biswajit Nag and Yuhua Zhang
Assessing Linkages between Trade Costs and Trade Flows: Applications of Gravity Model - Prabir de and Durairaj Kumarasamy
PART F: ANALYSIS AND MODELLING OF TRADE BARRIERS
Modelling Non-tariff Measures in RTAs - Rajan Sudesh Ratna
Non-tariff Barriers on Auto-components' Exports: Application of Select Indices - Debashis Chakraborty, Julien Chaisse and Zaki Hussain
PART G: PARTIAL AND GENERAL EQUILIBRIUM MODELLING TECHNIQUES
Implication of Tariff Reduction Through Partial Simulation Using Smart: An Analysis of India's Import of Passenger Vehicles from Japan and Germany - Biswajit Nag and Pratiksha Chaturvedi
Gravity Model of International Trade: Understanding the Underlying Dynamics - Zaki Hussain and Biswajit Nag
Use of Computable General Equilibrium Model in Trade Research: An Application of GTAP Model on India–ASEAN Trade - Chandrima Sikdar
Advances in Global CGE Modelling and Trade Policy Formulations: Some Issues - G Badri Narayanan
Conclusion: Trade Analytic Tools: For Whose Benefits? - Debashis Chakraborty and Biswajit Nag
Index
versandkostenfreie Lieferung
---
40,50 €

(inkl. MwSt.)
Lieferfrist: bis zu 10 Tage
Aufgrund der Corona-Krise kann es in Einzelfällen zu deutlich längeren Lieferzeiten kommen.
---
Webcode: sack.de/fjg0v
Bitte ändern Sie das Passwort