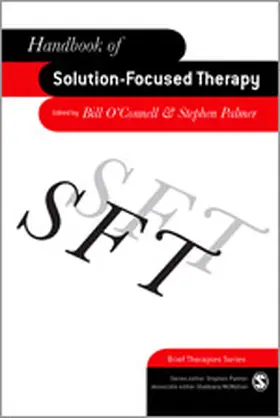 O'Connell / Palmer
Handbook of Solution-Focused Therapy
1. Auflage 2003
ISBN: 978-0-7619-6784-2
Verlag: SAGE Publications Ltd
Seite exportieren
---
Buch, Englisch, Reihe:
Brief Therapies series
200 Seiten, Kartoniert, Paperback, Format (B × H): 156 mm x 234 mm, Gewicht: 310 g
Erhältlich auch als Buch
1. Auflage 2003, 200 Seiten, Kartoniert, Paperback, Format (B × H): 156 mm x 234 mm, Gewicht: 310 g Reihe: Brief Therapies series
ISBN: 978-0-7619-6784-2
Verlag: SAGE Publications Ltd
Seite exportieren
---
(inkl. MwSt.)
versandkostenfreie Lieferung
Lieferfrist: bis zu 10 Tage
---
---
---
---
---
---
`On a scale of 0-10 I would give the Handbook of Solution Focused Therapy a nine - it met my best hopes in terms of an insight into the theory and mechanics of SFT, and gave me ideas for extending my current use of the therapy. I found it engaging, readable and well-presented, with useful reference lists within each chapter to guide further reading' - Solution News `This collection of fifteen chapters, each written by a different specialist in the SFT field, is a valuable contribution to the Solution-Focused therapist's bookshelf. A must-read for any informed SF therapy practitioner - Mark McKergow, The Solutions Focus `This book has 14 chapters on diverse applications of Solution-Focus, between introductory and closing chapters by Bill O'Connell. The book relates to work being done in the UK and in Ireland, excepting Alasdair MacDonald's piece on research in SFT, which is an up-to-date and welcome review of research findings world-wide. All the chapters are succinct and they convey a clear impression of the lightness and excitement of this approach, for service-users and therapists alike. The book is a good read for any therapist, professional helper or service manager' - Robert Cumming, Nurturing Potential Solution-Focused therapy is an increasingly popular approach, used by practitioners in a wide range of contexts and settings. Illustrating the breadth and depth of contemporary practice, the Handbook of Solution-Focused Therapy brings together contributions from leading practitioners in fields such as social work, education and health care to show how solution-focused techniques can be effective in many different situations. Beginning with an introduction to the origins and theory of the approach, the book examines different areas of practice, explaining how and why the solution-focused approach is applicable and highlighting the issues specific to each context. Each chapter features a case-example, which demonstrates the practical advantages and difficulties, involved in using the solution-focused approach. The Handbook of Solution-Focused Therapy is an ideal text for training courses in solution-focused therapy and a source of new ideas for practitioners trained in other approaches who want to integrate solution-focused techniques with their existing practice. Bill O'Connell is a Senior Lecturer in Counselling at University of Birmingham and author of Solution-Focused Therapy (SAGE 1998) and Solution-Focused Stress Counselling (Continuum 2001). Professor Stephen Palmer is Director of the Centre for Stress Management and the Centre for Coaching, London. He has written and edited over 25 books.
Autoren

Herausgeber


O'Connell, Bill
Bill is currently the Director of Training for Focus on Solutions, an independent training agency specialising in using the Solution-Focused approach. He has introduced many thousands of people to SFT through his lecturing and training courses.

His background is in social work, youth work, lecturing, counselling and management. Bill designed and led the first Masters degree in Solution-Focused Therapy offered by the University of Birmingham.

Bill is a Fellow and Senior Accredited Counsellor of the British Association of Counselling and Psychotherapy.

He is the author of Solution-Focused Therapy (1998 / second edition 2005); Solution-Focused Stress Counselling (2001) and co-editor of The Handbook of Solution-Focused Therapy (2003). Bill has contributed numerous book chapters and journal articles on the Solution-Focused approach.

When he's not working he loves the company of his grandchildren, is a keen, but not very good golfer and a life long supporter of Glasgow Celtic.

Palmer, Stephen
Professor Stephen Palmer PhD is an award winning psychologist and psychotherapist. He is Founder Director of the Centre for Stress Management, London. He is the UK's first Visiting Professor of Work Based Learning and Stress Management at Middlesex University. He has authored/edited over 50 books including The Beginner's Guide to Counselling and Psychotherapy (Sage, 2015). He is Co-editor of the European Journal of Counselling Theory, Research and Practice. Currently he is Honorary President of the International Stress Management Association; President of the International Society for Coaching Psychology; Founder Co-Chair of the London Branch of the British Association for Behavioural & Cognitive Psychotherapies; a Founder Director and Vice President of the Society of Dialectical Behaviour Therapy and a Director and Deputy Chair of the Association for Rational Emotive Behaviour Therapy. His interests include jazz, art and coastal walking.


Introduction to the Solution-Focused Approach - Bill O'Connell
Research in Solution-Focused Therapy - Alasdair J McDonald
Solution-Focused Groupwork - Pat Hoskisson
Solution-Focused Practice with Families - Guy Shennan
Solution-Focused Parent Training - John Sharry
Solution-Focused Couples Therapy - Chris Iveson
Solution-Focused Therapy and Mental Health - Tom Dodd
The Solution-Focused Approach in Higher Education - Nigel White
Solution-Focused Therapy in Schools - Harvey Ratner
Solution-Focused Practice in Social Work - John Wheeler
Using Solution-Focused Therapy with Women - Jane Lethem
A Solution-Focused Approach to Sexual Trauma - Melissa Darmody
Solution-Focused Therapy and Substance Misuse - Paul Hanton
A Solution-Focused Approach to `Psychosis' - Dave Hawkes
Solution-Focused Reflecting Teams - Harry Norman
The Future for SFT - Bill O'Connell
versandkostenfreie Lieferung
---
63,90 €

(inkl. MwSt.)
Lieferfrist: bis zu 10 Tage
Aufgrund der Corona-Krise kann es in Einzelfällen zu deutlich längeren Lieferzeiten kommen.
---
Webcode: sack.de/ucq5f
Bitte ändern Sie das Passwort