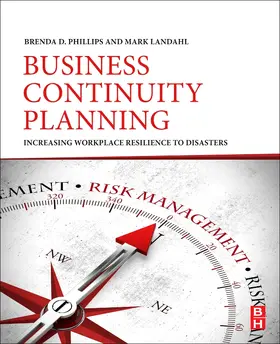 Phillips / Landahl
Business Continuity Planning
Increasing Workplace Resilience to Disasters
Erscheinungsjahr 2020
ISBN: 978-0-12-813844-1
Verlag: BUTTERWORTH HEINEMANN
Seite exportieren
---
Buch, Englisch,
208 Seiten, Kartoniert, Format (B × H): 191 mm x 235 mm
Increasing Workplace Resilience to Disasters
Erscheinungsjahr 2020, 208 Seiten, Kartoniert, Format (B × H): 191 mm x 235 mm
ISBN: 978-0-12-813844-1
Verlag: BUTTERWORTH HEINEMANN
Seite exportieren
---
(inkl. MwSt.)
versandkostenfreie Lieferung
vorbestellbar, Erscheinungstermin ca. November 2020
---
---
---
---
---
---
---
Terrorism, natural disasters, or hazardous materials threaten the viability for all types of businesses. With an eye toward business scale, scope, and diversity, Business Continuity Planning: Increasing Workplace Resilience to Disasters, addresses a range of potential businesses from home-based to large corporations in the face of these threats, including the worldwide COVID-19 pandemic. Information on business continuity planning is easy to find but can be difficult to work through. Terminology, required content, and planning barriers often prevent progress. This volume solves such problems by guiding readers, step-by-step, through such actions as identifying hazards and assessing risks, writing critical functions, forming teams, and encouraging stakeholder participation. In essence, this volume serves as a business continuity planning coach for people new to the process or seeking to strengthen and deepen their ongoing efforts. By engaging stakeholders in a business continuity planning process, businesses can protect employees, customers, and their financial stability. Coupled with examples from recent disasters, planners will be able to inspire and involve stakeholders in creating a more resilient workplace. Designed for both educators and practitioners, Business Continuity Planning: Increasing Workplace Resilience to Disasters walks users through how to understand and execute the essential steps of business continuity planning.



- Presents evidence-based best practices coupled with standard operating procedures for business continuity planning in a stepwise, user-oriented manner
- Includes numerous examples and case studies bringing the ideas and procedures to life
- Provides user-friendly materials and resources, such as templated worksheets, checklists, and procedures with clear instructions, making the volume engaging and immediately operational
Phillips, Brenda D.
Brenda D. Phillips, Ph.D., is the Dean of Liberal Arts and Sciences and Professor of Sociology at Indiana University South Bend. Previously, she taught emergency management at Oklahoma State University and has served as a subject-matter expert, consultant, and volunteer for multiple agencies, communities, educational institutions, and voluntary organizations. She is the author of Disaster Recovery, Mennonite Disaster Service, and Qualitative Disaster Research, the co-author of Introduction to Emergency Management, and the co-editor of Social Vulnerability to Disaster and co-author of the forthcoming Business Continuity Planning. She has written numerous peer-reviewed journal articles in the discipline of emergency management and disaster science with direct experience in researching hurricanes, tornadoes, earthquakes, tsunamis, and hazardous materials accidents, much of which has been funded by the National Science Foundation. Dr. Phillips has been invited to assist or speak at disaster programs in the United States, Canada, Mexico, People's Republic of China, Costa Rica, New Zealand, Germany, Sweden, and Australia where she has promoted evidence-based best practices for community safety.

Dr. Phillips firmly believes in the extension of faculty expertise through volunteer service.

With over thirty years of experience in the field of emergency management education, Dr. Phillips has volunteered for local emergency management planning committees and voluntary organizations, especially for high risk populations. She has served as an unpaid reviewer of city and agency emergency management plans and assisted with planning around disaster-time domestic violence, safety for people with disabilities, and elderly evacuation. She has led business continuity planning at multiple academic institutions and businesses. Her most meaningful volunteer activities have helped to rescue animals and rebuild homes (and docks that support sustainable livelihoods) after disasters.

Landahl, Mark
Mark Landahl, Ph.D., CEM® has more than 23 years of experience spanning the fields of law enforcement, emergency management, homeland security, and higher education. After retiring as the Homeland Security Commander for the Frederick County (MD) Sheriff's Office, he began service in his current position as the Emergency Manager for the City of Rockville (MD). In addition to professional practice, Dr. Landahl teaches at several universities as an adjunct professor.


Chapter One. The Challenges of Business Continuity Planning

Introduction

What Most Businesses Do (Not Do) in a Disaster

Hazards that Become (Business) Disasters

- Natural Hazards

- Tsunamis and Cascading Events

- Hurricanes and Cyclones

- Floods

- Earthquakes

- Volcanos

- Tornadoes

- Hazardous Materials

- Technological Disruptions

- Terrorism and Active Attackers

- Pandemics

Types of Disaster Planning

- Mitigation Planning

- Preparedness and Planning

- Response Planning

- Recovery and Business Continuity Planning

The Benefits of Business Continuity Planning (BCP)

- Mission fulfillment

- The financial bottom line

- Loss containment

- Customer bases

- Human resources

- Diversity in the business community

Essential Principles for BC Planning

- Involvement and inclusion

- Planning is a process

- Evidence-based planning

- A culture of continuity

Upcoming Chapters

Chapter Two. Setting the Stage

The Challenges of Business Continuity Planning

- Getting people's attention

- Securing a commitment from the CEO

- Lack of knowledge or understanding

- Educating and involving people on planning as a process

The Effects of Disasters on Businesses

- Direct impacts

- Indirect impacts

- Downtime

- Displacement

- Impacts on employees

- Impacts on customers

- Businesses that fail

Essential Actions for Starting the Planning Process

- Get a team together

- Establish a timeline

- Kick off the BCP effort

- Build and maintain momentum

Chapter Three. Pre-planning Steps to Launch BCP

Introduction

Hazard Identification

- Sources of hazard information

- How to write up a hazard identification

Risk Assessment

- Understanding probabilities and historic trends

- Crafting Scenarios

Loss Estimation

- Kinds of losses to estimate

- Broader community impacts

Business impact analysis

Determining Acceptable Losses

Mitigating Losses

Essential Actions

Chapter Four. Parts of a Business Continuity Plan

Scenarios and Decision-Making

- Pandemic

- Technology Disruptions

- Natural Disasters

Critical Functions

- Prioritizing Critical Functions

- Work Teams

Assets and Workarounds

Essential Partnerships

Essential Actions to Take

Chapter Five. Managing Disruptions

Introduction

Infrastructure Disruptions

- Anticipating Disruptions

- Utilities

- Communication and Information Technology

- Transportation arteries and supply chains

Downtime Management

- How utilities get back on

- The role of critical function work teams

Displacement Management

- Site displacement

- Functional displacement

- Population displacement

Restoring Critical Functions

Essential Actions

Chapter Six. Managing Human Resources

Introduction

Case Examples

- Terrorism

- Natural Disaster

- Pandemic

The Critical Role of Human Resources Management

- Business Continuity Planning for Human Resource Management

- Preparing Employees for Disruptions

What Employees May Experience

- Personal Impacts

- Professional Impacts

What Employers May Experience

- Coping with Employee Impacts

- Coping with Immediate Business Impacts

Navigating Recovery

- Transitioning from Response to Recovery

- The 2004 Tsunami

- The 1989 Loma Prieta Earthquake

- Recognizing and Rewarding Employees

Essential Actions

Chapter 7. Strengthening and Testing your Business Continuity Plan

Introduction

Training on the BCP

- Why you need to know the plan

- Teachable moments

- Training options

- What to train on

Creating scenarios

· Exercises

- Tabletop

- Full scale

- Field

Virtual/Simulations

· Creating a culture of preparedness

Essential Actions

Chapter 8. Becoming More Resilient

Introduction

- Disaster losses and future predictions

Resilience

- The Sendai Framework

Mitigation

- The purpose of mitigation

- Becoming a champion for mitigation

The Recovery Process

- Employee support

- Flexibility

- Sustainability

Essential Actions

Appendix 1. Emergency Response Planning Basics 2. Mitigation Planning Basics 3. Essential Tools and Resources for BCP (worksheets, checklists, etc.)
<p>Primary: Emergency Managers, Business Continuity Planners, and Risk Managers.</p> <p>Secondary: Emergency Management education/degree programs.</p>
versandkostenfreie Lieferung
---
74,00 €

(inkl. MwSt.)
vorbestellbar, Erscheinungstermin ca. November 2020
---
Webcode: sack.de/7if9i
Bitte ändern Sie das Passwort