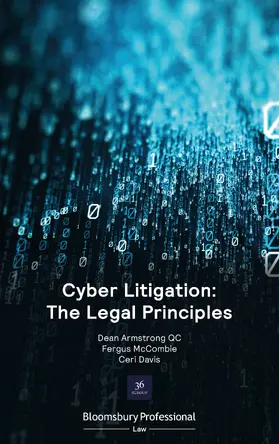 QC / McCombie / Davis
Cyber Litigation
---
Buch, Englisch,
304 Seiten, Kartoniert, Format (B × H): 156 mm x 248 mm
Erscheinungsjahr 2020, 304 Seiten, Kartoniert, Format (B × H): 156 mm x 248 mm
ISBN: 978-1-5265-1359-5
Verlag: TOTTEL PUB
Seite exportieren
---
---
---
---
---
---
Written by a team of experts from 36 Commercial, this new title describes the developing substance of cyber litigation setting out the position as regards:

- disputes where the subject matter is data or a database
- where the subject matter is software/programming and connected IP issues
- regulatory implications and e-contracts
- currency
- internet of things

It looks at the most common causes of action in cyber litigation, including cybercrime, IP (breach of copyright, trade mark infringement etc.), data protection breaches (eg DPA, GDPR); conflict of laws considerations; alternatives to litigation, such as, the NCA Prevent scheme and situations where arbitration/mediation are mandated.

It identifies the pitfalls that those working in this arena need to look out for and address in order not to become involved in litigation as well as advice for those who do find themselves involved in cyber litigation.
Qc, Dean Armstrong
Dean Armstrong QC is a barrister at 36 Group.
He is a regular commentator on legal matters both for Sky and BBC TV as well as on the radio and has recently been a contributor on cyber matters on BBC Business breakfast briefing.
Dean lectures extensively on all matters cyber and, in recent times, has advised high profile entities on GDPR and the consequences of a data breach.

McCombie, Fergus
Fergus McCombie is a barrister at The 36 Group. He has an established practice in employment and discrimination law and also accepts instructions in related areas, including; commercial disputes, public and regulatory law.
His previous experience includes a post as a judicial assistant to the Court of Appeal Civil Division. Before joining the bar he worked in corporate tax accounting in the City.
Fergus regularly gives lectures to solicitors and other professionals on employment law topics.

Davis, Ceri
Ceri Davis is barrister at The 36 Group. Her practice specialises in the commercial and regulatory aspects of international sanctions, economic crimes and torts, with a particular focus on cases concerning international bribery and corruption, and is developing a practice in cyber and its commercial/corporate aspects.
Ceri has a particular expertise in large-scale international cases with complex fact-patterns, including conducting detailed analysis and research and drafting detailed and complex documentation.


Part 1 - Cyber Litigation
Chapter 1: What is Cyber Litigation?
Chapter 2: How Cyber Litigation is Different from Other Forms of Litigation?
Chapter 3: Cyber Litigation in Practice/Current Areas of Cyber Litigation
Part 2 - Causes of Action
Chapter 4: Cyber Litigation and the Criminal Law
Chapter 5: Cyber Litigation and the Civil Law
Chapter 6: Cyber Litigation and Data Law
Part 3 - Litgation and Evidence
Chapter 7: Jurisdiction
Chapter 8: Class Actions
Chapter 9: Vicarious Liability
Chapter 10: Evidential Considerations
Part 4 - Remedies and Alternatives to Litigation
Chapter 11: Remedies
Chapter 12: Alternatives to Litigation
Part 5 - International Considerations
Chapter 13: Cyber Litigation and International Criminal Law
Chapter 14: Cyber Litigation and Conflict of Laws
Part 6 - The Future of Cyber Litigation
Chapter 15: Cyber Litigation in the Future