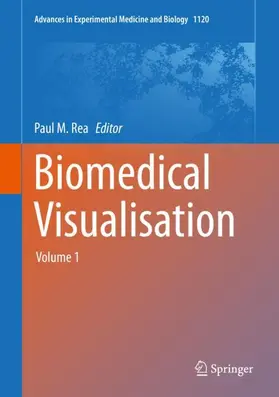 Rea
Biomedical Visualisation
Volume 1
1. Auflage 2019
ISBN: 978-3-030-06069-5
Verlag: Springer, Berlin
Seite exportieren
---
(inkl. MwSt.)
versandkostenfreie Lieferung
sofort versandfertig, Lieferfrist: 1-3 Werktage
---
---
---
---
---
---
---
This edited volume explores the use of technology to enable us to visualise the life sciences in a more meaningful and engaging way. It will enable those interested in visualisation techniques to gain a better understanding of the applications that can be used in imaging and analysis, education, engagement and training.

The reader will be able to explore the utilisation of technologies from a number of fields to enable an engaging and meaningful visual representation of the life sciences. This use of technology-enhanced learning will be of benefit for the learner, trainer, in patient care and the wider field of education and engagement.

By examining a range of techniques in image capture (photogrammetery, stereophotogrammetry, microphotogrammetry and autostereoscopy), this book will showcase the wide range of tools we can use. Researchers in this field will be able to find something suitable to apply to their work to enhance user engagement through improved visual means using the technologies we have available to us today.

It will highlight the uses of these technologies to examine many aspects of the human body, and enable improved ways to enhance visual and tactile learning, including 3D printing. By demonstrating co-design processes, working directly with the end-stage users (including patients), it will also highlight successes in adopting tools like hand motion tracking rehabilitation for patients with conditions like multiple sclerosis.

The book will also discuss the applications of immersive environments including virtual, augmented and mixed reality. The ultimate aim is to show how, by using these tools, we can enhance communication, mobile applications, health literacy and illustration of both normal and pathological processes in the body. By applying a wide range of tools and technologies, this volume will highlight the wide range of applications in education, training and learning both for students and faculty, but also for patient care and education.

Therefore, the work presented here can be accessed by a wide range of users from faculty and students involved in the design and development of these processes, by examining the pedagogy around these technologies. Importantly, it presents material, which will be of benefit for the patient, engaging them to become more involved with techniques like physiotherapy.
Herausgeber


Rea, Paul M.

Dr. Paul Rea is a medically qualified clinical anatomist and is a Senior Lecturer and Licensed Teacher of Anatomy. He has an MSc (by research) in craniofacial anatomy/surgery, a PhD in neuroscience, the Diploma in Forensic Medical Science (DipFMS), and has successfully an MEd (Learning and Teaching in Higher Education), with his dissertation examining digital technologies in anatomy. He is an elected Fellow of the Royal Society for the encouragement of Arts, Manufactures and Commerce (FRSA), elected Fellow of the Royal Society of Biology (FRSB), Senior Fellow of the Higher Education Academy, professional member of the Institute of Medical Illustrators (MIMI) and a fully registered medical illustrator with the Academy for Healthcare Science.
Dr. Rea has published widely and presented at many national and international meetings, including invited talks. He sits on the Executive Editorial Committee for the Journal of Visual Communication in Medicine, is Associate Editor for the European Journal of Anatomy and reviews for 20 different journals/publishers.


Enhancing Nursing Education through Affordable and Realistic Holographic Mixed Reality: The Virtual Standardized Patient for Clinical Simulation.- Potential Application Of Virtual Reality For Interface Customisation (And Pre-Training) Of Amputee Patients As Preparation For Prosthetic Use.- Visualising Medical Heritage: New Approaches To Digitisation And Interpretation Of Medical Heritage Collections.- Integrating 3D visualisation technologies in undergraduate anatomy education.- Pedagogical perspectives on the use of technology within medical curricula: moving away from norm driven implementation.- Towards a More User-Friendly Medication Information Delivery to People Living with Multiple Sclerosis: A Case Study with Alemtuzumab.- The Co-Design of Hand Rehabilitation Exercises for Multiple Sclerosis Using Hand Tracking System.- Examining Vascular Structure And Function Using Confocal Microscopy And 3D Imaging Techniques.- Which Tool Is Best: 3D Scanning Or Photogrammetry - It Depends On The Task.- Application of Photogrammetry in Biomedical Science.

versandkostenfreie Lieferung
---
160,49 €

(inkl. MwSt.)
sofort versandfertig, Lieferfrist: 1-3 Werktage
---
Webcode: sack.de/941sv
Bitte ändern Sie das Passwort