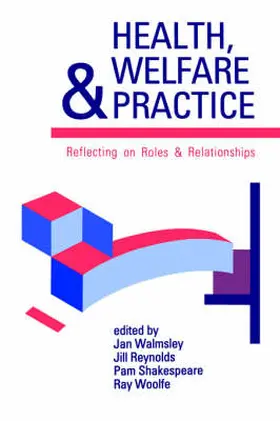 Reynolds / Shakespeare / Walmsley
Health, Welfare and Practice
Reflecting on Roles and Relationships
1. Auflage 1993
ISBN: 978-0-8039-8795-1
Verlag: Sage Publications UK
Seite exportieren
---
(inkl. MwSt.)
versandkostenfreie Lieferung
Lieferfrist: bis zu 10 Tage
---
---
---
---
---
---
Bringing together key issues in the provision and use of caring services, this volume is an invaluable training resource for health and social work practitioners. Roles and relationships are central themes: their complexity is stressed, as is their relevance to a better understanding of practice.

The book's first three sections explore: the distinctions between health and welfare occupations, and informal helping roles; different approaches for practitioners to develop sensitivity to diverse experiences and to challenge unfairly discriminatory responses, attitudes and stereotyped assumptions; and the potential for user empowerment, given the imbalance in power between workers and users. These areas provide practitioners with sources for reflection in the final section.

This unique collection encompasses both personal accounts and important current debates. It blends research with practice, and experience with academic insight. Throughout, readers are encouraged to make links across occupational divides and to challenge traditional assumptions.

The volume is a Course Reader for the Open University course Roles and Relationships: Perspectives on Practice K663.
Herausgeber


Woolfe, Ray
Ray Woolfe is a Counselling Psychologist in private practice.


Introduction
Roles and Relationships in Health and Welfare
PART ONE: EXPERIENCE AND EXPERTISE
What is a Profession? Experience versus Expertise - Jan Williams
Reflection-in-Action - Donald Sch[um]on
License and Mandate - Everett C Hughes
It's Not What You Do but Who You Are - Jan Walmsley
Caring Roles and Caring Relationships
Professional Ideology or Organizational Tribalism? The Health Service-Social Work Divide - Gillian Dalley
Labour Relations - Jenny Kitzinger, Josephine Green and Vanessa Coupland
Midwives and Doctors on the Labour Ward
Meaningful Distances - Ruth Purtilo
Wounded Healers - Patrick Wakeling
Awakenings
The Face-to-Face Interaction and After the Consultation - Gerry Stimson and Barbara Webb
Pregnancy and Childbirth - Elizabeth Roberts
A Historical Perspective
How the Poor Die - George Orwell
PART TWO: DIVERSITY AND DISCRIMINATION
Feminist Theory and Strategy in Social Work - Jill Reynolds
Towards an Anti-racist Curriculum in Social Work Training - Don Naik
Commonalities and Diversities between Women Clients and Women Social Workers - Jalna Hanmer and Daphne Statham
Violence against Black Women - Amina Mama
Gender, Race and State Responses
Black Nightingales - Yasmin Alibhai
Men - Sara Arber and Nigel Gilbert
The Forgotten Carers
The Alienated - Gladys Elder
Growing Old Today
Making Gardens from Wildernesses - Norma Pitfield
The Lives of Older Women
Acquired Hearing Loss - Maggie Woolley
Acquired Oppression
PART THREE: EMPOWERMENT AND POWER
Issues of Power in Health and Welfare - Roger Gomm
From Curing or Caring to Defining Disabled People - Vic Finkelstein
A Community's Adaptation to Deafness - Nora Ellen Groce
Empowerment and Oppression - David Ward and Audrey Mullender
An Indissoluble Pairing for Contemporary Social Work
New Disability Services - Christopher Brown and Charles Ringma
The Critical Role of Staff in a Consumer-directed Empowerment Model
The Barns Experiment - W David Wills
Resisting the System - Maggie Potts and Rebecca Fido
Anita's Story - Anita Binns
Rules, Roles and Relationships - Sheelagh Strawbridge
PART FOUR: REFLECTING ON PRACTICE
Trauma and Tedium - Barbara Webb
An Account of Living on a Children's Ward
Ritual and Rational Action in Hospitals - Gillian Chapman
A Feeling for Medicine - Naomi Craft
Personal and Medical Memories from Hillsborough - Tom Heller
Conflicts in the Residential Keyworker Role - Graham Connelly
Thinking about Feelings in Group Care - John Simmonds
Reflections on Short-term Casework - Liz Lloyd
Establishing a Feminist Model of Groupwork in the Probation Service - Tara Mistry
When the Solution becomes a Part of the Problem - Robert Bor, Lucy Perry and Riva Miller
Conclusion - Kate Lyon
Why Study Roles and Relationships?
versandkostenfreie Lieferung
---
53,20 €

(inkl. MwSt.)
Lieferfrist: bis zu 10 Tage
Aufgrund der Corona-Krise kann es in Einzelfällen zu deutlich längeren Lieferzeiten kommen.
---
Webcode: sack.de/x7k0d
Bitte ändern Sie das Passwort