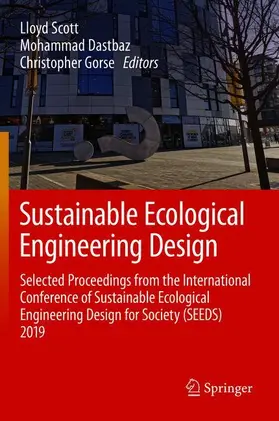 Scott / Dastbaz / Gorse
Sustainable Ecological Engineering Design
Selected Proceedings from the International Conference of Sustainable Ecological Engineering Design for Society (SEEDS) 2019
1. Auflage 2020
ISBN: 978-3-030-44380-1
Verlag: Springer, Berlin
Seite exportieren
---
Buch, Englisch,
500 Seiten, Gebunden, HC runder Rücken kaschiert, Format (B × H): 161 mm x 243 mm, Gewicht: 934 g
Selected Proceedings from the International Conference of Sustainable Ecological Engineering Design for Society (SEEDS) 2019
1. Auflage 2020, 500 Seiten, Gebunden, HC runder Rücken kaschiert, Format (B × H): 161 mm x 243 mm, Gewicht: 934 g
ISBN: 978-3-030-44380-1
Verlag: Springer, Berlin
Seite exportieren
---
(inkl. MwSt.)
versandkostenfreie Lieferung
Lieferfrist: bis zu 10 Tage
---
---
---
---
---
---
---
Through research and proven practice, the aim of the International Conference of Sustainable Ecological Engineering Design for Society (SEEDS) is to foster ideas on how to reduce negative impacts on the environment while providing for the health and well-being of society. The professions and fields of research required to ensure buildings meet user demands and provide healthy enclosures are many and diverse. The SEEDS conference addresses the interdependence of people, the built and natural environments, and recognizes the interdisciplinary and international themes necessary to assemble the knowledge required for positive change.
Herausgeber


Scott, Lloyd
Mohammad Dastbaz, PhD, is the Deputy Vice Chancellor at University of Suffolk. Professor Dastbaz's research work over recent years has been focused on the use and impact of emerging technologies in society, particularly learning, training and the development of "eGovernment." Dr. Dastbaz has led EU and UK based funded research projects and has been the Symposium Chair of Multimedia Systems in IEEE's Information Visualisation (IV) conference since 2002. He has over 50 refereed publications, including numerous journal paper articles, conference papers, book chapters and books on e-learning, eGovernment and the design and development of Multimedia Systems. Professor Dastbaz is a Fellow of the British Computer Society and UK's Higher Education Academy as well as the professional member of ACM and IEEE's computer society.
Christopher Gorse, PhD, is Director of Leeds Sustainability Institute, Head of the Centre for the Built Environment and Professor of Construction and Project Management at Leeds Beckett University. He is an Engineering Professors Council Member, Chartered Builder, Vice Chair for the Association of Researchers In Construction Management leading research projects in the energy, sustainability and building performance. Chris is an established author with publications in management, law, construction and refurbishment. While working in the construction industry, he operated as an engineer and project manager working on both building and civil engineering projects and continues to undertake legal and technical consultancy.
Lloyd M. Scott, PhD, is a Professor of Practice in the Construction Science Division at the University of Oklahoma. He is also a practicing academic at the Technological University Dublin (formerly the Dublin Institute of Technology (DIT)). He attended DIT as a trade apprentice in Carpentry and Joinery and later qualified with a City and Guilds certificate in Site Management, where he worked in the industry as site superintendent for some years. Lloyd was a scholarship recipient at the University of Limerick where he earned a B.Tech (Hons) in Wood and Building Technology in 1988. He received a MA in Educational Management at Waterford Institute of Technology and a PhD from The School of the Built Environment at the University of Salford. Dr. Scott worked in construction as a site superintendent for a large contracting company in Dublin for many years. He continues to perform select projects, and provide consulting services with the emphasis on sustainable construction practice. Before becoming associated with the University of Oklahoma in 2009, he had spent the previous nine years in the newly formed Construction Management (CM) Department at DIT where he set up the CM program. He has been recognized for his efforts with students in and out of the classroom, has published a number of articles in peer-reviewed journals and has completed various externally funded projects. His research interests revolve around sustainability in construction and educational assessment in built environment. Professor Scott is an Associate Editor of the International Journal of Construction Education and Research and also serves on the editorial boards of the International Journal of Building Pathology and Adaptation and The Mass Timber Journal.


Preface
Brief Bios of Contributors
Part 1 Sustainable Development and Urban Spaces
1) The Significance of Social Sustainability 2) URBANISATION AND THE BUILT ENVIRONMENT: EXPLORING HOW THE BUILT ENVIRONMENT CAN ENHANCE THE HEALTH AND WELL BEING OF THE PEOPLE LIVING IN URBAN SLUMS 3) Future Cities: The Role Of Biomimicry Architecture In Improving Livability In Megacities And Mitigating Climate Change Risks 4) Sustainable Development and Management of Low Volume Road Networks in Australia 5) A community-driven nature-based design framework for the regeneration of neglected urban public spaces 6) Does the planning system in England deliver a sustainable and resilient built environment? A study of the experience of town planners 7) Sustainability Assessments of Urban Railway Systems: Three Case Studies from Turkey 8) Perceptions of Teletubbyland: Public Opinions of SuDS Devices Installed at Eco-designed Motorway Service Areas 9) A Decision Support System for Affordable and Sustainable Housing Design and Delivery in Least Developed Countries (LDC's) 10) Are construction professionals equipped with the knowledge and tools to address the sustainability dilemma?
Part 2 Sustainability Education
11) SUSTAINABILITY IN CONSTRUCTION MANAGEMENT EDUCATION: A CASE STUDY OF STUDNETS' ATTITUDES AND BELIEFS AT TWO CM PROGRAMMES IN IRELAND AND UNITED STATE 12) DELIVERING ENERGY SAVINGS FOR THE SUPPLY CHAIN THROUGH BUILDING INFORMATION MODELLING AS A RESULT OF THE HORIZON2020 ENERGY BIMCERT PROJECT 13) The application of Virtual Reality to recreate an interactive WW1 camp 14) The Need for the Inclusion of Construction Health and Safety (H&S) in Architectural Education 15) WHO ARE THE 'MIDDLE ACTORS' IN SUSTAINABLE CONSTRUCTION AND WHAT DO THEY NEED TO KNOW? 16) DEVELOPING A BEST PRACTICE FRAMEWORK FOR DEGREE APPRENTICESHIPS IN CIVIL ENGINEERING: INITIAL FINDINGS 17) User satisfaction of a green star-rated literary museum in South Africa 18) Addressing Accreditation Criteria Related to Sustainable Construction in The United States: A Case Study
Part 3 Project Management in Sustainability
19) Stakeholder Management: Proposal for research; Do successful project managers employ 'interest based negotiation' to create successful project outcomes? 20) Effective Management of Hazardous Asbestos Waste within a Confined Watermain Pipeline Construction Project: Multiple Case Study Review 21) Construction Programme Failure and the Impact on Waste, Resource Efficiency, and Natural Capital in Construction Project Environments 22) An Investigation into the gap between Programme Management theory and practice 23) OBSTACLES OF SUSTAINABLE CONSTRUCTION PROJECT MANAGEMENT IN SOUTH AFRICA CONSTRUCTION INDUSTRY
Part 4 Energy and Energy Efficiencies
24) LONG-TERM DURABILITY OF SOLAR PHOTOVOLTAIC MODULES 25) Impact of Public Charging Infrastructure on the Adoption of Electric Vehicles in London 26) Performance evaluation based claims process for insuring energy performance of new dwellings 27) " A multi-dimensional analysis of smart energy systems - Towards developing a common framework for assessing the sustainability of small-scale renewables in selected societal sectors" 28) Evaluating Solar Prediction Methods to Improve PV Micro-grid Effectiveness Using Nonlinear Autoregressive Exogenous Neural Network (NARX NN)
Part 5 Sustainable Retrofit and Lifecycle Assessment
29) Responsible retrofit measures for traditional listed dwellings: An energy simulation validation strategy 30) Understanding Factors Influencing Overheating: The UK's First Large-Scale Domestic Passivhaus Retrofit 31) A SOUTH AFRICAN EXPERIENCE OF BUILDING ENERGY RETROFIT PROJECT CHALLENGES AND SOLUTIONS Part 6 Ecology and General Sustainability 32) Serious Games for the Built Environment - Eco Material Trumps 33) Sustainable Development of Mankind through Ecological Services: A Literature Review 34) Waste Management: The Case of Construction and Demolition Waste in Port Eliza
versandkostenfreie Lieferung
---
192,59 €

(inkl. MwSt.)
Lieferfrist: bis zu 10 Tage
---
Webcode: sack.de/76ojw
Bitte ändern Sie das Passwort