Wir sind für Sie erreichbar. Ihre Bestellungen nehmen wir online, per E-Mail oder Telefon gerne entgegen. Alle Informationen zur aktuellen Situation sowie Ihre Ansprechpartner finden Sie »hier.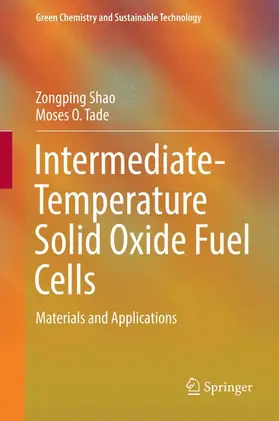 Shao / Tadé
Intermediate-Temperature Solid Oxide Fuel Cells
Materials and Applications
1. Auflage 2016
ISBN: 978-3-662-52934-8
Verlag: Springer
Seite exportieren
---
(inkl. MwSt.)
versandkostenfreie Lieferung
sofort versandfertig, Lieferfrist: 1-3 Werktage
---
---
---
---
---
---
---
This book discusses recent advances in intermediate-temperature solid oxide fuel cells (IT-SOFCs), focusing on material development and design, mechanism study, reaction kinetics and practical applications. It consists of five chapters presenting different types of reactions and materials employed in electrolytes, cathodes, anodes, interconnects and sealants for IT-SOFCs. It also includes two chapters highlighting new aspects of these solid oxide fuel cells and exploring their practical applications. This insightful and useful book appeals to a wide readership in various fields, including solid oxide fuel cells, electrochemistry, membranes and ceramics.Zongping Shao is a Professor at the State Key Laboratory of Materials-Oriented Chemical Engineering and the College of Energy, Nanjing University of Technology, China. Moses O. Tade is a Professor at the Department of Chemical Engineering, Curtin University, Australia.
Shao, Zongping
Professor Zongping Shao received his Ph.D. from Dalian Institute of Chemical Physics, Chinese Academy of Sciences, in July 2000. From August 2000 to February 2002, he was a visiting scholar at the Institut de Researches Sur La Catalyse, CNRS, France and a postdoctoral researcher at Materials Science, California Institute of Technology, USA from March 2002 to June 2005. In July 2005, he joined Nanjing University of Technology where he was promoted to professor. Since then he has been the director of the Institute of New Energy Materials and Technology. His research interests include solid oxide fuel cells, oxygen permeable membranes, polymer electrolyte membrane fuel cells, lithium-ion batteries and supercapacitors. He has published over 350 papers in international journals with more than 10000 total citations. These journals include Nature, Chem. Rev., Chem. Soc. Rev., Adv. Mater., Adv. Energy Mater., Nano Lett., Angew. Chem. Int. Ed., Energy Environ. Sci., Prog. Mater. Sci., Chem. Mater., and so on.

Professor Moses Tade was awarded the prestigious Commonwealth Scholarship to pursue his Ph.D. in Chemical Engineering at Queen's University, Canada from 1981 to 1986. He was recruited by The University of Queensland (UQ), Australia immediately after obtaining his Ph.D. and he was at UQ from September 1986 to January 1989. He joined Curtin University of Technology as a Lecturer in January 1989. He was promoted to various academic levels and was awarded the Personal Chair of Process Systems Engineering in 1999. He became the Professor and Head of Chemical Engineering from 2001 to 2007 and after this he was promoted to Dean of Engineering in 2008. Professor Tade was awarded a John Curtin Distinguished Professor at Curtin University in 2012 for his significant contributions to Chemical Engineering research at the highest level in the field of Process Systems Engineering. His research interests include: biochemical engineering, process modelling and simulation, process optimization and control, process systems engineering. He has published 4 books on various aspects of his work as well as over 200 research papers in refereed international journals and conference proceedings.


Introduction.- Electrolyte materials for IT-SOFCs.- Cathodes for IT-SOFCs.- Anodes for IT-SOFCs.- Interconnect materials for IT-SOFCs.- Sealants for IT-SOFCs.- Selected new aspects of SOFCs.- Application of SOFC Technology.
versandkostenfreie Lieferung
---
128,39 €

(inkl. MwSt.)
sofort versandfertig, Lieferfrist: 1-3 Werktage
---
Webcode: sack.de/i6heq
Bitte ändern Sie das Passwort