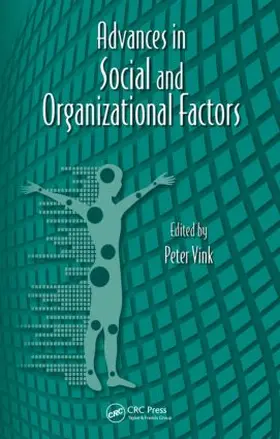 Vink
Advances in Social and Organizational Factors
---
Buch, Englisch,
840 Seiten, Gebunden, Format (B × H): 156 mm x 235 mm, Gewicht: 1362 g
Erhältlich auch als
1. Auflage 2012, 840 Seiten, Gebunden, Format (B × H): 156 mm x 235 mm, Gewicht: 1362 g
ISBN: 978-1-4398-7019-8
Verlag: CRC Press
Seite exportieren
---
(inkl. MwSt.)
versandkostenfreie Lieferung
Lieferfrist: bis zu 10 Tage
---
---
---
---
---
---
An exploration of how ergonomics can contribute to the solution of important societal and engineering challenges, Advances in Social and Organizational Factors discusses the optimization of sociotechnical systems, including their organizational structures, policies, and processes. It includes coverage of communication, crew resource management, work design, design of working times, teamwork, participatory design, community ergonomics, cooperative work, new work paradigms, organizational culture, virtual organizations, telework, and quality management.The book provides research on urban infrastructures and how to shape urban spaces, including stadiums and museums. It covers warning systems in cars, voice-based interfaces, and the positive effects on manufacturing processes available from health informatics and management systems. Several chapters examine the role human factors can play in counter-terrorism efforts and in interpreting deceptive behaviors. They provide suggestions on how to improve enterprise resource planning systems and stress the importance of lifelong learning, personalized learning, and work-life balance. The book also highlights issues with special populations, detailing how to design and adapt products and work situations for these groups.In addition to exploring the challenges faced in optimizing sociotechnical systems, the book underlines themes that play a role in all the challenges and how they are linked to each other. It concludes with an exploration of emotional ergonomics and the important positive effects of making people happy and healthy. With chapter authors from around the globe, the book supplies a broad look at current challenges and possible solutions.
Autoren

Herausgeber


Section I. Perception and Design of Spaces Desirable Features of Contemporary Domestic Kitchen, An Exploration about Interior Ambiance Based on User-Centered Design Approach,Architecture as an Expression of Equity Policies in Manufacturing Plants in Poland,Paradise Ambiance in Interactive Art: A Case Study of the National Palace Museum in Taipei,Laboratory Kitchen and "Existenzminimum" Dwellings, Intercultural Differences in the Formation of Space of the Courtroom, Using Mental Model and Ergonomics to Analyzing Chinese Opera Performing Skills, Perceptual Mechanisms of Transparency Recognition as Measures of Increased Human Spatial Orientation, The Issue of the Range of Vision in Design of Grandstands at the Contemporary Stadiums, The Application of Optical Illusions in Interior Design in Order to Improve the Visual Size and Proportions of the Rooms, Scale Architecture. Design Human Factors and Ergonomics Aspects Based on State-of-the-Art Structures, Impact of Historically Grounded Social Acceptability on Ergonomics in Shaping Urban Space and Structures in European Cultural Circle, and Multimedia Screens in Contemporary Architecture - Ergonomics of Use, Section II. Ergonomics in Industrial Quality Improvement of Lighting Quality in Advanced Main Control Rooms, Development of Virtual Instructors for Enhancing Nuclear Power Plant Personnel Training Quality, Applications of Ecological Interface Design on Advanced Main Control Room, Safety Oriented Voice-Based Interface for Vehicle's AV Systems: Talking Car System, Warning Message of Design of LDWS, Application of Taguchi Method on 3D Display Quality, Subjective Perceived Depth Measurement and Visual Comfort Evaluation for Viewing Stereoscopic Films, Application of Integrated Score of Ergonomic Work Conditions (ErgQS) in Management of Ergonomic Hazards in Enterprise, Influence of Application Safety and Health Management Systems on Manufacturing Process Formation: A Case Study, Basic Technical - Organizational Criteria Forming Labour Safety in the Medium Size Production - Services Companies, A Method to Plan Human Error Prevention Strategy by Analyzing PSF Tendency - Case Study of a Pharmacy Factory and a Medical Center, Application of Advanced Reverse Engineering and Motion Capture Techniques in Modeling of Human Lower Limbs, Section III. Human Factors in Terrorism Human Factors in Counter-Terrorism, Interpreting Deceptive Behaviors, User Requirements for Security and Counter-Terrorism Initiatives, Section IV. Enterprise ICT and Work The Influence of Enterprise Resource Planning in Role Management - Case Study in a Portuguese Industry, Ergonomic Characteristic of Software for Enterprise Management Systems, Human Factors and Well-Balanced Improvement of Engineering,The Assessment Criteria of the Ergonomic Quality of Anthropotechnical Mega-Systems, Ergonomic Engineering of Anthropotechnical Mega-Systems, Factors Adversely Affected the Productivity of Software Designers Applying CASE Tools, Section V. Learning and Training Optimization of Gifted and Talented Students' Activity: Cognitive and Organizational View, Hybrid Design Model of E-learning Course at Education Institution Based on SECI Model, Careers and Further Education of Engineers against the Background of Globalization, The Occupational Health and Safety Training Outline for the Managers, Benefits of Combining Social Influence and Ergonomics to Improve the Use of Personal Protective Equipments (PPE), Section VI. Flexible Work Force and Work Schedule Social and Organizational Ergonomics of Temporary Agency Workers in Industrial Firms, Two Roads of the Ergonomics, Working Time Configuration in a Call Center using a Simulation Approach, Influence of the Social Role of an Employee on Working Time Configuration, Agent-Based Planning and Simulation-Based Assessment Approach to Improve the Work-Life Balance of Hospital Staff, VII. Adapting for Special Groups Optimizing Job Design for Older Adult Workers, Design for All On Board - Boat Design in the Era of Access for (Almost) Everybody, Indirect Estimation Method of Data for Ergonomic Design on the Base of Disability Research in Polish Census 2011, Designing Wearable and Environmental Systems for Elderly Monitoring at Home, Development of Risk Sensitivity of Workers, Ergonomic Shaping of Learning Places for School Children, Section VIII. Ship Design Operate a Boat, M. Musio-Sale 10 Meters Daysailer "for All." Sustainable Technological Solutions for Easy Navigation, Discussion of Issues Relevant to the Ergonomics of a 50 ft. Sailing Yacht, UCD vs ECD: From "User" to "Experiencer" Centered-Approach in Sailing Yacht Design, Safety and Comfort as Design Criteria for High Speed Passenger Craft, Section IX. Changes at the Organizational Level Ergonomics Aspects of CSR in System Shaping the Quality of Work Environment, A Process-Driven Socio-Technical Approach to Engineering High-Performance Organizations, Work in Organization: Key Factors of the Reistic Approach, Prescribing Knowledge for Making Arrangements Regarding Human Factors in Management of Change: Toward Incorporating Human Factors Considerations into System Design Process Model, Socio-Technical Integrity in Maintenance Activities, Socio-Technical Systems Engineering, The Labour Market and Material Environment Design, The Emerging Human Performance Model for Homeland Security, Determinants of Integration Strategies in HRM after Mergers & Acquisitions in Pharmaceutical Sector, Exploring Resilient Team Processes in Control Room Teams of a Nuclear Power Plant, Cooperation Assessment Methodology, Organizational Trust and Trust in Automated Systems as Predictors for Safety Related Team Performance - Results from a Cross-Cultural Study, Section X. New Ways of Work The Influence of Expectations and Pre-Experiences on Comfort at Work, Analysis of Changes in Work Processes,Towards the Ideal Loungeworkseat, New Ways of Working in Notebook Manufacturing, New Ways of Work: Task Specific Train Seat Design, A New Way to Establish Ergonomics Expertise in Manufacturing Locations without Ergonomists,Simulation and Assessment of Physical Activity at Office Workplaces, Towards an Adaptive Office Environment: Effects of Sound and Color of Light on Performance and Wellbeing, Requirements for the Back Seat of a Car for Working While Travelling, Household Work: An Ergonomic Perspective, Section XI. User Experience, Comfort and Emotion Objects from Prehistory, a Study from the Point of View of Ergonomics - A Reference in Brazil, Representing Traditional Culture - Poetry Applying Elements on Product Design, A Study of Applying Saisait Tribe's Tabaa Sang (Buttocks Bell) into Cultural Creative Industry from a Cross-Disciplinary Perspective, Proposal for a Kansei Index Related to the Uniqueness of a Product, Assessment of Product Developed with Emphasis on "Emotional Design", Emotional Ergonomics in the Network Society, Emotional Video Scene Detection from Lifelong Videos Using Facial Feature Selection, Research of the Application According to User's Experience in 2011 IDA Congress Taipei - Light of Fashion Design, Index of Authors
versandkostenfreie Lieferung
---
87,50 €

(inkl. MwSt.)
Lieferfrist: bis zu 10 Tage
Aufgrund der Corona-Krise kann es in Einzelfällen zu deutlich längeren Lieferzeiten kommen.
---
Webcode: sack.de/t6o66
Bitte ändern Sie das Passwort