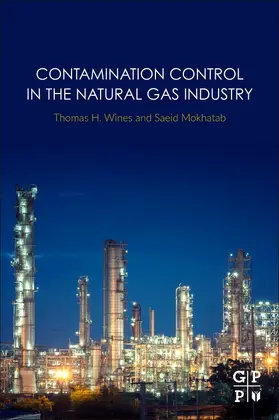 Wines / Mokhatab
Contamination Control in the Natural Gas Industry
Erscheinungsjahr 2021
ISBN: 978-0-12-816986-5
Verlag: GULF PROFESSIONAL PUB
Seite exportieren
---
Buch, Englisch,
360 Seiten, Kartoniert, Format (B × H): 152 mm x 229 mm
Erscheinungsjahr 2021, 360 Seiten, Kartoniert, Format (B × H): 152 mm x 229 mm
ISBN: 978-0-12-816986-5
Verlag: GULF PROFESSIONAL PUB
Seite exportieren
---
(inkl. MwSt.)
versandkostenfreie Lieferung
vorbestellbar, Erscheinungstermin ca. Juni 2021
---
---
---
---
---
---
---
Contamination Control in the Natural Gas Industry delivers the fundamentals and technology applications utilized for oil and gas producers. This reference, the only book specific to oil and gas equipment, covers principles and practices for better design and operation of a wide range of media, filters and systems to remove contaminants from liquids and gases, enabling petroleum professionals to fulfill diverse fluid purification requirements in oil and gas production, oil refining, gas processing, chemical production or polymer processing. Packed to cover practical technologies, diagnostics and troubleshooting methods, this book provides petroleum and petrochemical engineers with a critical first-ever reference.


- Covers contamination control methods and equipment specific to the oil and gas industry
- Includes guidelines on fundamentals and real-world technologies used today
- Gives engineers better design and operation with rating methods, standards and case histories
Autoren


Wines, Thomas
Thomas H. Wines is currently a Directro of Product Management for Pall Corporation's Energy Group in Port Washington, NY. Prior to assuming the above role, Tom as a Senior Marketing Manager and Senior Staff Engineer for the Scientific and Laboratory Services Division at Pall. He has 28 years of filtration, separation, and purification experience serving the refinery, gas processing, and chemical industries, and is a specialist in the fields of liquid/gas and liquid/liquid coalescing. He has authored 44 technical publications and given numerous presentations in this field at professional societies. He holds a PhD in Chemical Engineering from Columbia University, and is a member of AIChE.

Mokhatab, Saeid
Saeid Mokhatab is one of the most recognizable names in the natural gas community through his contributions to advancing the technologies in the natural gas processing industry. He has been actively involved in different aspects of several large-scale gas processing projects, from conceptual design through plant startup and operations support. He has presented on gas processing technologies worldwide and has published 300 technical papers and two renowned Elsevier's handbooks in collaboration with leading experts from the largest international engineering companies and prominent process licensors. His numerous publications, which are widely read and highly respected, have set the technical standards in the natural gas processing industry and are considered by many as major references to be used for any gas processing/LNG project in development. He founded the world's first peer-reviewed journal devoted to natural gas science and engineering (published by Elsevier, the United States) and has held editorial positions for many scientific journals/book publishing companies in the hydrocarbon processing industry. He has also served as a member of technical committees for several professional societies and acclaimed gas processing conferences worldwide. As a result of his outstanding work in the natural gas industry, he has received a number of international awards and medals, and his biography has been listed in highly prestigious directories.


1. Fundamentals of Filtration Science
2. Fundamentals of Separation Science
3. Industrial Contamination
4. Industrial Filtration Technologies
5. Industrial Separation Technologies
6. Role of Chemical Additives
7. Effect of Contamination on Selecting Industrial Processes
8. Diagnostics and Troubleshooting Methods
9. Filtration and Separation Rating Methods
<p>Petroleum engineers, petrochemical engineers and managers, process engineers, and chemical engineers</p>
versandkostenfreie Lieferung
---
152,50 €

(inkl. MwSt.)
vorbestellbar, Erscheinungstermin ca. Juni 2021
---
Webcode: sack.de/5f74b
Bitte ändern Sie das Passwort