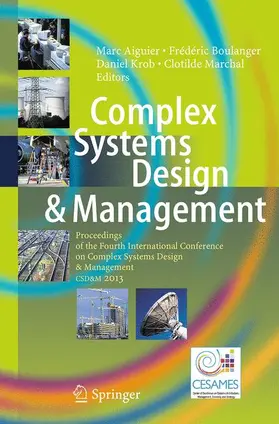 Aiguier / Krob / Marchal
Complex Systems Design & Management
Proceedings of the Fourth International Conference on Complex Systems Design & Management CSD&M 2013
Softcover Nachdruck of the original 1. Auflage 2014
ISBN: 978-3-319-37763-6
Verlag: Springer, Berlin
Seite exportieren
---
Buch, Englisch,
350 Seiten, Kartoniert, Previously published in hardcover, Format (B × H): 155 mm x 235 mm, Gewicht: 569 g
Erhältlich auch als Buch
Proceedings of the Fourth International Conference on Complex Systems Design & Management CSD&M 2013
Softcover Nachdruck of the original 1. Auflage 2014, 350 Seiten, Kartoniert, Previously published in hardcover, Format (B × H): 155 mm x 235 mm, Gewicht: 569 g
ISBN: 978-3-319-37763-6
Verlag: Springer, Berlin
Seite exportieren
---
(inkl. MwSt.)
versandkostenfreie Lieferung
sofort versandfertig, Lieferfrist: 1-3 Werktage
---
---
---
---
---
---
This book contains all refereed papers that were accepted to the fourth edition of the « Complex Systems Design & Management » (CSD&M 2013) international conference which took place in Paris (France) from December 4-6, 2013.These proceedings cover the most recent trends in the emerging field of complex systems sciences & practices from an industrial and academic perspective, including the main industrial domains (transport, defense & security, electronics, energy & environment, e-services), scientific & technical topics (systems fundamentals, systems architecture & engineering, systems metrics & quality, systemic tools) and system types (transportation systems, embedded systems, software & information systems, systems of systems, artificial ecosystems).The CSD&M 2013 conference is organized under the guidance of the CESAMES non-profit organization.
Herausgeber


Foundations for Model-based Engineering of Systems of Systems.- Industrial Cyber-Physical Systems-iCyPhy.- SoS and Large-scale Complex Systems Architecting.- Policy Design: a New Area of Design Research and Practice.- A Virtual Web Net to Eco-Manage Food Packaging Waste.- Open Architecture for Naval CDS.- Application of an MBSE Approach for the Integration of Multidisciplinary Design.- A Hybrid Event-B Study of Lane Centering.- A Method for Managing Uncertainty Levels in Design Variables During Complex Product Development.- Capturing Variability in Model Based Systems Engineering.- Simulation Methods in the Healthcare Systems.- Unifying Human Centered Design and Systems Engineering for Human Systems Integration.- A Product Development Architecture with an Engineering Execution Representation of the Development Process.- Passenger's Transport Between Platform and Train within the Metro in Paris.- Specifying some Key SE Training Artifacts.- An Engineering Systems Model for the Quantitative Analysis of the Energy-Water Nexus.- A Visual Logic for the Description of Highway Traffic Scenarios.- Early Stage Verification and Validation of Cyber-Physical Systems through Requirements Driven Probabilistic Certificate of Correctness Metric.- Re-Using SysML System Architectures.- Water Saving in a Complex Industrial System - Evaluation of the Sustainability of Options with System Dynamics.- Handling Complexity in System of Systems Projects - Lessons Learned from MBSE Efforts in Border Security Projects.- The Multidimensional Hierarchically Integrated Framework for Modeling Complex Engineering Systems.- Natural Systems Engineering.- Integrated Product Team in Large Scale and Complex Systems.
versandkostenfreie Lieferung
---
219,98 €

(inkl. MwSt.)
sofort versandfertig, Lieferfrist: 1-3 Werktage
---
Webcode: sack.de/50n1j
Bitte ändern Sie das Passwort