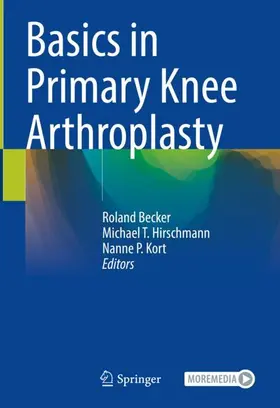 Becker / Hirschmann / Kort
Basics in Primary Knee Arthroplasty
---
Buch, Englisch,
Gebunden, Book w. online files / update, Format (B × H): 178 mm x 254 mm

1. Auflage 2021, Gebunden, Book w. online files / update, Format (B × H): 178 mm x 254 mm
ISBN: 978-3-030-58177-0
Verlag: Springer, Berlin

Seite exportieren
---
(inkl. MwSt.)
versandkostenfreie Lieferung
Lieferfrist: bis zu 10 Tage
---
---
---
---
---
---
---
This book supplies all the information that the young orthopaedic surgeon needs to know when preparing to perform total or partial knee replacement for the first time and also provides more experienced surgeons with a comprehensive general update on the basics. After an opening section on anatomy and kinematics of the knee, patient management during the pre-, peri-, and postoperative phases is covered in detail with the aid of numerous illustrations. The final section considers postoperative patient evaluation, outcome measurements, and the value of registries. Readers will gain a sound understanding of the scientific basis underlying management decisions, of component design philosophies, and of the rationale for preferences such as mechanical alignment and ligament balancing. The pros and cons of a variety of management choices are explained, and guidance provided on patient selection. Surgical techniques are presented on high-quality videos and many tips and tricks are highlighted to help the inexperienced to cope with challenging situations.
Herausgeber


Becker, Roland
Roland Becker, MD, PhD is Full Professor of Orthopeadics and Traumatology at the Brandenburg Medical School "Theodor Fontane", Germany since 2016. He is also Ass. Professor at the Otto-von Guericke University of Magdeburg since 2011. Prof. Becker is the Head of the Department of Orthopedic and Traumatology and the Brandenburg Centre of Joint Replacement. He graduated from University in 2002 and gained his doctorate in the same year. He spent some time of his Orthopedic training in England, Switzerland and USA. Prof. Becker served for the German speaking Society of Arthroscopy and Joint Surgery (AGA) as a board member from 2006 to 2015 and was the president of AGA between 2011 to 2013. He is board member of the European Society of Knee Arthroscopy and Sports Traumatology (ESSKA) since 2011, Chairman of the European Knee Associate of ESSKA from 2014 to 2018 and currently the vice President of the Society. He has been Deputy Editor in Chief of Knee Arthroscopy Sports Traumatology and Knee Surgery (KSSTA) from 2012 to 2019 after being an Associated Editor from 2009. Prof. Becker has given over 400 presentations and published over 150 peer reviewed articles, mainly about knee. He was Editor and author of one of the most successful books about revision in total knee arthroplasty "The unhappy total knee arthroplasty". He also wrote a book about Basics in Knee arthroscopy and contributed to numerous other book projects. 

Prof. Hirschmann has published over 250 articles in peer-reviewed international medical journals and has led numerous books in knee surgery as editor. His research focuses on all aspects of knee surgery, but in particular on knee arthroplasty and "unhappy patients after total knee arthroplasty". His book "The unhappy total knee replacement" accounts to the one of most successful books in the field of expertise.

Prof. Hirschmann is the chairman of the European Knee Associates (EKA), a section of ESSKA. He also serves as a board member of the German Knee Society (DKG). In addition, Prof. Hirschmann serves as the deputy editor in chief of Knee Surgery, Sports Traumatology, Arthroscopy (KSSTA). He is also member of the editorial boards of various journals such as Muscle Ligaments and Tendons Journal, World Journal of Orthopedics and AP SMART Journal. 



1. Anthropometry of the Native Knee 2. Kinematics of the native knee 3. Kinematics of the knee after partial and total knee arthroplasty 4. Loading of the knee joint after total knee arthroplasty 5. The optimal indication for unicompartmental knee arthroplasty 6. The optimal indication for patellofemoral arthroplasty 7. The optimal indication for combined patellofemoral and unicondylar knee arthroplasty 8. The optimal indication for total knee arthroplasty 9. Partial resurfacing implants 10. Patients evaluation prior to knee arthroplasty 11. Cardiovascular co-morbidity in patients scheduled for TKA 12. Patient expectations in total knee arthroplasty 13. Basic principles of partial knee arthroplasty 14. Principles of total knee arthroplasty 15. UKA component design - What do we need to know? 16. TKA component design - What do engineers need to know? 17. Patellofemoral Arthroplasty - Onlay Versus Inlay Prostheses 18. Surgical 2D planning of total knee arthroplasty 19. 3D planning of total knee arthroplasty - why and how? 20. Optimal setup of the operating room 21. Tranexamic acid (TXA) in total knee arthroplast 22. Optimal positioning of the patient 23.Pros and cons of using a tourniquet 24. Pro and Cons of tranexamic acid (TXA) in total knee arthroplasty 25. Standard approaches to the knee 26. Is there an optimal TKA component position? 27. Neutral mechanical alignment - the gold standard 28. The anatomical alignment concept for total knee arthroplasty 29. Kinematic alignment in total knee arthroplasty. Infection prophyl. Infection prophylaxis in TKAaxis in TKA 30. Measured resection technique - how does it work? 31. Ligament balancing technique - how does it work 32. Posterior femoral referencing in total knee arthroplasty 33. Anterior femoral referencing in total knee arthroplasty 34. Tibial component rotation in total knee arthroplasty 35. Patient specific instrumentation in TKA 36. Patients specific partial and total knee arthroplasty- an update 37. Navigation in total knee arthroplasty 38. Optimal sizing of the femoral, tibial and patellofemoral components in TKA 39. Optimal implant fixation in knee arthroplasty: cemented versus cementless knee arthroplasty 40. Wound closure in total knee arthroplasty 41. Pros and cons of drains for wound drainage in total knee arthroplasty 42. Pain management after total knee arthroplasty 43. How to handle complications in unicompartmental knee arthroplasty 44. How to handle complications during TKA? 45. Deformity Correction in Total Knee Arthroplasty 46. TKA in fracture treatment 47. Thromboembolic prophylaxis after partial or total knee arthroplasty 48. How to avoid typical complications after total knee arthroplasty? 49. Infection prophylaxis in TKA 50. Rehabilitation after Total Knee Arthroplasty 51. How to assess outcome after partial or total knee arthroplasty - Measuring results that really matter! 52. Function after unicondylar knee arthroplasty- what could you expect? 53. Outcome after total knee arthroplasty - what can be expected? 54. Function after small knee implants 55. Sports after partial or total knee arthroplasty 56. The immune response to metal in total knee arthroplasty 57. Does digital support influence outcome after total knee arthroplasty? 58. Registries - How important are they? 59. Most common scores for patients' evaluation
Professional/practitioner
versandkostenfreie Lieferung
---
246,09 €

(inkl. MwSt.)
Lieferfrist: bis zu 10 Tage
---
Webcode: sack.de/1c3r5
Bitte ändern Sie das Passwort