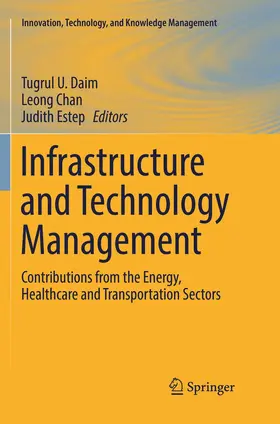 Chan / Daim / Estep
Infrastructure and Technology Management
Contributions from the Energy, Healthcare and Transportation Sectors
Softcover Nachdruck of the original 1. Auflage 2018
ISBN: 978-3-319-88697-8
Verlag: Springer, Berlin
Seite exportieren
Contributions from the Energy, Healthcare and Transportation Sectors
Softcover Nachdruck of the original 1. Auflage 2018, 498 Seiten, Kartoniert, Previously published in hardcover, Format (B × H): 156 mm x 236 mm, Gewicht: 772 g Reihe: Innovation, Technology, and Knowledge Management
ISBN: 978-3-319-88697-8
Verlag: Springer, Berlin
Seite exportieren
---
(inkl. MwSt.)
versandkostenfreie Lieferung
Lieferfrist: bis zu 10 Tage
---
---
---
---
---
---
---
This book presents emerging technology management approaches and applied cases from leading infrastructure sectors such as energy, healthcare, transportation and education. Featuring timely topics such as fracking technology, electric cars, Google's eco-friendly mobile technology and Amazon Prime Air, the volume's contributions explore the current management challenges that have resulted from the development of new technologies, and present tools, applications and frameworks that can be utilized to overcome these challenges.Emerging technologies make us rethink how our infrastructure will look in the future. Solar and wind generation, for example, have already changed the dynamics of the power sector. While they have helped to reduce the use of fossil fuels, they have created management complications due to their intermittent natures. Meanwhile, information technologies have changed how we manage healthcare, making it safer and more accessible, but not without implications for cost and administration. Autonomous cars are around the corner. On-line education is no longer a myth but still a largely unfulfilled opportunity. Digitization of car ownership is achievable thanks to emerging business models leveraging new communication technologies. The major challenge is how to evaluate the relative costs and benefits of these technologies. This book offers insights from both researchers and industry practitioners to address this challenge and anticipate the impact of new technologies on infrastructure now and in the future.
Herausgeber


Chan, Leong
Tugrul Daim is a Professor and Director of the Technology Management Doctoral Program at Portland State University. Prior to joining PSU, he had worked at Intel Corporation for over a decade in varying management roles. At Intel he managed product and technology development. He also has several professional certifications including New Product Development Professional and Project Management Professional. Professor Daim has been consulting to several organizations in sectors ranging from energy to medical device manufacturing. He has been helping organizations including US Dept of Energy, Energy Trust of Oregon, Biotronik, Biopro, Elsevier and many others to develop technology roadmaps for their future investments. He is also a visiting professor with the Northern Institute of Technology at Technical University of Hamburg, Harburg where he teaches similar short courses. He has been recently appointed as Extraordinary Professor at the Graduate School of Technology Management at University of Pretoria in South Africa. He is frequently invited to give lectures to many multinational companies including IBM, Xerox and HP as well as universities around the world including his recent visits to Finland, Japan and Germany. He has published over 200 refereed papers in journals and conference proceedings. His papers appeared in Technological Forecasting and Social Change, Technovation, Technology Analysis and Strategic Management, Computers and Industrial Engineering, Journal of Medical Systems, Energy, Energy Policy and many others. He has coauthored four books of readings and several proceedings. He is the Editor-in-Chief of International Journal of Innovation and Technology Management and North American Editor of Technological Forecasting and Social Change. Leong Chan is an Assistant Professor of Business Management at Pacific Lutheran University, USA. He is a SAS certified professional with multiple credentials, including SAS certified advanced programmer and SAS Certified Statistical Business Analyst. He has various publications in forms of books, peer-reviewed journals, and international conference proceedings. His scholarship interests are in the areas of technology assessment, technology policy, R&D management, and business analytics. Judith Estep is the Acting Director in the Technology Innovation Office at the Bonneville Power Administration. Judith is a key part of the leadership team that guides BPA's highly successful Technology Innovation program. BPA spends 0.4% of revenue ($17 million annually) on technology innovation through a disciplined program of portfolio, project, and technology transfer / application management, guided by a publicly articulated research agenda embodied in technology roadmaps. www.bpa.gov/ti She joined BPA in November 2010 as the Project Management Officer in the Technology Innovation Office and was responsible for providing oversight and guidance to the Research and Development Project Managers as well as implementing Project Management Best Practices and process improvements. She moved into the role of Portfolio Manager in April 2016. She was responsible for establishing the research agenda, managing the annual solicitation, portfolio review, and developing and implementing process improvements, In addition, she managed an agency wide PMO working group that is responsible for centralizing project management communication and ensuring that a high quality and consistent training curriculum, specific to project management, is available to the Agency. Most recently she was promoted to be the Director of Research and Development.


Part I Energy.- Chapter 1 Landscape Analysis: Regulations, Policies and Innovation in Photovoltaic Industry.- Chapter 2 Landscape Analysis: Fracking Technology.- Chapter 3 Landscape Analysis: Connected-Lighting System.- Chapter 4 Technology Assessment: Developing Geothermal Energy Resources for Supporting Electrical System in Oregon.- Chapter 5 Technology Assessment: Demand Response Technologies in the Pacific Northwest.- Part II Health Care.- Chapter 6 Landscape Analysis: What Are the Forefronts of Change in the US Hospitals?.- Chapter 7 Technology Assessment: Patient-Centric Solutions for Transfer of Health Information.- Chapter 8 Technology Assessment: Nosocomial Infection Solutions.- Chapter 9 Technology Assessment: Study of User Preferences for Weight Loss Mobile Applications both Globally and in the United States.- Part III Transportation.- Chapter 10 Landscape Analysis: The Electric Car - is it a Viable Alternative?.- Chapter 11 Technology Roadmap: A roadmap for TESLA.- Chapter 12 Technology Roadmap: Google's Eco-Friendly Mobile Phones.- Chapter 13 Technology Roadmap: Drone Delivery - Amazon Prime Air.- Chapter 14 Technology Assessment: Emerging Automotive Technologies for the Future.- Part IV Infrastructure.- Chapter 15 Technology Assessment: The Evaluation of Residential Pool Sanitation Options using TOPSIS.- Chapter 16: Technology Assessment: Cloud Service Adoption Decision.- Chapter 17: Project Delivery: Highway Construction.
versandkostenfreie Lieferung
---
165,84 €

(inkl. MwSt.)
Lieferfrist: bis zu 10 Tage
---
Webcode: sack.de/ty26v
Bitte ändern Sie das Passwort