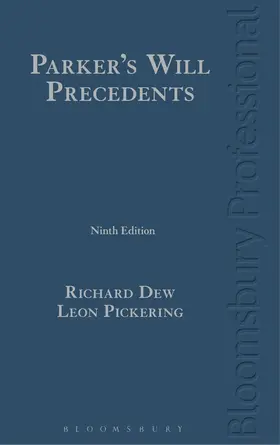 Dew / Pickering
Parker's Will Precedents
---
Buch, Englisch,
464 Seiten, Medienkombination, Format (B × H): 156 mm x 248 mm
Vorauflage:
9th edition, 464 Seiten, Medienkombination, Format (B × H): 156 mm x 248 mm
ISBN: 978-1-78451-882-0
Verlag: Bloomsbury
Seite exportieren
---
---
---
---
---
---
Parker's Will Precedents provides private client solicitors and professional will draftsmen with a thorough understanding and working knowledge of the will drafting process and, as a result, the ability to draft better wills.

It provides:

- A comprehensive collection of precedents aimed at anyone who needs to draft wills
- A variety of precedents for individual clauses as well as a set of complete wills catering for different scenarios
- An emphasis on clarity, practicality and simplicity, so you can quickly draft legally sound wills for a variety of circumstances
- Notes and guidance on drafting and additional materials, including letters, support materials and extracts from relevant legislation

The ninth edition includes coverage of the Residential Nil Rate Band (changing from April 2017) as well as new chapter on flexible life interest trusts and EC Succession Regulation.

This book comes with an electronic download of the precedents, for you to adapt and use in your contracts. On purchase, you will be provided with a code and a web link from which the precedents can be downloaded in a generic format such as *.doc which will be compatible with all operating systems.
Autoren


Dew, Richard
Richard Dew and Leon Pickering are both barristers at Ten Old Square. Both authors are experienced wills barristers and are well known in this area.

Pickering, Leon
Leon Pickering is a barrister at Ten Old Square.
Leon was named in the Legal Week Private Client Global Elite "Ones to Watch" list in 2017 and 2018.


Chapter 1 Introduction
Chapter 2 General Considerations
Chapter 3 Taking Instructions
Chapter 4 Opening and Revocation
Chapter 5 Joint, Mutual and Reciprocal ('Mirror') Wills
Chapter 6 Foreign Wills and Property
Chapter 7 Funeral Wishes
Chapter 8 Appointment of Executors and Trustees
Chapter 9 Appointment of Guardians
Chapter 10 Legacies
Chapter 11 Specific Gifts of Real Property and Rights of Occupation
Chapter 12 Specific Gifts of Chattels and Other Personal Property
Chapter 13 Business Interests
Chapter 14 Charities and Charitable Giving
Chapter 15 Digital Assets
Chapter 16 Residuary Gifts
Chapter 17 Minors
Chapter 18 Disabled and Vulnerable Beneficiaries
Chapter 19 Powers of Trustees
Chapter 20 Life Interest Trusts of Residue
Chapter 21 Declarations
Chapter 22 Attestation
Chapter 23 Inheritance Tax
Chapter 24 Inheritance Tax Mitigation in Wills
Chapter 25 The Residence Nil Rate Band
Chapter 26 Complete Wills
Chapter 27 Single Adults
Chapter 28 Wills for Married Couples or Civil Partners with no Children
Chapter 29 Wills for Married Couples or Civil Partners with Children
Chapter 30 Unmarried Couples with Children
Chapter 31 Second Marriages or Civil Partnerships
Chapter 32 Wills in the Court of Protection
Chapter 33 Variations after Death
Chapter 34 Letters and Other Support Materials
Appendix Part 1: Attestation, Construction and Interpretation
Appendix Part 2: Powers
Appendix Part 3: Intestacy Rules
Appendix Part 4: Inheritance Tax and Capital Gains Tax