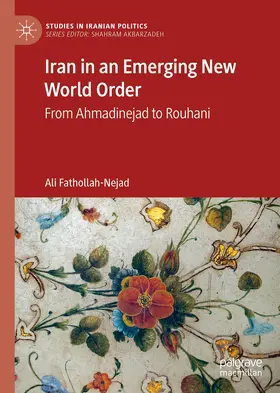 Fathollah-Nejad
Iran in an Emerging New World Order
From Ahmadinejad to Rouhani
1. Auflage 2021
ISBN: 978-981-1560-73-6
Verlag: Springer, Berlin
Seite exportieren
---
(inkl. MwSt.)
versandkostenfreie Lieferung
Lieferfrist: bis zu 10 Tage
---
---
---
---
---
---
This book critically develops and discusses Iran's geopolitical imaginations and explores its various foreign-policy schools of thought and their controversies. In doing so, the book covers Iran's foreign policy and international relations from "9/11" all the way to Rouhani's rise (late 2014).



Accounting for both domestic and the international balance of power, the book theorizes the post-unipolar world order of the 2000s, dubbed "imperial interpolarity", examines Iran's relations with non-Western great-powers in that era, and offers a critique of the "Rouhani doctrine" and its economic and foreign-policy visions.

Forged in the fires and intense deliberations of a PhD, undertaken at a most unique institution of higher learning in the world, Ali Fathollah-Nejad has produced one of the most informative and evocative studies of Iran's foreign policy and international relations to date. Framed in a highly original theoretical approach, Ali's nuanced analysis, drawing on a lorry load of primary and secondary sources, details the process and context of policy in the Islamic Republic, thus producing an unrivalled and lasting account of modern Iran's worldview and the behaviour of this revolutionary state in a fast-changing world.

—Anoush Ehteshami, Professor of International Relations & Director of the Institute for Middle Eastern and Islamic Studies, School of Government and International Affairs, Durham University (UK)

Empirically rich and theoretically sophisticated, Iran in an Emerging New World Order flashes out the key drivers behind Iran's international relations since the mid-2000s. Providing evidence for the material and geopolitical significance of Iran's identity constructions, the book enriches the debate on the Islamic Republic's foreign policy and bridges the divide between the discipline of IR and area studies.

—Fawaz A. Gerges, Professor of International Relations & inaugural Director, LSE Middle East Centre (2010–13), London School of Economics and Political Science (LSE); author of the forthcoming The 100 Years' War for Control of the Middle East (Princeton University Press, 2021).

Ali Fathollah-Nejad has established himself as one of the most insightful observers of Iranian politics. Providing the analytical background to his assessments of Tehran's foreign policy in the 21st century, this book comes out opportunely at a time when a new U.S. administration is about to re-engage with Iran.
—Gilbert Achcar, Professor of Development Studies and International Relations, SOAS (School of Oriental and African Studies) University of London

A decisive contribution to two avant-gardist fields of knowledge: Critical geopolitics and Iranian foreign relations. Anyone interested in cutting-edge research that brings together International Relations and Iranian Studies will revel in this important book.

—Arshin Adib-Moghaddam, Professor in Global Thought and Comparative Philosophies, Department of Politics and International Studies & former Chair (2012–18), Centre for Iranian Studies, SOAS University of London
One of the few to have a thorough, beyond-the-headlines and forward-looking grasp of Iran, Ali Fathollah-Nejad offers a brilliant analysis of what is in store for Iran. A must-read for anybody interested in geopolitics.

—Florence Gaub, Deputy Director & Director of Research, European Union Institute for Security Studies (EUISS), Paris

It is no longer possible to think of any nation-state without simultaneously seeing the reflection of an entire changing world in it. Ali Fathollah-Nejad's prose and politics in Iran in an Emerging New World Order is the state-of-the-art mapping of the epistemic shift that seeks to understand the global in the local, and the domestic in the foreign. The result is a mode of supple and symbiotic thinking that reveals the way transnational politics dwells on the borderline where the fate of nations unravels into the fold of a dysfunctional disorder that has become the fact of our fragile world.

—Hamid Dabashi, Hagop Kevorkian Professor of Iranian Studies and Comparative Literature, Columbia University

Iranian politics, outside of a small group of specialists, remains poorly understood. Iran in an Emerging New World Order helps demystify this subject. Thoroughly researched, very accessible and packed with insights, this book, focusing on the Ahmadinejad period, is highly recommended. It makes an important contribution to the study of internal Iranian politics, Iran's foreign policy orientation and the international relations of the Middle East.
—Nader Hashemi, Director, Center for Middle East Studies & Associate Professor, Josef Korbel School of International Studies, University of Denver

Ali Fathollah-Nejad has produced an academic work that is, from my viewpoint, so far the most comprehensive one concerning Iranian standing in regional and international politics, its new political élite and their attitude towards the West and the world order.

—Farhad Khosrokhavar, Professor in the Sociology of Contemporary Iran & Director of Studies at EHESS (École des hautes études en sciences sociales), the School for Advanced Studies in the Social Sciences, France

Since its inception in 1979, the Islamic Republic's initial foreign policy was based on the rejection of the bipolar international order under the banner of a "neither East nor West" policy. By the end of the Cold War and the emergence of a unipolar order, the Islamic Republic tried to adjust its approach to deal with the United States as a hegemonic power. Iran shifted its foreign policy toward the East as soon as the international order moved from unipolarity in the early 2000s. Why did Iran turn its foreign policy, and what were the consequences and ramifications of this shift? Iran in an Emerging New World Order dives deep to answer these questions.

Iran in an Emerging New World Order is a comprehensive and critical review of Iran's foreign policy in post-unipolar world. As a delightful read full of important information and analyses, the book explores the domestic, regional, and international dimensions and ideational and material factors that shape and impact the Islamic Republic's geopolitical imaginations and foreign policy controversies. Fathollah-Nejad explores Iran's foreign-policy transformation from a

unipolar to a (what he cautions as an increasingly but not fully-fledged) multipolar order, and its relations with non-Western great-powers in the 21st century. Written with clarity, Iran in an Emerging New World Order is a must-read primer for anyone interested in Iranian politics in particular and Middle East politics in general.

—Saeid Golkar, Assistant Professor, Department of Political Science, University of Tennessee, Chattanooga; Senior Fellow on Iran Policy, Chicago Council on Global Affairs & author, Captive Society: The Basij Militia and Social Control in Post-Revolutionary Iran (Columbia University Press, 2015)

A competent, engaged and impressive study of Iran's foreign policy and its place in the world. Ali Fathollah-Nejad's most important quality is that he looks with a wide lens and sees not just Iranian politics and foreign policy (in which he is clearly an expert) but the dynamics of the broader world and changes in the international system. This book is thus a must-read for those interested in Iranian foreign policy but also in shifts and changes of the international system into the second decade of the 21st century. —Arash Azizi (New York University), author of The Shadow Commander: Soleimani, the US, and Iran's Global Ambitions (Oneworld Publications, 2020)

In presenting Iran as sets of complexities – within and how it acts externally; how it represents itself and is represented by others; its myriad political and religious cultures, and how these shape the state and its international relations – and locating those within a constantly-changing global environment, Fathollah-Nejad provides us with unique and alternative assessments of how Iran's foreign policy is shaped within the context of what he calls "Imperial Interpolarity". The creative interplay of these various factors makes this an indispensable text for anyone wishing to understand Iran and its international relations within the current global political environment.

—Na'eem Jeenah, Executive Director, Afro–Middle East Centre (AMEC), Johannesburg & advisory board member, World Congress for Middle Eastern Studies (WOCMES)

A magnificent and conceptually powerful book; an eye opener for those who essentialize the role of Iran in contemporary International Relations. This landmark study covers the complexity of Iran's cultural geopolitics and the diversity of its interlocutors in 21st-century world politics. The book is useful for delving into the internal dynamics of Iranian politics and its connection with the spheres of power in international relations. It is a very methodical book. Theoretically flawless. A deep, brilliant and enlightening academic text.

—Moisés Garduño Garcia, Professor in the Center for International Relations, National Autonomous University of Mexico (UNAM)

In this book, Ali Fathollah-Nejad goes beyond the usual one-dimensional view that dominates the study of Iran's foreign policy and presents a comprehensive framework explaining the interrelated role of socio-cultural, economic and geopolitical elements in shaping the Islamic Republic's foreign-policy orientation. The book also focuses on a crucial period involving two critical transitions: a systemic transition from the unipolar to the post-unipolar world order and a domestic one from a hardline to a more moderate worldview. All this makes the book a valuable contribution to the field.

—Hamidreza Azizi, Alexander von Humboldt Fellow, Middle East and Africa Research Division, German Institute for International and Security Affairs (SWP) & former Assistant Professor of Regional Studies, Shahid Beheshti University, Tehran (2016-20)

Iran in an Emerging New World Order provides a timely and original account of foreign-policy making in the Islamic Republic of Iran, especially the turbulent first decade of the new millennium.

—Kamran Matin, Senior Lecturer in International Relations, Sussex University & Associate Research Fellow, Swedish Institute of International Affairs (UI)

Ali Fathollah-Nejad's Iran in an Emerging New World Order builds on a reliable scientific approach and an informed overview of Iranian foreign policy. It identifies and examines the different factors which orientate it, such as its various schools of thought and their debates, the élites' role, the interplay between structure and culture, and the one between internal and external realms. Furthermore, it casts light on the evolution of Tehran's choices, including its "look to the East". In this new book, Fathollah-Nejad has provided a challenging study which demonstrates the need to go beyond conventional framings, to include political culture, and provides a new evaluation of Iran's international relations. This is an original and significant contribution to the literature on international relations, the workings of the Islamic Republic, and the understanding of the latter's regional and global actions.

—Firouzeh Nahavandi, Professor of Sociology of Development and Political Science & Director, Institute of Sociology & Director, CECID (Center for International Cooperation and Development Studies), Université libre de Bruxelles (ULB), as well as President, Graduate School of Development Studies of French Community of Belgium
Through its careful analysis of a modern political culture in Iran gestated in the context of an encounter with European colonial modernity and evolved in correspondence with a catalogue of internal and external others, Ali Fathollah-Nejad's timely book places contemporary geopolitical concerns against a much-needed backdrop of colonial and anti-colonial histories.

—Siavash Saffari, Associate Professor of West Asian Studies, Department of Asian Languages and Civilizations, Seoul National University

If you really want to dive deep into Iran and understand the reasons why its leaders are operating in the current crisis, this is the book you should read. It teaches analysts and policy-makers to understand the past to act wisely in the future.
—Susanne Koelbl, award-winning Foreign Correspondent, Der Spiegel
Autoren


Fathollah-Nejad, Ali
Ali Fathollah-Nejad is a German-Iranian political scientist focusing on Iran, the Middle East, and the post-unipolar world order. He holds a Ph.D. in International Relations from the Department of Development Studies at SOAS (School of Oriental and African Studies, University of London) and was the winner of 2016/17 post-doctoral fellowship of the Harvard Kennedy School's Iran Project. He is an affiliated researcher with the Centre d'Études de la Coopération Internationale et du Développement (CECID) at Université libre de Bruxelles (ULB), Freie Universität (FU) Berlin's Center for Middle Eastern and North African Politics and the Afro-Middle East Centre (AMEC), South Africa's think-tank specialized on the Middle East. Most recently, he was Senior Lecturer in Middle East and Comparative Politics at the University of Tübingen and adjunct Assistant Professor in the Ph.D. program of Qatar University's Gulf Studies Center. Ali is also the former Iran expert of the Brookings Institution in Doha (BDC, 2017-20) and the German Council on Foreign Relations (DGAP, 2015-18). In 2020, he published two monographs: The Islamic Republic of Iran Four Decades On: The 2017/18 Protests Amid a Triple Crisis and The Politics of Culture in Times of Rapprochement: European Cultural and Academic Exchange with Iran (2015-16).


1. Introduction.- 2. A Critical Geopolitics of International Relations: A Theoretical Derivation.- 3. Iranian Geopolitical Imaginations: A Critical Account.- 4. The Islamic Republic of Iran (IRI): State-Society Complex and Political Elite.- 5. Iran's International Relations in the Face of U.S. Imperial Hubris: From "9/11" to the Iraq War.- 6. Foreign-Policy Schools of Thought and Debates in the IRI.- 7. Iran's International Relations in the Face of Imperial Interpolarity: The "Look to the East" Policy and Multifaceted Impact of Sanctions.- 8. Conclusions. 




versandkostenfreie Lieferung
---
96,29 €

(inkl. MwSt.)
Lieferfrist: bis zu 10 Tage
Aufgrund der Corona-Krise kann es in Einzelfällen zu deutlich längeren Lieferzeiten kommen.
---
Webcode: sack.de/6tjkm
Bitte ändern Sie das Passwort