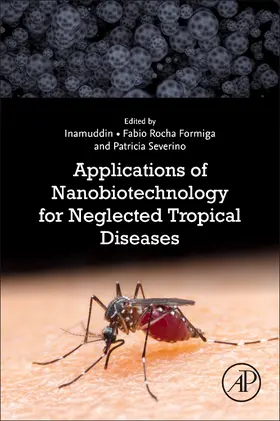 Formiga / Inamuddin / Severino
Applications of Nanobiotechnology for Neglected Tropical Diseases
Erscheinungsjahr 2021
ISBN: 978-0-12-821100-7
Verlag: Elsevier Science Publishing Co Inc
Seite exportieren
---
Buch, Englisch,
604 Seiten, Kartoniert, Format (B × H): 152 mm x 229 mm

Erscheinungsjahr 2021, 604 Seiten, Kartoniert, Format (B × H): 152 mm x 229 mm
ISBN: 978-0-12-821100-7
Verlag: Elsevier Science Publishing Co Inc

Seite exportieren
---
(inkl. MwSt.)
versandkostenfreie Lieferung
vorbestellbar, Erscheinungstermin ca. Februar 2021
---
---
---
---
---
---
Applications of Nanobiotechnology for Neglected Tropical Diseases describes recent advances in nanobiotechnology that can be applied to reducing the global disease burden of neglected tropical diseases (NTDs). The book explores the application of nanotechnology on the development of safe, effective, and reliable tools to prevent, diagnose, and treat NTDs.

Furthermore, Applications of Nanobiotechnology for Neglected Tropical Diseases includes multidisciplinary content, combining knowledge from biochemistry, medicinal chemistry, material sciences, pharmacology, and pharmaceutics. The book is divided into three main parts, each outlining one major type of approach: (1) nano-based approaches for prevention, (2) nano-diagnostics and detection, and (3) nanotherapeutics. Each part contains chapters that delve into the different applications of the type of approach being presented in that part. A discussion of other approaches against NTD follows these three parts. This book is remarkable in its ability to encompass and thoroughly explain the latest techniques in nanobiotechnology, from basic research to patient-oriented investigation.



-
Offers a broad overview of nanobiotechnology applied to the prevention, diagnostics, and treatment of NTDs

-
Presents cutting-edge recent advances in nanobiotechnology, focusing on diseases reported by the World Health Organization's NTDs Roadmap (e.g., leishmaniasis, malaria, schistosomiasis, filariasis, etc.)

-
Provides a deep discussion about ground-breaking approaches designed to meet the medical needs of patients suffering from NTDs

-
Gives examples of multidisciplinary investigations into NTDs, from research labs to clinics
Herausgeber


Formiga, Fabio Rocha
Fabio Rocha Formiga graduated in pharmaceutical sciences, obtaining
his bachelor's degree in 2004 from the Federal University of Rio Grande do
Norte, Brazil, where he also concluded a master's course in health sciences.
In 2011, he obtained a PhD in pharmaceutical technology from the University
of Navarra in Spain, with distinctions, as a MAEC-AECID scholar. In 2018,
he completed a research training in nanobiomaterials at the Rice University
(Houston, United States). Dr. Formiga has worked as a visiting professor at
the University of Coimbra, Portugal. He has experience in teaching/supervision
at the BSc, MSc, and PhD levels. In addition, he has acted as referee for
national and foreign funding agencies. He has participated as a member of university
committees, examination boards, and has organized scientific meetings,
including the 22nd International Symposium on Microencapsulation (Chair).
Dr. Formiga has also been strongly involved in collaborative programs for exchange
with European universities (from Portugal, Spain, and Denmark). He is
a cofounder and vice-president of the Brazilian Chapter of Controlled Release
Society (CRS, 2019-present) and guest associate editor of the Drug Delivery
and Translational Research (Springer) and Pharmaceutical Nanotechnology
(Bentham). He is a member of the Brazilian Association of Pharmaceutical
Sciences (ABCF) and the European Foundation for Clinical Nanomedicine
(CLINAM). Currently, Dr. Formiga is a research scientist and deputy head of
the Department of Immunology at the Aggeu Magalhães Institute, Oswaldo
Cruz Foundation (FIOCRUZ), Brazil. He also holds a tenured adjunct professor
position at University of Pernambuco (UPE). Dr. Formiga was acknowledged
with the Research Award from Spanish Society of Pharmaceutics and
Pharmaceutical Technology (SEFIG) in 2013 and the Benjamin Gilbert Award
from FIOCRUZ in 2017. His research has focused on pharmaceutics, drug delivery,
nanotechnology, and biomaterials toward neglected tropical diseases and
regenerative medicine.

Inamuddin
Dr. Inamuddin is working as Assistant Professor at the Department of Applied
Chemistry, Aligarh Muslim University, Aligarh, India. He obtained Master of
Science degree in Organic Chemistry from Chaudhary Charan Singh (CCS)
University, Meerut, India, in 2002. He received his Master of Philosophy and
Doctor of Philosophy degrees in Applied Chemistry from Aligarh Muslim
University (AMU), India, in 2004 and 2007, respectively. He has extensive research
experience in multidisciplinary fields of Analytical Chemistry, Materials
Chemistry, and Electrochemistry and, more specifically, Renewable Energy and
Environment. He has worked on different research projects as project fellow
and senior research fellow funded by University Grants Commission (UGC),
Government of India, and Council of Scientific and Industrial Research (CSIR),
Government of India. He has received Fast Track Young Scientist Award from
the Department of Science and Technology, India, to work in the area of bending
actuators and artificial muscles. He has completed four major research
projects sanctioned by University Grant Commission, Department of Science
and Technology, Council of Scientific and Industrial Research, and Council of
Science and Technology, India. He has published 178 research articles in international
journals of repute and nineteen book chapters in knowledge-based
book editions published by renowned international publishers. He has published
120 edited books with Springer (UK), Elsevier, Nova Science Publishers, Inc.
(USA), CRC Press Taylor & Francis Asia Pacific, Trans Tech Publications
Ltd. (Switzerland), IntechOpen Limited (UK), Wiley-Scrivener, (USA) and
Materials Research Forum LLC (USA). He is a member of various journals' editorial
boards. He is also serving as Associate Editor for journals (Environmental
Chemistry Letter, Applied Water Science and Euro-Mediterranean Journal for
Environmental Integration, Springer-Nature), Frontiers Section Editor (Current Analytical Chemistry, Bentham Science Publishers), Editorial Board Member
(Scientific Reports-Nature), Editor (Eurasian Journal of Analytical Chemistry),
and Review Editor (Frontiers in Chemistry, Frontiers, UK). He is also guestediting
various special thematic special issues to the journals of Elsevier,
Bentham Science Publishers, and John Wiley & Sons, Inc. He has attended as
well as chaired sessions in various international and national conferences. He
has worked as a Postdoctoral Fellow, leading a research team at the Creative
Research Initiative Center for Bio-Artificial Muscle, Hanyang University,
South Korea, in the field of renewable energy, especially biofuel cells. He has
also worked as a Postdoctoral Fellow at the Center of Research Excellence in
Renewable Energy, King Fahd University of Petroleum and Minerals, Saudi
Arabia, in the field of polymer electrolyte membrane fuel cells and computational
fluid dynamics of polymer electrolyte membrane fuel cells. He is a life
member of the Journal of the Indian Chemical Society. His research interest
includes ion exchange materials, a sensor for heavy metal ions, biofuel cells,
supercapacitors, and bending actuators.

Severino, Patrícia
Dr. Severino is currently working as a professor in the College of Pharmacy
and Postgraduate Program in Industrial Biotechnology, Tiradentes University
(UNIT), Aracaju, Brazil and is also a research coordinator of Nanomedicine
and Nanotechnology Laboratory Institute of Technology and Research (ITP),
Aracaju, Brazil. She graduated in pharmacy from the Methodist University of
Piracicaba-Unimep (2005). She earned master's and PhD from the Faculty
of Chemical Engineering at the State University of Campinas-Unicamp
(2008 and 2012). In the master's she carried out a sandwich program at the
Faculty of Pharmacy of the Federal University of Rio Grande do Sul-UFRGS
(2007-08), and in her PhD carried out a sandwich program at the Faculty of
Pharmacy of the Fernando Pessoa University-UFP, Porto, Portugal (2010-11).
She has extensive research experience in multidisciplinary fields of nanomedicine,
biomaterial, drug delivery, cosmetics, and biotechnology. She has
published
about 110 research articles in various international scientific journals,
24 book chapters, and 16 patents. She is a member of editorial boards of variousjournals. She has worked in technical-scientific collaboration with researchers
from different institutions in the country and abroad, such as the United States,
England, the Czech Republic, EUA, Italy, Turkey, India, and Portugal. She is a
CNPq research productivity scholar (PQ-2). Currently, she is working in the internationalization
process of UNIT at the Tiradentes Institute (TI-UMass) and is
a visiting professor at Brigham and Women's Hospital/Harvard Medical School,
Cambridge, Massachusetts, United States.


Part I: Nano-based approaches for prevention of NTD

1. Experimental vaccination with nanoparticles containing Escherichia coli virulence factors 2. Vaccine as immunotherapy for leishmaniasis

3. Polymeric particles as a delivery agent for malarial vaccines

Part II: Nano-Diagnostics and Detection of NTD 4. The use of nano-enabled technologies to diagnose dengue virus infections 5. Multiplexed detection with nanodiagnostics 6. Nanosensor for the detection of malaria parasite

Part III: Nanotherapeutics for NTD 7. Developing effective amphotericin B delivery systems for fungal infections 8. Development of nanocarriers for innovative antimalarial combination strategies 9. Nanomedicines against Chagas disease 10. Nanoformulations of old and new antimalarial drugs 11. Drug repurposing and nanoparticles: New strategies against leishmaniasis 12. Nanoformulations for new compounds against leishmaniasis 13. Improving the miltefosine efficacy against leishmaniasis by using nanoassemblies made from surfactants or amphiphilic antimony (V) complex 14. Trendings of amphotericin B-loaded nanoparticles as valuable chemotherapeutic approaches against leishmaniasis 15. Nanopharmaceuticals to target antifilarials: Administration of old age drugs in a novel way 16. Lipid nanoparticles for the treatment of neglected tropical diseases 17. Experimental treatment of Schistosomiasis mansoni using praziquantel-free and encapsulated into nanostructures

Part IV: Other approaches for NTD 18. Bionanocomposite assembly with larvicidal activity against Aedes aegypti 19. Microfilaricidal efficacy of silver nanoparticles 20. Self-assembled nanocarriers as biotechnology approach to antivenom immunotherapy 21. Novel processes combining natural products and synthetic materials for developing nanolarvicides 22. Development of eco-friendly nano-mosquitocides against arboviruses vectors 23. Systems biology and bioinformatics approaches in leishmaniasis 24. May nanoparticles offer chances to avoid the development of insecticide resistance in mosquitoes?
versandkostenfreie Lieferung
---
188,50 €

(inkl. MwSt.)
vorbestellbar, Erscheinungstermin ca. Februar 2021
---
Webcode: sack.de/q2wq8
Bitte ändern Sie das Passwort