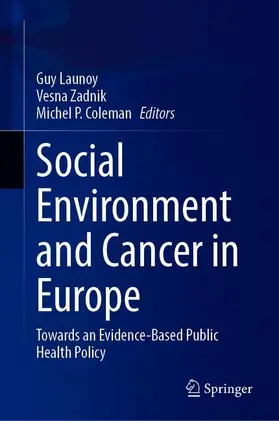 Launoy / Zadnik / Coleman
Social Environment and Cancer in Europe
Towards an Evidence-Based Public Health Policy
1. Auflage 2021
ISBN: 978-3-030-69328-2
Verlag: Springer, Berlin
Seite exportieren
---
Buch, Englisch,
338 Seiten, Gebunden, Book, Format (B × H): 155 mm x 235 mm

Towards an Evidence-Based Public Health Policy

1. Auflage 2021, 338 Seiten, Gebunden, Book, Format (B × H): 155 mm x 235 mm
ISBN: 978-3-030-69328-2
Verlag: Springer, Berlin

Seite exportieren
---
(inkl. MwSt.)
versandkostenfreie Lieferung
Lieferfrist: bis zu 10 Tage
---
---
---
---
---
---
---
This contributed volume addresses the link between the social environment and cancer in Europe. In this book, the authors document the scope of and specificities regarding both cancer incidence and patient survival, identify main mechanisms and key moments in the formation of putative inequalities, and suggest actions or programs to tackle such inequalities in a European context within the conceptual framework of intervention research.
The influence of the social environment on the risk of suffering and dying from cancer is obviously a global phenomenon, as evidenced by a growing number of studies and books. In part, the underlying mechanisms are universal. However, the importance of contextual factors, the networking of surveillance tools (cancer registries), the increasing comparability of the organization of care in different European countries, the availability of a common measure for deprivation in Europe (European Deprivation Index), and the hope of setting up a political Europe makes the extensive study of this phenomenon on a European scale particularly interesting.
The book consists of 21 chapters organized under four parts: - Part I – General Considerations and Methodologic Aspects
- Part II – Social Disparities in Cancer Incidence and Survival – Reports

- Part III – Social Disparities in Cancer Incidence and Survival – Mechanisms
- Part IV – Towards an Evidence-Based Policy for Tackling Social Inequalities in Cancer
Social Environment and Cancer in Europe: Towards an Evidence-Based Public Health Policy is a unique reference that presents up-to-date, appropriate methods for analysing quantitative data, an attractive feature because of the integrative approach to causal factors that apply the social inequalities in health to the field of cancer. Researchers, public health professionals, social scientists, and oncologists will find this an essential resource for their work and research.
Herausgeber


Launoy, Guy
Guy Launoy, MD has been a doctor of medicine since 1987 and a doctor of epidemiology and public health since 1997. He has worked as a researcher at the French Institute in Medical Research (INSERM) from 1993-2003 and as Professor in Epidemiology and Public Health at the University of Caen in France since 2004. Dr. Launoy was President of the French network of cancer registries (FRANCIM) during 2008-2012. He is Director of Unit 1086 INSERM (Caen) since 2012 and President of the Canceropole of Northwest of France since 2019. He has supervised approximately twenty PhD degree candidates in public health at the University of Caen. Dr. Launoy has published 300 articles on cancer focusing on epidemiology, screening, and social and public health aspects. He is particularly interested in cancer registration at a national and European level, cancer screening organisation, and social epidemiology of cancers and its impact on public health policy. Dr. Launoy advocates for a concerted and evidence-based European policy for the measurement of social inequalities in health and for policy to tackle social inequalities in health. He serves as an expert for the European Commission and several French institutions and agencies (INSERM, HCERES, INCa, HAS, ANSES).

Vesna Zadnik, MD, PhD has been a public health specialist and a doctor of science in the field of epidemiology since 2006. She is the Head of the Epidemiology and Cancer Registry Sector at the Institute of Oncology Ljubljana in Slovenia since 2018. She directs and carries out detailed epidemiological analysis using the data of the National Cancer Registry and the registries of the cervical and breast cancer screening programmes in order to elucidate a certain condition, e.g., cancer incidence, time series, spatial distribution, survival of cancer patients, etc. 
Among other roles, Dr. Zadnik is currently serving as European representative on the Board of Directors of the International Association of Cancer Registries and as coordinator in the field of cancer burden surveillance in the Executive Council of the Slovene National Cancer Control Plan from 2017-2021.Michel P. Coleman, MD, FFPH has been Professor of Epidemiology and Vital Statistics at the London School of Hygiene and Tropical Medicine (LSHTM) since 1995; Head of the Cancer Survival Group at LSHTM since 2005, and Honorary Consultant in Oncology at University College London Hospitals NHS Foundation Trust since 2012. He qualified in medicine at Oxford, and practised in hospital medicine and general practice before becoming an epidemiologist.

Dr. Coleman has worked at the World Health Organization's (WHO) International Agency for Research on Cancer in Lyon, France (1987-1991), and was Medical Director of the Thames Cancer Registry in London, UK (1991-1995). He was Head of the Cancer and Public Health Unit (LSHTM) during 1998-2003, Deputy Chief Medical Statistician at the Office for National Statistics (ONS) during 1995-2004, and Head of the WHO UK Collaborating Centre on the Classification of Diseases at ONS during 1996-2004.

Dr. Coleman has published 500 articles on cancer and public health, and has taught epidemiology in many countries. His main interests are in the application of trends in cancer incidence, mortality and survival to the public health control of cancer. He has been an advisor on cancer registration, cancer research and cancer control to governments in several countries, and to the European Union.  



The final book consists of 21 chapters organized in 4 parts (below has not been updated and reflects original proposal)Part A -  General Considerations 

I Social inequalities in cancer. What are we talking about ? - Basic concepts

This chapter defines the objective of the research and proposes a definition for each word by being inspired, for example, by the writings of Louise Potvin, placing the reflection in its general philosophical, ethical, and social framework. The chapter defines in this context the scientific approach of epidemiological researchers and public health managers and shows its specific contribution in a multi-disciplinary framework. Finally, the chapter draws up a quick historical perspective in order to place this book in the history of research on the subject.

II Assessment of social environment - The European deprivation Index (EDI).  A tool for an evidence-based policy at a European level

This chapter describes the objectives, the means and the limits of the individual and aggregated assessments of the social environment. The chapter defines the purpose and the principles of construction of the EDI, as well as its mode of use and its perspectives of development

III Cancer registration in Europe - A tool for an evidence-based policy at a national and European level

This chapter describes the current state of cancer registries in Europe and their coordination at the European level. It is also about promoting their activity and their sustainability by showing how it represents a unique database with considerable potential in the knowledge of cancers, their potential link with the social environment. The chapter also shows how they can constitute a unique tool for the evaluation of public health policies at the national or European level.

 

Part B - Reports on Incidence

IV Methodological considerations for studying social disparities in cancer incidence

The chapter presents the specificities of the geographical approaches in the study of the incidence, its statistical implications, the principal models of statistical analysis, their interest, their mode of use, and their limits.

V - Social disparities in Cancer Incidence for adults throughout Europe.

This chapter aims to take stock of national or international studies that have investigated the link between the social environment and the incidence of cancer by limiting themselves to Europe and studies based on cancer registry data. It may be necessary to consider two parts, one dealing with the social status (individual level) and the other with the social environment (neighbouring studies)

VI- Social disparities in Cancer Incidence for children throughout Europe 

This chapter aims to take stock of national or international studies that have investigated the link between the social environment and the incidence of cancer by limiting themselves to Europe and studies based on cancer registry data

 

Part C - Reports on Survival

VII Methodological considerations for studying social determination of survival

This chapter presents the purpose, the interest and the principles of the development of the net survival as well as the statistical developments necessary to take into account the hierarchy of the data (multilevel analysis).

VIII Social disparities in cancer survival in adults in Europe. Data from CONCORD study

This chapter aims to extract from the Concord study all results from European registers and to show how the inter-country differences observed can be explained by social elements due to the level of socio-economic development of countries or their social organization and care

IX Social disparities in survival for breast cancer in Europe

This chapter aims to take stock of national or international studies that have investigated the link between the social environment and survival for breast cancer in European countries. Studies can consist of population-based studies, cohorts, or other prospective studies. It may be necessary to consider two parts, one dealing with the social status (individual level) and the other with the social environment (neighbouring studies) and to summarize the main hypothesis for underlying mechanisms.

X Social disparities in survival for colorectal cancer in Europe

This chapter aims to take stock of national or international studies that have investigated the link between the social environment and survival for colorectal cancer in European countries. Studies can consist of population-based studies, cohorts, or other prospective studies. It may be necessary to consider two parts, one dealing with the social status (individual level) and the other with the social environment (neighbouring studies) and to summarize the main hypothesis for underlying mechanisms.

XI Social disparities in survival for prostate cancer in Europe


This chapter aims to take stock of national or international studies that have investigated the link between the social environment and survival for prostate cancer in European countries. Studies can consist of population-based studies, cohorts, or other prospective studies. It may be necessary to consider two parts, one dealing with the social status (individual level) and the other with the social environment (neighbouring studies) and to summarize the main hypothesis for underlying mechanisms.

XII Social disparities in survival for lung cancer in Europe

This chapter aims to take stock of national or international studies that have investigated the link between the social environment and survival for lung cancer in European countries. Studies can consist of population-based studies, cohorts, or other prospective studies. It may be necessary to consider two parts, one dealing with the social status (individual level) and the other with the social environment (neighbouring studies) and to summarize the main hypothesis for underlying mechanisms.

XIII Social disparities in survival for head and neck cancer in Europe

This chapter aims to take stock of national or international studies that have investigated the link between the social environment and survival for head and neck cancer in European countries. Studies can consist of population-based studies, cohorts, or other prospective studies. It may be necessary to consider two parts, one dealing with the social status (individual level) and the other with the social environment (neighbouring studies) and to summarize the main hypothesis for underlying mechanisms.

XIV Social disparities in survival for cancer for children in Europe

This chapter aims to take stock of national or international studies that have investigated the link between the social environment and survival for children with cancer in European countries. Studies can consist of population-based studies, cohorts, or other prospective studies. It may be necessary to consider two parts, one dealing with the social status (individual level) and the other with the social environment (neighbouring studies) and to summarize the main hypothesis for underlying mechanisms.

 

Part D - Mechanisms

XV General considerations. General model (proximal and distal factors). Different models for incidence and survival. Methodological framework

This chapter presents Daghren-Whitehall's general model of social inequalities in health by applying it to oncology, to explain proximal and distal factor concepts, to emphasize macroeconomic factors and the role of policy choices regarding especially the organization of care and social protection and industry manufacturing control, to explain the concept of social gradient and its relevance in oncology. The chapter also elicits interest in developing statistical models that fit such a causal model with different pathways. Finally, it seems worthwhile to explain the importance of proposing two explanatory models, one for the social gradient of incidence, the other for the social gradient of survival, as well as the nature of the factors involved and above all the actions to be taken to counter them.Mechanism of the social gradient in cancer Incidence in Europe

XVI- Behavioural factors in social gradient for cancer incidence

The chapter lists the set of socially determined behaviors that constitute known risk factors for cancers: tobacco, alcohol, diet, sedentary lifestyle, sexual behavior, etc., supporting their association with the risk of cancer and their social determination via an adapted bibliography. It is an analysis for the most socially determined cancer sites. It is also necessary to take into account the frequency of these different cancer sites to develop an "attributable risk" approach

XVII - Occupational factors in social gradient for cancer incidence

The chapter lists the set of occupational exposures that can be involved in the social gradient in cancer incidence supporting their association with the risk of cancer and their social determination via an adapted bibliography. It is an analysis for the most socially determined cancer sites. It is also necessary to take into account the frequency of these different cancer sites to develop an "attributable risk" approach

XVIII Contextual factors in social gradient for cancer incidence

The chapter aims to explain the concept of contextual factors and present the methods that can highlight them and study their influence on the risk of cancer. It is a matter of citing the main contextual elements for which there is currently evidence for their impact on cancer incidence (green spaces, road traffic noise. etc.)

XIX- Allostatic load and life-course hypothesis

This chapter explains the hypotheses of the allostatic charge and more generally the hypothesis in accordance with the social environment. It is also necessary to support the hypotheses with the most recent results that come from a cohort study or a biological and epigenetic approach.

Social gradient in patient survival in Europe

XX- Role of Screening in social gradient in breast cancer survival in Europe

This chapter reviews main reports on social disparities in breast cancer screening programmes in European countries, to evoke the main social barriers to screening, and to summarize studies assessing the impact of lower participation in the screening of deprived people on the survival of people with cancer

XXI- Role of Screening in social gradient in colorectal cancer survival in Europe


This chapter reviews main reports on social disparities in colorectal cancer screening programmes in European countries, to evoke the main social barriers to screening and to summarize studies assessing the impact of lower participation in the screening of deprived people on the survival of people with cancer

XXII- Role of Geographical remoteness This chapter reviews main reports on the influence of geographical remoteness, and distance to hospitals and other care suppliers on cancer patient survival in European countries

XXIII- Role of comorbidities in social gradient in cancer survival

This chapter reviews main reports on the potential role of comorbidity on social gradient in cancer patient survival in European countries. This chapter also argues the need of mortality tables by deprivation in European countries.

XXIV - Role of Diagnosis and Treatment in social gradient in cancer survival in Europe

This chapter reviews main reports on the potential role of comorbidity on social gradient in cancer patient survival in European countries

 

Part E - Actions and Policies

XXV - Organisation and funding of health system and social inequalities in cancer - Towards an evidence-based policy for tackling social inequalities

XXVI - Links between research in public health and public health policy. The conceptual framework of  "interventionnal research" - the place of cluster randomized trials - conceptual and methodological framework

XXVII - Social inequalities in cancer - the policy of the European Commission 
versandkostenfreie Lieferung
---
112,34 €

(inkl. MwSt.)
Lieferfrist: bis zu 10 Tage
---
Webcode: sack.de/euau9
Bitte ändern Sie das Passwort