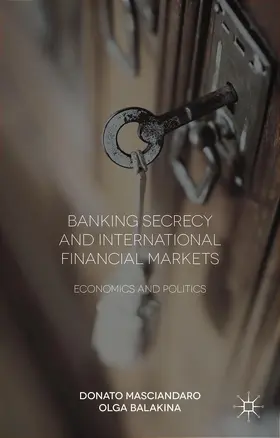 Masciandaro / Balakina
Banking Secrecy and Global Finance
Economic and Political Issues
1. Auflage 2015
ISBN: 978-1-137-40009-3
Verlag: Springer Palgrave Macmillan
Seite exportieren
---
Buch, Englisch,
283 Seiten, Gebunden, Book, Format (B × H): 147 mm x 224 mm, Gewicht: 491 g
Erhältlich auch als
Buch
Economic and Political Issues
1. Auflage 2015, 283 Seiten, Gebunden, Book, Format (B × H): 147 mm x 224 mm, Gewicht: 491 g
ISBN: 978-1-137-40009-3
Verlag: Springer Palgrave Macmillan
Seite exportieren
---
(inkl. MwSt.)
versandkostenfreie Lieferung
Lieferfrist: bis zu 10 Tage
---
---
---
---
---
---
---
A 2009 G20 official document stated that the era of banking secrecy is over but is it? If banking secrecy is the result of market mechanisms, it suggests that worldwide demand and supply are likely to remain for a long time to come.

Since the Global Financial Crisis, many countries have fought to combat banking secrecy, yet it permeates both national and international industries, and global efforts to prevent banking secrecy have been ineffective or at worst counterproductive.

In this book, the authors show how the growth of criminal activity has systematically generated a demand for banking secrecy. They explore how national politicians and international banks have been motivated to supply banking secrecy through economic and political incentives, and shed light on the economics and politics of banking secrecy. This book takes a multidisciplinary approach to reveal the variety of behaviours and processes involved in making dirty money appear clean, providing an in-depth study of financial transactions which are characterized by a special purpose: hiding the originally illegal sources.

This work will be of interest to students and scholars of economics and finance, and those with an interest in banking secrecy, global finance, international banking, and financial regulation.
Autoren


Masciandaro, Donato

Donato Masciandaro is Full Professor of Economics, holding the Chair in Economics of Financial Regulation, at Bocconi University, Milan. He is Head of the Department of Economics and Director of the Paolo Baffi Centre on Central Banking and Financial Regulation. He served as Visiting Scholar at the International Monetary Fund, as well as Consultant at the Inter-American Development Bank and at the United Nations.

Olga Balakina is a Research Assistant and PhD student in Economics and Finance at the Paolo Baffi Centre on Central Banking and Financial Regulation, Bocconi University, Italy. Her areas of interest include assets pricing, monetary policy, banking regulation and supervision and illegal financial markets.




PREFACE

INTRODUCTION

1. Is The Era of Banking Secrecy Over?
2. Banking Secrecy: Economics and Politics
3. Banking Secrecy, Regulation and Supervision
4. Banking Secrecy and International Financial Markets
5. Acknowledgements

PART ONE: BANKING SECRECY: ECONOMICS AND POLITICS

1. Introduction
2. Banking Secrecy: Microeconomics
3. Banking Secrecy: Empirics
4. Banking Secrecy: White Macroeconomics
5. Banking Secrecy: Black Macroeconomics
6. Secrecy and Black Economy: Empirics
7. Banking Secrecy: Grey Macroeconomics
8. References and Tables

PART TWO: BANKING SECRECY, REGULATION AND SUPERVISION

9. Introduction
10. Secrecy and the Specialness of Banking
11. Combating Secrecy: Information and Incentive
12. Combating Secrecy: The Relevant Players
13. Combating Secrecy: A Field Experiment
14. The Financial Intelligence Unit: Economics and Politics
14.1 Economics
14.2 Politics
15 Financial Intelligence Units: Institutional Models
16 FIUs, Supervisory Architectures and Central Banking
16.1 The Cycle in Financial Supervision : Consolidation Cycle and the FIUs
16.2 The Cycle in Central Bank Involvement in Supervision and the FIUs
16.3 Supervisory Governance and the FIUs
17 The Future of THE FIUs: The Role of September Eleven
18 References

PART THREE: BANKING SECRECY AND INTERNATIONAL FINANCIAL MARKETS

19 Introduction
20 Capital Flows and National Regulation: The Lucas Paradox
21 Explaining the Paradox
22 Testing the Paradox
22.1 Which Drivers Do Matter?
22.2 Institutional Quality: One More Step
23 Behind the Lucas Paradox: Banking Secrecy, Soft Regulation and Capital Flows
24 New Frontiers against Banking Secrecy: The Beggar Thy Neighbour Regulation
25 References

APPENDIX: FINANCIAL INTELLIGENCE UNITS IN THE WORLD

1. Introduction
2. Financial Intelligence Units: Nature and Governance

versandkostenfreie Lieferung
---
128,39 €

(inkl. MwSt.)
Lieferfrist: bis zu 10 Tage
Aufgrund der Corona-Krise kann es in Einzelfällen zu deutlich längeren Lieferzeiten kommen.
---
Webcode: sack.de/tzd7q
Bitte ändern Sie das Passwort