Wir sind für Sie erreichbar. Ihre Bestellungen nehmen wir online, per E-Mail oder Telefon gerne entgegen. Alle Informationen zur aktuellen Situation sowie Ihre Ansprechpartner finden Sie »hier.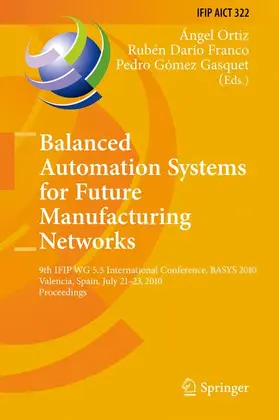 Ortiz Bas / Franco / Gómez Gasquet
Balanced Automation Systems for Future Manufacturing Networks
9th IFIP WG 5.5 International Conference, BASYS 2010, Valencia, Spain, July 21-23, 2010, Proceedings
2010
ISBN: 978-3-642-14340-3
Verlag: Springer
Seite exportieren
9th IFIP WG 5.5 International Conference, BASYS 2010, Valencia, Spain, July 21-23, 2010, Proceedings
2010,
Band: 322
310 Seiten, Gebunden, Book, Format (B × H): 162 mm x 235 mm, Gewicht: 598 g Reihe: IFIP Advances in Information and Communication Technology
ISBN: 978-3-642-14340-3
Verlag: Springer
Seite exportieren
---
(inkl. MwSt.)
versandkostenfreie Lieferung
sofort versandfertig, Lieferfrist: 1-3 Werktage
---
---
---
---
---
---
Manufacturing and operations management paradigms are evolving toward more open and resilient spaces where innovation is driven not only by ever-changing customer needs but also by agile and fast-reacting networked structures. Flexibility, adaptability and responsiveness are properties that the next generation of systems must have in order to successfully support such new emerging trends. Customers are being attracted to be involved in Co-innovation Networks, as - proved responsiveness and agility is expected from industry ecosystems. Renewed production systems needs to be modeled, engineered and deployed in order to achieve cost-effective solutions. BASYS conferences have been developed and organized as a forum in which to share visions and research findings for innovative sustainable and knowledge-based products-services and manufacturing models. Thus, the focus of BASYS is to discuss how human actors, emergent technologies and even organizations are integrated in order to redefine the way in which the val- creation process must be conceived and realized. BASYS 2010, which was held in Valencia, Spain, proposed new approaches in automation where synergies between people, systems and organizations need to be fully exploited in order to create high added-value products and services. This book contains the selection of the papers which were accepted for presentation at the BASYS 2010 conference, covering consolidated and emerging topics of the conference scope.
Herausgeber


Co-innovation Networks in Industry.- Cold Supply Chain Processes in a Fruit-and-Vegetable Collaborative Network.- Enterprise Architecture Framework with Early Business/ICT Alignment for Extended Enterprises.- Evaluation of Collaborative Enterprises Networks: Case Study of Brazilian Virtual Enterprises.- ICT for Sustainable Manufacturing: A European Perspective.- Research Issues on Customer-Oriented and Eco-friendly Networks for Healthy Fashionable Goods.- Industry Ecosystems and Emergent Business Models.- A Multi-criteria Approach to Select Suppliers Based on Performance.- COL-PMS: A Collaborative Performance Measurement System.- Forest Fire Evolution Prediction Using a Hybrid Intelligent System.- Modelling Human Resource Systems in Support of Efficient Production.- Open Services Ecosystem Supporting Collaborative Networks.- Service Entities in Manufacturing Networks.- Towards Eco-efficient Lean Production Systems.- Understanding Social Capital in Collaborative Networks.- Advanced Production Engineering.- A Framework for Developing a Web-Based Optimization Decision Support System for Intra/Inter-organizational Decision-Making Processes.- An Expert System for Inventory Replenishment Optimization.- A Threshold Based Dynamic Routing for Jobs with QoS Ranking.- Collaborative Distributed Computing in the Field of Digital Electronics Testing.- Context-Driven Decision Support in Flexible Networked Organisations.- Creation of Robust Schedule for Profit Based Cooperation.- Designing a Genetic Algorithm to Solve an Integrated Model in Supply Chain Management Using Fuzzy Goal Programming Approach.- Evaluation of Enterprise Cooperation through Information Exchange.- Impact of Coordination Mechanisms on the Collaborative Planning Process Components.- Revision to Theory of Constraints.- New Trends in Digital Factories.- Distributed Intelligent Automation Solutions for Self-adaptive Manufacturing Plants.- Exploiting Knowledge Based Systems to Support Manufacturing of Functional Food Products.- Using the Life-Cycle Paradigm to Support Factory Planning Approaches.- Agent-Based Simulation and Management of Complex Systems.- An Agent Based Information System for Project Portfolio Management.- An Agent Based Model of the Nash Demand Game in Regular Lattices.- Cloud Computing Integrated into Service-Oriented Multi-Agent Architecture.- Collaborative Tactical Planning in Multi-level Supply Chains Supported by Multiagent Systems.- Evolutionary Model of an Innovative and Differentiated Industry.- Human Attributes in the Modelling of Work Teams.- Metamodelling for Agent Based Modelling: An Application for Continuous Double Auctions.- Price-Setting Combinatorial Auctions for Coordination and Control of Manufacturing Multiagent Systems: Updating Prices Methods.- The Design of an Agent-Based Production Scheduling Software Framework for Improving Planning-Scheduling Collaboration.
versandkostenfreie Lieferung
---
98,44 €

(inkl. MwSt.)
sofort versandfertig, Lieferfrist: 1-3 Werktage
---
Webcode: sack.de/w1b69
Bitte ändern Sie das Passwort