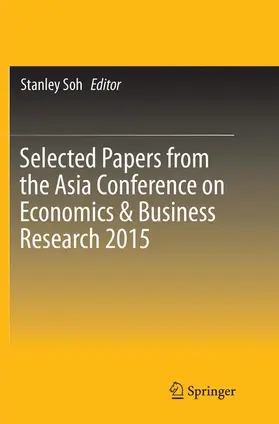 Soh
Selected Papers from the Asia Conference on Economics & Business Research 2015
Softcover Nachdruck of the original 1. Auflage 2016
ISBN: 978-981-10-9302-9
Verlag: Springer, Berlin
Seite exportieren
---
Buch, Englisch,
156 Seiten, Kartoniert, Previously published in hardcover, Format (B × H): 155 mm x 235 mm, Gewicht: 2584 g
Erhältlich auch als Buch
Softcover Nachdruck of the original 1. Auflage 2016, 156 Seiten, Kartoniert, Previously published in hardcover, Format (B × H): 155 mm x 235 mm, Gewicht: 2584 g
ISBN: 978-981-10-9302-9
Verlag: Springer, Berlin
Seite exportieren
---
(inkl. MwSt.)
versandkostenfreie Lieferung
Lieferfrist: bis zu 10 Tage
---
---
---
---
---
---
---
The book is a compilation of selected papers presented at the Asia Conference on Economics & Business Research in 2015. The peer-reviewed contributions cover topics such as microeconomics, macroeconomics, financial economics, accounting and economics, organizational behavior, marketing, business ethics, general management, strategic management, operations management and public sector management. The volume serves as a valuable resource for researchers and practitioners in the area of economics and business research in Asia.
Herausgeber


Soh, Stanley
After leaving Singapore Management University, Stanley Soh joined Aventis School of Management as Academic Director in 2014. He has held various positions including Deputy General Manager, Director of Sales & Business Development, Regional Marketing & Admissions Manager with several government and commercial higher-education institutions. As a faculty lecturer, he focuses on undergraduate and post-graduate courses at several universities and business schools, specializing in the areas of innovation, entrepreneurship, marketing and strategy formulation and execution. He has designed and implemented organizational strategies, innovative initiatives and many academic partnerships and exchange programs with universities in the USA, UK, France, China, Thailand and Australia. As Head of the Business Faculty and Academic Liaison Officer, he has also been involved in the accreditation of higher education institutions for various accreditation bodies. He holds an MBA with Distinction from Arcadia University, Philadelphia, a PGCert in Management from the University of Melbourne, Australia and a BBA from the University of Western Sydney, Australia. His research interests lie in Asian innovation, small & medium enterprises' international expansion and growth strategy.


Chapter 1: Mexican entrepreneurial culture as a key factor of success for micro, small and medium enterprises.- Chapter 2: How customer loyalty represents the future of banks: Study in banking industry in west Java, Indonesia.- Chapter 3: Improving business performance through entrepreneur motivation and value creation on small and medium enterprises.- Chapter 4: Analysis of expectation disconfirmation, students satisfaction and university image toward E-Wom intention through social media: a case study of an entrepreneurial university in Jakarta.- Chapter 5: Large controlling shareholder, corporate governance and cross-border M&A Decision: an empirical study based on listed companies in China.- Chapter 6: Forecasting patent filings at the European patent office (EPO) with a dynamic log linear regression model: applications and extensions.- Chapter 7: Cognitive and affective experience in online shopping: findings from pure-click customers in Indonesia.- Chapter 8: Discussion of factors affecting Taiwan small and medium enterprise's establishment of marketing channels in China.- Chapter 9: Does strategic planning influence synergy and therefore a firm's performance? An empirical study at selected manufacturing companies in Indonesia.- Chapter 10: Income Distribution and the 2008-2012 Economic Crisis: The Latin American Experience.- Chapter 11: Economic, ecological, and social Valuing of the Cuniculus Paca under the Ecuadorian model of good living (" Buen Vivir ").- Chapter 12: The relationship between organizational dynamics and total quality management practices of manufacturing and other related companies in the Calabarzon region, Philippines.- Chapter 13: Examining the preferences of online business course students.
versandkostenfreie Lieferung
---
171,19 €

(inkl. MwSt.)
Lieferfrist: bis zu 10 Tage
Aufgrund der Corona-Krise kann es in Einzelfällen zu deutlich längeren Lieferzeiten kommen.
---
Webcode: sack.de/r27cp
Bitte ändern Sie das Passwort