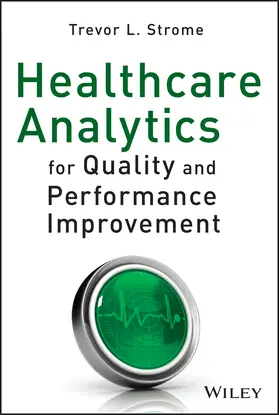 Strome
Healthcare Analytics for Quality and Performance Improvement
---
Buch, Englisch,
240 Seiten, Gebunden, Format (B × H): 101 mm x 152 mm, Gewicht: 425 g
1. Auflage 2013, 240 Seiten, Gebunden, Format (B × H): 101 mm x 152 mm, Gewicht: 425 g
ISBN: 978-1-118-51969-1
Verlag: Wiley & Sons
Seite exportieren
---
(inkl. MwSt.)
versandkostenfreie Lieferung
Lieferfrist: bis zu 10 Tage
---
---
---
---
---
---
Improve patient outcomes, lower costs, reduce fraud--all with healthcare analytics

Healthcare Analytics for Quality and Performance Improvement walks your healthcare organization from relying on generic reports and dashboards to developing powerful analytic applications that drive effective decision-making throughout your organization. Renowned healthcare analytics leader Trevor Strome reveals in this groundbreaking volume the true potential of analytics to harness the vast amounts of data being generated in order to improve the decision-making ability of healthcare managers and improvement teams.
* Examines how technology has impacted healthcare delivery
* Discusses the challenge facing healthcare organizations: to leverage advances in both clinical and information technology to improve quality and performance while containing costs
* Explores the tools and techniques to analyze and extract value from healthcare data
* Demonstrates how the clinical, business, and technology components of healthcare organizations (HCOs) must work together to leverage analytics

Other industries are already taking advantage of big data. Healthcare Analytics for Quality and Performance Improvement helps the healthcare industry make the most of the precious data already at its fingertips for long-overdue quality and performance improvement.
Autoren


Strome, Trevor L.
TREVOR L. STROME, MSc, PMP, is the Analytics and Process Improvement Lead for the Winnipeg Regional Health Authority Emergency Program. He is also Assistant Professor in the Department of Emergency Medicine, Faculty of Medicine, University of Manitoba, where he participates in clinical and operations research projects and teaches statistics, informatics, and quality improvement. Trevor has coauthored three book chapters and numerous articles on healthcare topics. He is an in-demand conference speaker and the founder and editor of a popular blog on the topic of healthcare analytics.


Preface ix

Acknolwedgments xiii

CHAPTER 1 Toward Healthcare Improvement Using Analytics 1

Healthcare Transformation--Challenges and Opportunities 1

The Current State of Healthcare Costs and Quality 3

CHAPTER 2 Fundamentals of Healthcare Analytics 15

How Analytics Can Improve Decision Making 15

Analytics, Quality, and Performance 17

Applications of Healthcare Analytics 19

Components of Healthcare Analytics 21
CHAPTER 3 Developing an Analytics Strategy to Drive Change 29

Purpose of an Analytics Strategy 29

Analytics Strategy Framework, with a Focus on Quality/Performance Improvement 32

Developing an Analytics Strategy 47

CHAPTER 4 Defining Healthcare Quality and Value 51

What Is Quality? 51

Overview of Healthcare QI 59

Common QI Frameworks in Healthcare 61

Working with QI Methodologies 73

CHAPTER 5 Data Quality and Governance 75

The Need for Effective Data Management 76

Data Quality 78

Data Governance and Management 84

Enterprise-wide Visiblilty and Opportunity 88

CHAPTER 6 Working with Data 91

Data: The Raw Material of Analytics 92

Preparing Data for Analytics 92

Getting Started with Analyzing Data 100

Summary 112

CHAPTER 7 Developing and Using Effective Indicators 115

Measures, Metrics, and Indicators 115

Using Indicators to Guide Healthcare

Improvement Activities 123

CHAPTER 8 Leveraging Analytics in Quality Improvement Activities 129

Moving from Analytics Insight to Healthcare Improvement 129

CHAPTER 9 Basic Statistical Methods and Control Chart Principles 145

Statistical Methods for Detecting Changes in Quality or Performance 145

Graphical Methods for Detecting Changes in Quality or Performance 153

Putting It Together 160

CHAPTER 10 Usability and Presentation of Information 165

Presentation and Visualization of Information 165

Dashboards for Quality and Performance Improvement 173

Providing Accessibility to and Ensuring Usability of Analytics Systems 180

CHAPTER 11 Advanced Analytics in Healthcare 183

Overview of Advanced Analytics 183

Applications of Advanced Analytics 186

Developing and Testing Advanced Analytics 190

Overview of Predictive Algorithms 197

CHAPTER 12 Becoming an Analytical Healthcare Organization 205

Requirements to Become an Analytical Organization 207

Building Effective Analytical Teams 213

Summary 215

About the Author 217

About the Companion Web Site 219

Index 221
versandkostenfreie Lieferung
---
69,90 €

(inkl. MwSt.)
Lieferfrist: bis zu 10 Tage
Aufgrund der Corona-Krise kann es in Einzelfällen zu deutlich längeren Lieferzeiten kommen.
---
Webcode: sack.de/r451n
Bitte ändern Sie das Passwort