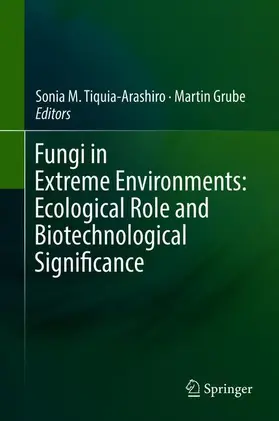 Tiquia-Arashiro / Grube
Fungi in Extreme Environments: Ecological Role and Biotechnological Significance
---
Buch, Englisch,
626 Seiten, Gebunden, HC runder Rücken kaschiert, Format (B × H): 163 mm x 239 mm, Gewicht: 1124 g
Erhältlich auch als
1. Auflage 2019, 626 Seiten, Gebunden, HC runder Rücken kaschiert, Format (B × H): 163 mm x 239 mm, Gewicht: 1124 g
ISBN: 978-3-030-19029-3
Verlag: Springer, Berlin
Seite exportieren
---
(inkl. MwSt.)
versandkostenfreie Lieferung
Lieferfrist: bis zu 10 Tage
---
---
---
---
---
---
---
Over the last decades, scientists have been intrigued by the fascinating organisms that inhabit extreme environments. These organisms, known as extremophiles, thrive in habitats which for other terrestrial life-forms are intolerably hostile or even lethal. Based on such technological advances, the study of extremophiles has provided, over the last few years, ground-breaking discoveries that challenge the paradigms of modern biology. In the new bioeconomy, fungi in general, play a very important role in addressing major global challenges, being instrumental for improved resource efficiency, making renewable substitutes for products from fossil resources, upgrading waste streams to valuable food and feed ingredients, counteracting life-style diseases and antibiotic resistance through strengthening the gut biota, making crop plants more robust to survive climate change conditions, and functioning as host organisms for production of new biological drugs. This range of new uses of fungi all stand on the shoulders of the efforts of mycologists over generations.



The book is organized in five parts: (I) Biodiversity, Ecology, Genetics and Physiology of Extremophilic Fungi, (II) Biosynthesis of Novel Biomolecules and Extremozymes (III) Bioenergy and Biofuel synthesis, and (IV) Wastewater and biosolids treatment, and (V) Bioremediation.
Herausgeber


Tiquia-Arashiro, Sonia M.
Sonia Tiquia-Arashiro is an Environmental Microbiologist and a Professor at the University of Michigan-Dearborn. Her research focuses on microbial ecology, physiology and diversity, especially regarding the nitrogen cycle and biodegradation of environmental pollutants and the biotechnological applications of microorganisms. She served as Director the Master of Science in Environmental Science Program from 2011 to 2017 and currently serves as Chair of Microbiology at UM-Dearborn. She is the regional editor of the journal Environmental Technology and leads a large research laboratory with many undergraduate scholars. Martin Grube is a professor at the Institute of Biologie, Graz, Austria. He obtained his Ph.D. in Biology from the University of Graz in 1995 for his work on taxonomy of tropical lichens and lichen-inhabiting fungi. He pioneered molecular phylogenetics of lichens and also studied of algal selectivity in lichens symbioses. Later he focused on the diversity and roles of bacterial communities in lichen symbioses. His research interests also include diversity studies of rock-inhabiting extremotolerant fungi, biological soil crusts, plant-associated microbiomes, and slime molds.



I. Biodiversity, Ecology, Genetics and Physiology of Extremophilic Fungi

Chapter 1.

Biodiversity and ecology of extremophilic fungi in natural CO2 springs

Irena Macek

 

Chapter 2.

Eukaryotic life in extreme environments: acidophilic fungi

Angeles Aguilera and Elena González-Toril

 

Chapter 3.

Ecology of thermophilic fungi

Tássio Brito de Oliveira1 and Andre Rodrigues

 

Chapter 4.

New perspectives on the distribution and roles of thermophilic fungi

Miriam I. Hutchinson, Amy J. Powell, José Herrera and Donald O. Natvig

 

Chapter 5.

Ecology and biotechnology of thermophilic/thermotolerant fungi on crops under global warming

Robert Russell M. Paterson and Nelson Lima

 

Chapter 6.

Soil microfungi of Israeli deserts: adaptations to environmental stress

Isabella Grishkan

 

Chapter 7.

Extremotolerant fungi from lichens and rocks

Claudio Gennaro Ametrano, Lucia Muggia and Martin Grube

 

Chapter 8.

Antarctic basidiomycetous yeast

Masaharu Tsuji, Sakae Kudoh, and Tamotsu Hoshino

 

Chapter 9.

Adaptation mechanisms and applications of psychrophilic fungi

Muhammad Rafiq, Noor Hassan, Maliha Rehman, and Fariha Hasan

 

Chapter 10.

Melanin and resistance to ionizing radiation in fungi

Mackenzie E. Malo and Ekaterina Dadachova

 

Chapter 11.

Fungi in biofilms of highly acidic soils

Martina Hujslová and Milan Gryndler

 

Chapter 12.

Global Proteomics of Extremophile Fungi: Mission Accomplished?

Donatella Tesei, Katja Sterflinger and Gorji Marzban

 

II. Biotechnological Applications of Extremophilic Fungi

Chapter 13.

Yeast thriving in cold terrestrial habitats: Biodiversity and industrial/biotechnological applications

Marcelo Baeza, Oriana Flores, Jennifer Alcaíno, and Víctor Cifuentes

 

Chapter 14.

Pharmaceutical and biotechnological application of thermophilic fungi

Shyam Prasad Gurram

 

Chapter 15.

Biotechnological applications of halophilic fungi; past, present and future

Imran Ali, Samira Khaliq, Sumbal Sajid, and Ali Akbar

 

Chapter 16.

Biotechnological applications of xylanases from thermophilic fungi Sporotrichum thermophile

Ayesha Sadaf, Syeda Warisul Fatima and Sunil K. Khare

 

III. Biosynthesis of Novel Biomolecules and Extremozymes

Chapter 17.

Diversity and biotechnological applications of deep-sea fungi

Muhammad Zain Ul Arifeen, Ya-Rong Xue, and Chang-Hong Liu

 

Chapter 18

Bioactive compounds from marine extremophilic fungi

Lesley-Ann Giddings and David Newman

 

Chapter 19

Synthesis of Metallic Nanoparticles by Halotolerant Fungi

Sonia Tiquia-Arashiro

 

Chapter 20

Cellulases from thermophilic fungi: Recent Insights and Biotechnological Potential

Duo-Chuan Li and Anastassios C. Papageorgiou

 

Chapter 21.

beta-Galactosidases from an acidophilic fungus, Teratosphaeria acidotherma AIU BGA-1

Kimiyasu Isobe and Miwa Yamada

 

Chapter 22.

Fungi from extreme environments: A potential source of laccases group of extremozymes

Om Prakash, Kapil Mahabare, Krishna Kumar Yadav, and Rohit Sharma

 

IV. Bioenergy and Biofuel synthesis

Chapter 23.

Lignocellulose Degrading Thermophilic Fungi and Their Prospects in Natural Rubber Extraction from Plants

Shomaila Sikandar, Imran Afzal, Naeem Ali, and Katrina Cornish

 

Chapter 24.

Thermophilic fungi and their enzymes for biorefineries

Abha Sharma, Anamika Sharma, Surender Singh, Ramesh Chander Kuhad and Lata Nain

 

 

V. Bioremediation and Biosolids Treatment

Chapter 25.

Acidomyces acidophilus:  Ecology, biochemical properties, and application to bioremediation

Wai Kit Chan, Dirk Wildeboer, Hemda Garelick and Diane Purchase

 

Chapter 26.

Bioremediation abilities of Antarctic fungi

María Martha Martorell, Lucas Adolfo Mauro Ruberto, Lucía Inés Figueroa de Castellanos, and Walter Patricio Mac Cormack

 

Chapter 27

Haloalkaliphilic fungi and their roles in the treatment of saline-alkali soil

Yi Wei and Shi-Hong Zhang

 

Chapter 28

Potential role of extremophilic fungus for extra-heavy crude oil bioconversion and the sustainable development of the petroleum industry

Leopoldo Naranjo-Briceño, Beatriz Pernia, Trigal Perdomo, Meralys González, Ysvic Inojosa, Ángela De Sisto, Hector Urbina, Vladimir León

 

Chapter 29

Thermophilic Fungi: Their Role in Composting and Industrial Processes

Sonia Tiquia-Arashiro

versandkostenfreie Lieferung
---
149,79 €

(inkl. MwSt.)
Lieferfrist: bis zu 10 Tage
---
Webcode: sack.de/zft38
Bitte ändern Sie das Passwort