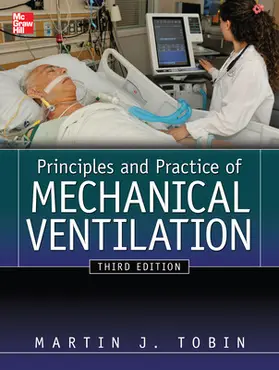 Tobin
Principles And Practice of Mechanical Ventilation, Third Edition
3 ed
ISBN: 978-0-07-173626-8
Verlag: McGraw-Hill Education - Europe
Seite exportieren
---
Buch, Englisch, Reihe:
Medical/Denistry
1472 Seiten, Gebunden, Format (B × H): 222 mm x 282 mm, Gewicht: 3293 g
3 ed, 1472 Seiten, Gebunden, Format (B × H): 222 mm x 282 mm, Gewicht: 3293 g Reihe: Medical/Denistry
ISBN: 978-0-07-173626-8
Verlag: McGraw-Hill Education - Europe
Seite exportieren
---
(inkl. MwSt.)
versandkostenfreie Lieferung
Lieferfrist: bis zu 10 Tage
---
---
---
---
---
---
Publisher's Note: Products purchased from Third Party sellers are not guaranteed by the publisher for quality, authenticity, or access to any online entitlements included with the product.The definitive guide to the use of mechanical ventilation in critically ill patients – now in full color and updated to reflect the latest advancesA Doody's Core Title for 2019!Principles & Practice of Mechanical Ventilation, 3e provides comprehensive, authoritative coverage of all the clinical, pharmacological, and technical issues surrounding the use of mechanical ventilation.Editor Martin J. Tobin – past editor-in-chief of the American Journal of Respiratory and Critical Care Medicine – has enlisted more than 100 authors, all of whom are at the forefront of research in their chosen subfield in order to provide the most authoritative and up-to-date information possible. No other text so thoroughly and comprehensively explores the myriad advances in modes and methodologies that have occurred in this ever-changing field as this cornerstone text.Features - Each chapter has been extensively revised to reflect the latest research
- A strong focus on the biomedical principles that govern ventilator management
- Expert insights from contributors in critical care, pulmonary medicine, anesthesiology, surgery, basic science, provide a unique multidisciplinary approach
- 68 chapters that explore every important aspect of mechanical ventilation, including:Conventional and unconventional methods of ventilator support;Noninvasive methods of ventilator support;Unconventional methods of ventilator support;Physiologic effect of mechanical ventilation;Complications in ventilator supported patients;Weaning of ventilator-support;Management of the ventilator-supported patient;Adjunctive therapy, including fluid management, inhaled antibiotic therapy, and bronchodilator therapy;Ethics and economicsPrinciples & Practice of Mechanical Ventilation, 3e comprehensively covers the principles and practice of keeping patients alive through the use of mechanical ventilation, along with related pharmacological and technical issues.
Autoren


Tobin, Martin
Martin J. Tobin, MD is Professor of Medicine, Pulmonary and Critical Care Medicine at Loyola University Health Systems in Chicago, Illinois.


Preface
I HISTORICAL BACKGROUND
1. Historical Perspective on the Development of Mechanical Ventilation
II PHYSICAL BASIS OF MECHANICAL VENTILATION
2. Classifi cation of Mechanical Ventilators and Modes of Ventilation
3. Basic Principles of Ventilator Design
III INDICATIONS
4. Indications for Mechanical Ventilation
IV CONVENTIONAL METHODS OF VENTILATORY SUPPORT
5. Setting the Ventilato
6. Assist-Control Ventilation
7. Intermittent Mandatory Ventilation
8. Pressure-Support Ventilation
9. Pressure-Controlled and Inverse-Ratio Ventilation
10. Positive End-Expiratory Pressure
V ALTERNATIVE METHODS OF VENTILATOR SUPPORT
11. Airway Pressure Release Ventilation
12. Proportional-Assist Ventilation
13. Neurally Adjusted Ventilatory Assist
14. Permissive Hypercapnia
15. Feedback Enhancements on Conventional Ventilator Breaths
VI NONINVASIVE METHODS OF VENTILATOR SUPPORT
16. Negative-Pressure Ventilation
17. Noninvasive Respiratory Aids: Rocking Bed, Pneumobelt, and Glossopharyngeal Breathing
18. Noninvasive Positive-Pressure Ventilation
VII UNCONVENTIONAL METHODS OF VENTILATOR SUPPORT
19. High-Frequency Ventilation
20. Extracorporeal Life Support for Cardiopulmonary Failure
21. Extracorporeal Carbon Dioxide Removal
22. Transtracheal Gas Insuffl ation, Transtracheal Oxygen Therapy, Emergency Transtracheal Ventilation
VIII VENTILATOR SUPPORT IN SPECIFIC SETTINGS
23. Mechanical Ventilation in the Neonatal and Pediatric Setting
24. Mechanical Ventilation during General Anesthesia
25. Independent Lung Ventilation
26. Mechanical Ventilation during Resuscitation
27. Transport of the Ventilator-Supported Patient
28. Home Mechanical Ventilation
29. Mechanical Ventilation in the Acute Respiratory Distress Syndrome
30. Mechanical Ventilation for Severe Asthma
31. Mechanical Ventilation in Chronic Obstructive Pulmonary Disease
32. Mechanical Ventilation in Neuromuscular Disease
33. Chronic Ventilator Facilities
34. Noninvasive Ventilation on a General Ward
IX PHYSIOLOGIC EFFECT OF MECHANICAL VENTILATION
35. Eff ects of Mechanical Ventilation on Control of Breathing
36. Eff ect of Mechanical Ventilation on Heart–Lung Interactions
37. Effect of Mechanical Ventilation on Gas Exchange
X ARTIFICIAL AIRWAYS AND MANAGEMENT
38. Airway Management
39. Complications of Translaryngeal Intubation
40. Care of the Mechanically Ventilated Patient with a Tracheotomy
XI COMPLICATIONS IN VENTILATOR-SUPPORTED PATIENTS
41. Complications Associated with Mechanical Ventilation
42. Ventilator-Induced Lung Injury
43. Ventilator-Induced Diaphragmatic Dysfunction
44. Barotrauma and Bronchopleural Fistula
45. Oxygen Toxicity
46. Pneumonia in the Ventilator-Dependent Patient
47. Sinus Infections in the Ventilated Patient
XII EVALUATION AND MONITORING OF VENTILATOR-SUPPORTED PATIENTS
48. Monitoring during Mechanical Ventilation
XIII MANAGEMENT OF VENTILATOR SUPPORTED PATIENTS
49. Prone Positioning in Acute Respiratory Failure
50. Pain Control, Sedation, and Neuromuscular Blockade
51. Humidification
52. Airway Secretions and Suctioning
53. Fighting the Ventilator
54. Psychological Problems in the Ventilated Patient
55. Addressing Respiratory Discomfort in the Ventilated Patient
56. Ventilator-Supported Speech
57. Sleep in the Ventilator-Supported Patient
58. Weaning from Mechanical Ventilation
59. Extubation
XIV ADJUNCTIVE THERAPY
60. Surfactant
61. Nitric Oxide as an Adjunct
62. Diaphragmatic Pacing
63. Bronchodilator Therapy
64. Inhaled Antibiotic Th erapy
65. Fluid Management in the Ventilated Patient
XV ETHICS AND ECONOMICS
66. The Ethics of Withholding and Withdrawing Mechanical Ventilation
67. Economics of Ventilator Care
68. Long-Term Outcomes after Mechanical Ventilation
versandkostenfreie Lieferung
---
285,50 €

(inkl. MwSt.)
Lieferfrist: bis zu 10 Tage
Aufgrund der Corona-Krise kann es in Einzelfällen zu deutlich längeren Lieferzeiten kommen.
---
Webcode: sack.de/gc3tm
Bitte ändern Sie das Passwort