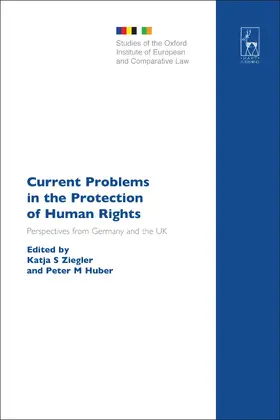 Ziegler / Huber
Current Problems in the Protection of Human Rights
Perspectives from Germany and the UK
1. Auflage 2013
ISBN: 978-1-84946-124-5
Verlag: Hart Publishing
Seite exportieren
---
---
---
---
---
---
While the legal systems of the United Kingdom and Germany differ in essential respects, the current process of 'constitutionalisation' is well recognised on both sides of the Channel. 'Constitutionalisation' manifests itself in the evolution of a constitution and the influence of existing constitutional principles on the ordinary law. Human rights law provides one of the best examples of this process, and the aim of this book is to provide a comparative UK-German perspective on recent developments. First, it addresses human rights questions which arise in both jurisdictions in a similar way such as the tension between liberty and security, absolute rights such as human dignity and the prohibition of torture, and the question how conflicts between human rights are to be resolved and conceptualised. A second theme considers the impact of human rights on different areas of law, in particular administrative law, criminal law, labour law and private law generally. Finally, a third theme focuses on the intersection of national, supra- and international human rights law, in particular after the entry into force of the EU Charter on Fundamental Rights. The book thus reveals convergent and divergent answers to similar problems, examines differences in the impact of human rights on the legal systems under consideration, and traces parallel and distinct debates over and sensitivities about, human rights as well as sensitivities that arise in multi-layer situations in the UK and Germany.
Herausgeber


Ziegler, Katja S
Katja S Ziegler is Sir Robert Jennings Professor of International Law at the University of Leicester.

Huber, Peter M
Peter M Huber is Professor of Law at the Ludwig-Maximilians-Universität Munich and Justice of the Federal Constitutional Court of Germany.


1. Introduction: Current Problems in the Protection of Human Rights - Perspectives from Germany and the UK
Katja S Ziegler and Peter M Huber
Part One Constitutionalisation by Human Rights in Specific Areas of Law
2. Human Rights and Criminal Law: An Ambivalent Relationship - Perspectives of the German Bundesverfassungsgericht and the European Court of Human Rights
Frank Zimmermann
3. Eroding the Structure of the Convention? The Public Interest in Prosecutions for Serious Crime 31
Andrew Ashworth
4. The 'Constitutionalisation' of Labour Law: Possibilities and Problems
ACL Davies
5. The Human Rights Act 1998, Horizontality and the Constitutionalisation of Private Law
Alison L Young
6. Constitutionalisation of the Freedom of Contract in European Union Law
Carsten Herresthal
7. Anti-discrimination Legislation - A Paradigm Shift in the Protection of Human Rights?
Peter M Huber
8. The Human Rights Act 1998 and the Development of Administrative Law in the United Kingdom
Anthony Bradley
Part Two Balancing Human Rights
9. Human Rights Protection in Multipolar Legal Relationships
Sophie-Charlotte Lenski
10. Empirical Research in Rights-based Judicial Review of Legislation
Paul Yowell
Part Three Absolute Rights: The Example of Human Dignity
11. 'Human Dignity Shall Be Inviolable' - Dealing with a Constitutional Taboo
Sebastian Unger
12. The National Identity of the Member States in Europe and the Jurisprudence of the Court of Justice of the European Union: Starting from Omega
Jan Kalbheim
Part Four Human Rights and Anti-terrorism Measures
13. Preventive Information Search by the Police as an Anti-terrorism Measure - The German Perspective
Foroud Shirvani
14. Terrorism, Secrecy and Human Rights
Patrick Birkinshaw