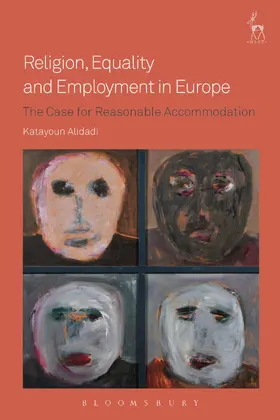 Alidadi
Religion, Equality and Employment in Europe
The Case for Reasonable Accommodation
Erscheinungsjahr 2019
ISBN: 978-1-5099-3312-9
Verlag: Hart Publishing
Seite exportieren
---
Buch, Englisch,
320 Seiten, Kartoniert, Format (B × H): 156 mm x 234 mm, Gewicht: 454 g
The Case for Reasonable Accommodation
Erscheinungsjahr 2019, 320 Seiten, Kartoniert, Format (B × H): 156 mm x 234 mm, Gewicht: 454 g
ISBN: 978-1-5099-3312-9
Verlag: Hart Publishing
Seite exportieren
---
---
---
---
---
---
The management of religious and ideological diversity remains a key challenge of our time - deeply entangled with debates about the nature of liberal democracy, equality, social cohesion, minorities and nationalism, security and foreign policy. This book explores this challenge at the level of the workplace in Europe. People do not surrender their religion of belief at the gates of their workplace, nor should they be required to do so. But what are the limits of accommodating religious belief in the workplace, particularly when it clashes with other fundamental rights and freedoms?

Using a comparative and socio-legal approach that emphasises the practical role of human rights, anti-discrimination law and employment protection, this book argues for an enforceable right to reasonable accommodation on the grounds of religion and belief in the workplace in Europe. In so doing, it draws on the case law of Europe's two supranational courts, three country studies -Belgium, the Netherlands and the UK - as well as developments in the US and Canada. By offering the first book-length treatment of the issue, it will be of significance to academics, students, policy-makers, business leaders and anyone interested in a deeper understanding of the potentials and limits of European and Western inclusion, freedom and equality in a multicultural context.

Awarded an honourable mention from the International Academy of Comparative Law for the 2018 Canada Prize!
Autoren


Alidadi, Katayoun
Katayoun Alidadi is an Assistant Professor of Legal Studies at Bryant University (Smithfield, RI, USA) and a Research Associate at the Max Planck Institute for Social Anthropology (Halle, Germany). Her work focuses on human rights, conflict of laws, employment law and the intersections of law and religion. She was awarded the 2013 Ius Commune Prize for her research on reasonable accommodation for religion and belief. Katayoun holds a PhD in law from the KULeuven (Leuven, Belgium) and an LL.M. from Harvard Law School (Cambridge, MA, USA).


Introduction: Religion and Employment in Europe. Thick Identities Colliding with Muscular Liberalism
I. The Turn Towards Religion and Accommodation
II. Scope of Analysis and Overview
III. Reasonable Accommodation: Typology, Hard Cases, Substantive Equality and Decommodification
IV. Liberalism, Thick Identities and Coping Mechanisms

PART I. Freedom of Religion out of its Comfort Zone. Religion in the Workplace and Europe's Two Supranational Courts
Manoeuvring a Multi-layered Fundamental Rights Architecture
1. Religion or Belief in the Workplace under the Human Rights Framework
I. Human Rights, Religious Freedom and Diversity
II. The European Convention on Human Rights and the ECtHR
2. The EU and Religion or Belief in the Workplace: From the Rapid Rise of EU Non-Discrimination Law to the Limits of Market-Rationalised Equality Law
I. Introduction: The EU 'Fundamental Rights Revolution'
II. The CJEU and Religious Accommodations in the Workplace

PART II. Religion or Belief in the Belgian, Dutch and British Private Sector Workplace: Between Assimilation Demands and Reasonable Accommodation
European Country Studies: The Importance of Contextualisation
3. The (Non-)Accommodation of Religious Dress in the European Workplace
I. Introduction
II. Religious Dress in the Employment Context in Belgium: Judgment-Proof Restrictive Employer Practices
III. Accommodation of Religious Dress in the Dutch Workplace: Illustrating the Divergent General and Special Effects of Anti-Discrimination Law
IV. Accommodating Religiously Distinct Dress in the British Workplace: Progressive Case Law and
'Flexible Tolerance' on the Ground
V. Comparison: Corporate Neutrality Policies and the Uneven Rooting of Reasonable Accommodation
4. Conflicting Religion-Worktime Demands: Is Europe Keeping Up with the Times?
I. Introduction: Intersection of Human Rights and Working Time Regulation
II. Belgian Case Law on Religion-Worktime Conflicts
III. Dutch Case Law on Religion-Worktime Conflicts
IV. British Case Law on Religion-Worktime Conflicts
V. Conclusion
5. Religious Affiliation Discrimination and Miscellaneous Accommodation
I. Introduction
II. Religious Affiliation Discrimination: The Thin Heart of the Matter?
III. Negative Work Environment and Harassment; Proselytising in the Workplace
IV. Objections to Job Duties Grounded on Religion or Belief
V. Let's Shake on it? Social and Gender Relations in the Workplace
VI. Religious Prayer and Dietary Considerations in the Workplace
6. Country Study Insights and Reasonable Accommodation
I. The Limits of the Law
II. The Added Value of Reasonable Accommodation for Religion and Belief in the European Context
III. Arguments Against Reasonable Accommodation and Rebuttal