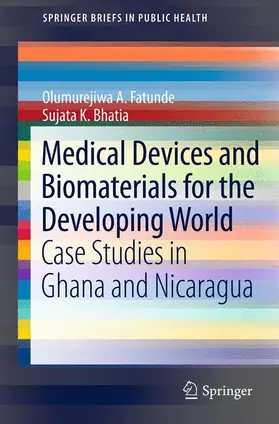 Bhatia / Fatunde
Medical Devices and Biomaterials for the Developing World
Case Studies in Ghana and Nicaragua
1. Auflage 2012
ISBN: 978-1-4614-4758-0
Verlag: Springer
Seite exportieren
---
---
---
---
---
---
---
This book focuses on the adoption of medical technology in the developing world, and the role that can be played by new biomaterials. These authors urge that advanced technology be aligned with the needs of developing and emerging markets, and an alternative definition of technology  be embraced. This "new technology" considers natural sources of materials and tools for treatment and is not restricted to the usual traditional computerized or electronic technology.
This book explores the difficulties that accompany successful transfer of technologies between disparate settings. The book then leaves the world of traditional technology and focuses on biomaterials, which represent an enormous opportunity for developing societies to become active participants in the development of new technologies. Biomaterials can be  used in the treatment of disease throughout the developing world and beyond. Biomaterials encompass a range of naturally derived substances; of particular interest here are naturally derived and synthetically manufactured materials with potential applications in different body systems. Because many of these materials can be grown, the agricultural output of developing nations is an obvious potential source of these biomaterials. The book considers the cases of Ghana and Nicaragua as examples of the broader situation in West Africa and Central/South America. These two regions are uniquely positioned with regard to both health care and technological capabilities, and both stand to grow significantly in the coming years. While the agricultural sectors of the two nations are quite different, both are major producers of corn and other materials that should be investigated further. Of course, the difficulty in using a foodstuff for medical purposes is fully explored.
Bhatia, Sujata K.
Prof. Sujata Bhatia is Assistant Director for Undergraduate Studies in Biomedical Engineering at Harvard University.

Olumurejiwa Fatunde is a graduate student in International Health Policy at the London School of Economics. She  graduated from Harvard University with an AB in biomedical engineering.



Chapter 1. Introduction

Chapter 2. Case study of Ghana

Chapter 3. Case study of Nicaragua

Chapter 4. Corn and soy-derived materials: Properties and potential clinical applications

Chapter 5. Feasibility study of corn- and soy-derived materials

Chapter 6. Discussion, recommendations, and conclusion

Appendix A: Images from health facilities in Nicaragua

Appendix B: Medical technology score

Appendix C: Calculation of the essentiality score

Appendix D: Visual cytotoxicity ratings

Bibliography