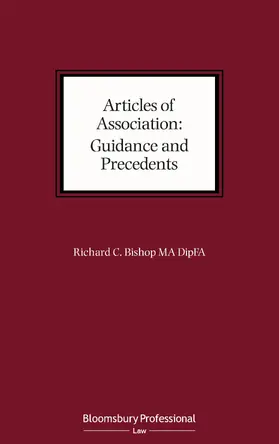 Bishop
Articles of Association: Guidance and Precedents
---
Buch, Englisch,
320 Seiten, Kartoniert, Format (B × H): 156 mm x 248 mm
Erscheinungsjahr 2020, 320 Seiten, Kartoniert, Format (B × H): 156 mm x 248 mm
ISBN: 978-1-5265-1432-5
Verlag: Bloomsbury
Seite exportieren
---
---
---
---
---
---
Nearly four million companies incorporated in the UK allow their constitution or company rule book to be dictated by the standard Articles of Association.

Designed to aid professional advisers, directors and shareholders make better decisions about any company's constitution, this book provides:

- The background to the articles of association, the Company Law act 2006, business structures and their needs.
- A review of the case law and the implications for amending the articles of association
- A detailed analysis of the default Articles of association proscribed in The Companies (Model Articles) Regulations 2008 Table A.
- A guide to drafting articles of association, real life examples and discussions on why companies should adapt Table A to suit specific company requirements.

Solicitors and accountants will have the tools to confidently advise clients on how the articles of association impacts on the company and with clever drafting how the constitution of the company can be amended to provide clear provisions to suit its strategic position.

For those who may wish to consider changing the constitution of their own company, the book is full of practical examples, together with do's and don'ts, and illustrations and full procedures for trustees, family investment and property companies providing guidelines for minority shareholders, investors and directors.
Autoren


Bishop, Richard
Richard Bishop has been involved financial services for over 20 years, working with property owners, wealthy families and SME's advising on tax mitigation and estate planning.

He has taught financial services and company law degree programs at Coventry University and lectured in Marketing at Wolverhampton University.

He has also written as columnist for the FT Adviser, Money Marketing and Professional Adviser.


Chapter 1: Introduction
- Company Law
- Tax, CGT and Corporation Tax
- Current Legislation

Chapter 2: Incorporation and the Company
- Brief History of the Limited Company
- Overview to Incorpration and Legal Entity
- Five Types of Company
- Limited/Unlimited by Share Capital

Chapter 3: Articles of Association Background
- History - The Joint Stock Companies Act, 1856
- Latest model articles
- For companies incorporated before 28 April 2013:

- For companies incorporated on or after 28 April 2013:

- Model articles for private companies limited by shares
- Model articles for private companies limited by guarantee
- Model articles for public companies

Chapter 4: Shareholders
- Articles of Association impact on shareholder rights
- Shareholder Rights. Dividends, Voting, Winding Up
- Democracy of the Company
- Voting Rights
- Special Resolutions - Ordinary Resolution and a Special Resolution.
- Altercations of Class Rights

Chapter 5: Case Law Review
- Review of the leading test cases, implications on the articles of association

Chapter 6: Amending the Articles of Association
- Part A - Overview
- Why change?
- Key Arears to Review & Amend
- Drag Along, Tag Along, Bad Leavers, Shareholders & Prescribed Particulars
- How to change?
- Special Resolution

Chapter 7: Article of Association Worked Examples
- Introduction BPR, when BPR in not available.
- Practical Do's & Don'ts (based on case law)
- ABC Ltd
- XYZ Ltd
- Family Investment Companies
- Freezer Shares and the importance of amending Articles of Association
- Succession and IHT Planning