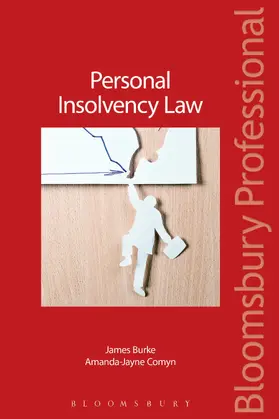 Burke / Comyn
Personal Insolvency Law
---
Buch, Englisch,
442 Seiten, Kartoniert, Format (B × H): 156 mm x 234 mm
1. Auflage 2014, 442 Seiten, Kartoniert, Format (B × H): 156 mm x 234 mm
ISBN: 978-1-84766-486-0
Verlag: Bloomsbury
Seite exportieren
---
---
---
---
---
---
This new title covers a very important area of law in the current economic climate. Currently, the personal insolvency legislation is being reformed in Ireland. The area has not seen such a change in decades, the last significant piece of legislation being the Bankruptcy Act 1988. The Personal Insolvency Act 2012 radically changed the law relating to personal insolvency and bankruptcy in Ireland. The main impact of the Act is that it introduces the establishment of a State-run Insolvency Service to operate the new non-judicial insolvency arrangements. This very timely title covers all the elements of the new legislation, the EU and cross-border aspects.

Contents:

Introduction to Personal Insolvency: Overview and Recent Developments
Types of Personal Insolvency: Creditor's Petition; Debtor's Petition; Compositions and Arrangements;
E.U. Position and Insolvency Regulations: Recognition of foreign bankruptcies; Registration of foreign bankruptcies; Effect of registration; All documents required to be Appendixed;
Process of Bankruptcy: In depth analysis of the process including Appendices of all documents required etc.; Step-by-step guideline to process;
How do I make myself a Bankrupt?: Background to why this should be considered; Process involved; Implications;
UK v Ireland: Difference between treatment in Ireland and UK; Trustee in Bankruptcy: process and rights over Irish situate assets of person adjudged bankrupt in the UK; COMI and benefits of changing same;
Creditor's Position: Process open to Creditor; Recourse to Creditor; Protection to Creditor; Secured v's unsecured Creditor;
Practical Implications of bankruptcy: Spouse/relatives of bankrupt; Other creditors; Bankrupt themselves; Salary of bankrupt; Assets of bankrupt; Pension of bankrupt;
Interaction with family law proceedings: Family home; Special provisions in Bankruptcy Act; Rights of Spouse; Process; Court's Attitude;
Official Assignee: Role of OA; Restrictions of OA;
Discharge of Bankrupt: Process; Restrictions; Implications for future activities;
Alternatives to Bankruptcy: Scheme of Arrangements.
Autoren


Burke, James
James Burke BCL, AITI is a practising barrister.

Comyn, Amanda-Jayne
Amanda-Jayne Comyn BL BBLS, AITI, TEP is a practising barrister. She works with Grant Thornton.


Chapter 1: Introduction
Chapter 2: Insolvency Service of Ireland (ISI)
Chapter 3: Debt Relief Notices
Chapter 4: Debt Settlement Arrangements
Chapter 5: Personal Insolvency Arrangements
Chapter 6: Court Procedures
Chapter 7: Reasonable Living Expenses
Chapter 8: Personal Insolvency Practitioners
Chapter 9: Offences
Chapter 10: Bankruptcy Act Amendments
Appendix 1: Prescribed Financial Statement
Appendix 2: Application for Debt Relief Notice
Appendix 3: Application Form for AI
Appendix 4: First Schedule Bankruptcy Act 1988
Appendix 5: DSA Application Form
Appendix 6: Section 81 Bankruptcy Act 1988
Appendix 7: Instrument Appointing a Proxy
Appendix 8: Application for Protective Certificate
Appendix 9: Form No 52A
Appendix 10: Form No 52b
Appendix 11: Form No 51
Appendix 12: Form No 52
Appendix 13: Form No 52C
Appendix 14: Form No 53
Appendix 15: Form No 52D
Appendix 16: Form No 54
Appendix 17: Form No 52E
Appendix 18: Form No 55
Appendix 19: Form No 52F
Appendix 20: Form No 56
Appendix 21: Form No 52G
Appendix 22: Form No 57
Appendix 23: Form No 52H
Appendix 24: Application Form PIP