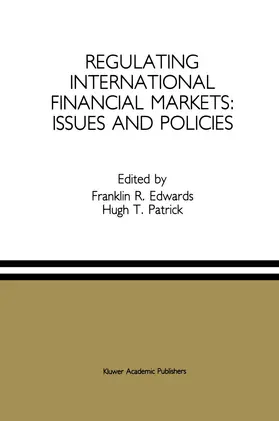 Edwards / Patrick
Regulating International Financial Markets: Issues and Policies
---
Buch, Englisch,
317 Seiten, Gebunden, HC runder Rücken kaschiert, Format (B × H): 157 mm x 229 mm, Gewicht: 680 g
Erhältlich auch als Buch
1992, 317 Seiten, Gebunden, HC runder Rücken kaschiert, Format (B × H): 157 mm x 229 mm, Gewicht: 680 g
ISBN: 978-0-7923-9155-5
Verlag: Springer Netherlands
Seite exportieren
---
(inkl. MwSt.)
versandkostenfreie Lieferung
Lieferfrist: bis zu 10 Tage
---
---
---
---
---
---
Franklin R. Edwards Hugh T. Patrick As the 19908 unfold, we stand on the threshold of a new age of global financial markets. The seeminglyinevitable, market-driven dynamicofthe international integration of banking, securities, and futures markets is bringing about a profound transformation of financial flows and the efficiency and effectiveness of the domestic and international markets serving them. Propelled in the 1980s by a variety offorces-technological, economic, political, and (de)regulatory-the implications of international financial market integration are pervasive. This new era promises to raise a host of new public and business policy issues as well as opportunities. These include issues of financial market integrity, international competitiveness, and regulatory harmony. What will the rules of the game be? How will prudential concerns for the safety as well as the efficiency of international financial markets, and their national counterparts, be met? What are the appropriate new institutional arrangements? How and to what degree will international financial mar kets be supervised, harmonized, and regulated, and for what purposes? Whowill be makingthese decisions andimplementingthem?Thesearethe issues that confront-and bedevil-policymakers, practitioners, and scho lars alike. 1 2 INTRODUcnON The Context The 1980s were witness to major transformations of the international political, economic, andfinancial environment. Amongthe majordevelop ments was rapidly increasing international financial market integration across major nations and across financial product markets. The major sources of financial change were several, interrelated, and reinforcing.
Herausgeber


I The Evolving International Financial Environment.- 1 Global Financial Markets: The Past, The Future, and Public Policy Questions.- 2 The Telecommunications and Information Revolution: Implications for Financial Markets, Trading Systems, and Regulation.- 3 The Financial System and Global Socioeconomic Structural Changes.- II Banking and Financial Intermediary Markets.- 4 Japanese Banking, Financial Markets, and Competitive Equality.- 5 Banking in the United Kingdom and Continental Europe.- 6 Banking and Financial Intermediary Markets in the United States: Where From, Where To?.- 7 Financial Intermediation and Liberalization in Japan.- III Securities Markets.- 8 Internationalization and Regulation of the World's Securities Markets.- 9 Japanese Securities Markets and Global Harmonization.- 10 Reflections on the CFTC/SEC Jurisdictional Dispute.- IV Futures Markets.- 11 Regulation of Futures Markets in the United Kingdom.- 12 The Japanese Financial Futures Market: Present and Future Prospects.- 13 The Internationalization of Futures Markets: Issues for U.S. Markets.- V International Clearance, Settlement, and Payment Procedures: The Role of Regulation.- 14 Automation of the Financial Markets: Implications for Clearance, Settlement, and Payment Procedures.- 15 Twenty-Four Hour Trading, Clearance, and Settlement: The Role of Banks.- 16 Screen-Based Trading in Japanese Financial Markets.- 17 Cooperative Approaches to Reducing Risks in Global Financial Markets.- VI Is There a Systemic Risk Problem in International Financial Markets?.- 18 Systemic Risk in International Securities Markets.- 19 Government Officials as a Source of Systemic Risk in International Financial Markets.- 20 Systemic Risk and International Financial Markets.- VII National Autonomy Versus International Cooperation.- 21 Competition Versus Competitive Equality in International Financial Markets.- 22 Regulatory Harmonization To Achieve Effective International Competition.- 23 Regulating Global Financial Markets: Problems and Solutions.
versandkostenfreie Lieferung
---
171,19 €

(inkl. MwSt.)
Lieferfrist: bis zu 10 Tage
Aufgrund der Corona-Krise kann es in Einzelfällen zu deutlich längeren Lieferzeiten kommen.
---
Webcode: sack.de/btw8f
Bitte ändern Sie das Passwort