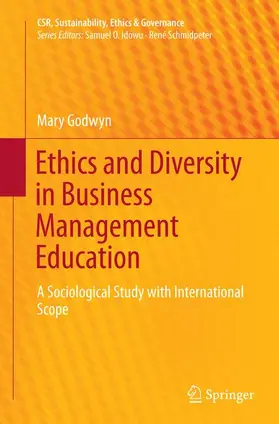 Godwyn
Ethics and Diversity in Business Management Education
A Sociological Study with International Scope
Softcover reprint of the original 1st ed. 2015
ISBN: 978-3-662-51209-8
Verlag: Springer
Seite exportieren
A Sociological Study with International Scope
Softcover reprint of the original 1st ed. 2015, 94 Seiten, Kartoniert, Previously published in hardcover, Format (B × H): 155 mm x 235 mm, Gewicht: 174 g Reihe: CSR, Sustainability, Ethics & Governance
ISBN: 978-3-662-51209-8
Verlag: Springer
Seite exportieren
---
---
---
---
---
---
This book examines business education from the perspective of the social sciences and humanities, specifically sociology and ethics. In particular, it offers the rare combination of liberal arts and business management education which is used to investigate how aspects of business education might be responsible for and connected to the distribution of wealth that currently dominates the global economy.

Through interviews with business ethics faculty members, students, and graduates around the world, as well as attendance in business ethics classes and examination of classroom materials, the author presents patterns of theory, perspectives and outcomes from culturally and geographically diverse business schools. This research provides insights into how business ethics educators are responding to the growing diversity in student populations and the dual crises of environmental destruction and lack of ethical stewardship.

The book also discusses alternative discourses within business schools and makes recommendations for future improvements. 

Autoren


Godwyn, Mary
Mary Godwyn is an Associate Professor of Sociology in the History and Society Division at Babson College. She holds a BA in Philosophy from Wellesley College and a PhD in Sociology from Brandeis University. In addition to teaching at Babson, she has lectured at Harvard University and taught at Brandeis University and Lasell College, where she was also the Director of the Donahue Institute for Values and Public Life. Godwyn focusses on social theory as it applies to issues of inequality in formal and informal organizations. She studies entrepreneurship as a vehicle for the economic and political advancement of marginalized populations, especially women and minorities. She has published in journals such as Symbolic Interaction, Research in Social Stratification and Mobility, and the Journal of Small Business and Entrepreneurship. Her books include Minority Women Entrepreneurs: How Outsider Status Can Lead to Better Business Practices (2011) and Sociology of Organizations: Structures and Relationships (2012). In addition to scholarship and teaching, Godwyn consults to colleges and universities about the integration of entrepreneurship and liberal arts programs.



A Qualitative Study of Business Ethics: A Sociologist Walks into a Business School.- Management Theory and Business Education: Is Business Behavior Anti-Social Behavior?.- Putting Ethics in Business.- Diversity in Business: Is it Still a White (Heterosexual, Christian, Western-educated) Man's World?.- Alternative and Critical Perspectives in Business Ethics.- What Changes are already Happening in Business Management Education?.