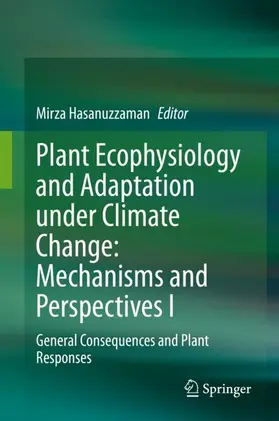 Hasanuzzaman
Plant Ecophysiology and Adaptation under Climate Change: Mechanisms and Perspectives I
General Consequences and Plant Responses
1. Auflage 2020
ISBN: 978-981-1521-55-3
Verlag: Springer, Berlin
Seite exportieren
---
Buch, Englisch,
859 Seiten, Gebunden, HC runder Rücken kaschiert, Format (B × H): 155 mm x 235 mm, Gewicht: 1472 g
General Consequences and Plant Responses
1. Auflage 2020, 859 Seiten, Gebunden, HC runder Rücken kaschiert, Format (B × H): 155 mm x 235 mm, Gewicht: 1472 g
ISBN: 978-981-1521-55-3
Verlag: Springer, Berlin
Seite exportieren
---
(inkl. MwSt.)
versandkostenfreie Lieferung
Lieferfrist: bis zu 10 Tage
---
---
---
---
---
---
This book presents the state-of-the-art in plant ecophysiology. With a particular focus on adaptation to a changing environment, it discusses ecophysiology and adaptive mechanisms of plants under climate change. Over the centuries, the incidence of various abiotic stresses such as salinity, drought, extreme temperatures, atmospheric pollution, metal toxicity due to climate change have regularly affected plants and, and some estimates suggest that environmental stresses may reduce the crop yield by up to 70%. This in turn adversely affects the food security. As sessile organisms, plants are frequently exposed to various environmental adversities. As such, both plant physiology and plant ecophysiology begin with the study of responses to the environment. Provides essential insights, this book can be used for courses such as Plant Physiology, Environmental Science, Crop Production and Agricultural Botany.
Volume 1 provides up-to-date information on the impact of climate change on plants, the general consequences and plant responses to various environmental stresses.
Herausgeber


Hasanuzzaman, Mirza
Mirza Hasanuzzaman is Professor of Agronomy at Sher-e-Bangla Agricultural University in Dhaka, Bangladesh. He received his PhD in Plant Stress Physiology and Antioxidant Metabolism from the United Graduate School of Agricultural Sciences, Ehime University, Japan, as a recipient of a scholarship from the Japanese Government (MONBUKAGAKUSHO). Later, he completed his postdoctoral research at the Center of Molecular Biosciences, University of the Ryukyus, Okinawa, Japan, as a recipient of the Japan Society for the Promotion of Science (JSPS) postdoctoral fellowship. Subsequently, he received the Australian Government's Endeavour Research Fellowship for postdoctoral research as an Adjunct Senior Researcher at the Tasmanian Institute of Agriculture, University of Tasmania, Australia. Mirza Hasanuzzaman has supervised 20 MS students. His current work is focused on the physiological and molecular mechanisms of environmental stress tolerance. Prof. Hasanuzzaman has published over 120 research publications in peer-reviewed journals. He has edited 12 books and written 45 book chapters on important aspects of plant physiology, plant stress responses, and environmental problems in relation to agricultural plants. According to Scopus®, Prof. Hasanuzzaman's publications have received roughly 4800 citations with an h index of 37 (As of April 2020). He is an editor and reviewer for more than 50 peer-reviewed international journals and was a recipient of the "Publons Peer Review Award 2017, 2018 and 2019." He has been honored by different authorities for his outstanding performance in different fields like research and education and has received the World Academy of Sciences Young Scientist Award (2014). He has attended and presented 25 papers at international conferences in many different countries (the USA, the UK, Germany, Australia, Japan, Austria, Sweden, Russia, Indonesia, etc.). Prof. Hasanuzzaman is an active member of 40 professional societies and is currently the Acting Research and Publication Secretary of the Bangladesh JSPS Alumni Association. He is also a fellow of The Linnean Society of London.


1. Climate change influences the interactive effects of the simultaneous impact of abiotic and biotic stresses on plants.- 2. Loss of Agro Bio-Diversity and Productivity Due To Climate Change in Continent Asia: A Review.- 3. Stress Implications and Crop Productivity.- 4. Impact of Climate Change on Postharvest Physiology of Edible Plant Products.- 5. Plant adaption and tolerance to environmental stresses: mechanisms and perspective.- 6. Crop growth responses towards elevated atmospheric CO2 environment.- 7. Coping with saline environment: learning from halophytes.- 8. Ecophysiology and responses of plants under drought.- 9. Strategies for drought tolerance in xerophytes.- 10. Ecophysiology and response of plants under high temperature stress.- 11. Adaptation and tolerance of wheat to heat stress.- 12. High-temperature tolerance of flowers.- 13. Assessing the effects of high night temperature on rice photosynthetic parameters: involvement of cellular membrane damage and ethylene response.- 14. Ecophysiological Responses of Plants under Metals/ Metalloids Toxicity.- 15. Ecophysiology of plants under cadmium toxicity: Photosynthetic and physiological responses.- 16. Ecophysiology and stress responses of aquatic macrophytes under metals/metalloids toxicity.- 17. Physiological, Biochemical and Molecular Responses of the plants against enhanced Ultraviolet B and Heavy Metal stress.- 18. Impact of UV radiation on photosynthetic apparatus: Adaptive and damaging mechanisms.- 19. UV-B and UV-B/white light induced inhibition of thylakoid electron transfer reactions studied by fluorescence induction and fluorescence decay: damage to donor and acceptor side components of PSII.- 20. Climate Change and Plant Abiotic Stress: Responses, Sensing and Signaling.- 21. Plant signaling under adverse environment.- 22. Plant-based Biostumulants and Plant Stress Responses.- 23. Transcription factors and plant abiotic stress responses.- 24. Ecophysiological Adaptation of Soybeans to Latitudes through Photoperiodic and Growth Habit Genes.- 25. Arsenic accumulation, compartmentation and complexation in Arthrocnemum indicum.- 26. Plant-Microbe Interactions under Adverse Environment.- 27. Breeding Plants for Future Climates.- 28. Adaptive physiological responses of plants under abiotic stresses: role of phytohormones.- 29. Biochemical and Molecular mechanism of Abiotic stress Tolerance in plants.
versandkostenfreie Lieferung
---
192,59 €

(inkl. MwSt.)
Lieferfrist: bis zu 10 Tage
Aufgrund der Corona-Krise kann es in Einzelfällen zu deutlich längeren Lieferzeiten kommen.
---
Webcode: sack.de/np87i
Bitte ändern Sie das Passwort