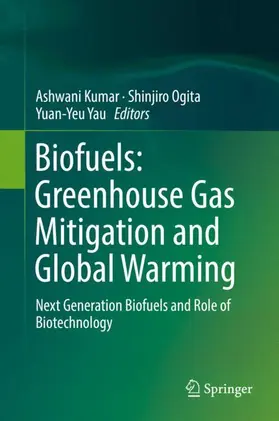 Kumar / Ogita / Yau
Biofuels: Greenhouse Gas Mitigation and Global Warming
Next Generation Biofuels and Role of Biotechnology
1. Auflage 2018
ISBN: 978-81-322-3761-7
Verlag: Springer, Berlin
Seite exportieren
---
Buch, Englisch,
432 Seiten, Gebunden, Book, Format (B × H): 162 mm x 242 mm, Gewicht: 898 g
Erhältlich auch als
Next Generation Biofuels and Role of Biotechnology
1. Auflage 2018, 432 Seiten, Gebunden, Book, Format (B × H): 162 mm x 242 mm, Gewicht: 898 g
ISBN: 978-81-322-3761-7
Verlag: Springer, Berlin
Seite exportieren
---
(inkl. MwSt.)
versandkostenfreie Lieferung
Lieferfrist: bis zu 10 Tage
---
---
---
---
---
---
---
This timely book is a compilation of edited articles by distinguished international scientists discussing global warming, its causes as well as present and future solutions. Social and economic growth at global level is measured in terms of GDP, which requires energy inputs generally based on fossil fuel resources. These, however, are major contributors to increasing levels of CO2, causing 15 tonnes of green house gas emissions per capita. Renewable sources of energy offer an alternative to fossil fuels, and would help reduce this to the 2 tonnes of greenhouse gas emissions per capita per annum needed to achieve sustainable growth. As such, the book discusses the next-generation of biofuels and all related aspects, based on the editors' significant investigations on biofuels over the last 30 years. It also presents the latest research findings from research work carried out by contemporary researchers. Presenting global biofuel perspectives, it examines various issues related to sustainable development of biofuels in the contexts of agriculture, forestry, industry and economic growth. It covers the 1st to 4th generation biofuels, as well as the status of biofuel resources and their potential in carbon neutral economy. Offering a comprehensive, state-of-art overview of current and future biofuels at local and global levels, this book appeals to administrators, policy makers, universities and research institutions.
Herausgeber


Kumar, Ashwani
Professor Ashwani Kumar MSc (Botany) Gold Medal, Ph.D. (1971) University of Rajasthan. Awarded of Alexander von Humboldt Fellowship Germany, Visiting Professorship JSPS Japan, U.K., INSA-DFG Germany. Worked in areas of plant pathology, physiology, renewable sources of energy, biofuel biotechnology, photosynthetic carbon fixation in C3 and C4 plants with support of projects granted by UGC, USDA-ICAR, MNES, CSIR, DST and DBT and FACT. Visited USA, Canada, Denmark, Italy, Netherlands, UK, Japan, France, Sweden, Spain and Portugal for research. Published around 180 papers in National and International journals. Fellow of various societies FBS, FPSI, FISMPP and FMA. Guided research to 39 students to Ph.D. Consultant of World Bank Project sanctioned to SPRI-HPPI and Biodis Spain. Published 16 books including Plant Tissue Culture-A tool in Biotechnology Basics and Application, and edited book on Fern Biotechnology both by Springer. He also has another 14 books mainly in the field of Biotechnology to his credit. He was awarded V Puri Medal 2008 for Botany and CEE award for excellence in teaching and research 2015.
Professor Shinjiro Ogita has over two decades of experience in the field of plant biotechnology. Since 1992 he started his research career as a master student at the Graduate School of Agriculture, Tokyo University of Agriculture and Technology (TUAT), Japan. In 1997, he received his Ph.D. in Agriculture (subject: sciences of resources and environment) by the United Graduate School of Agriculture, TUAT, Japan (1997). He is an expert in the field of cell and tissue culture, transformation technologies for higher plants. He has worked on the following institutes based on projects worked. 1. To elucidate embryogenic capacity of elite coniferous trees at Laboratory of Cell Manipulation, Division of Bio-resources Technology, Forestry and Forest Products Research Institute, Ministry of Agriculture, Forestry and Fisheries, Japan (October, 1997-September, 2000). 2. To establish genetically modified decaffeinated coffee plants at Laboratory of Plant Molecular Breeding, Research and Education Center for Genetic Information, Nara Institute of Science and Technology (NAIST), Japan (October, 2000-March, 2003). 3. To teach plant biotechnology, microbiology, molecular biology as Assistant Professor (2003-2006), Lecturer (2006-2010), and Associate Professor (2010-2015) at Laboratory of Plant and Cell Engineering, Biotechnology Research Center and Department of Biotechnology, Toyama Prefectural University (TPU), Japan (April, 2003- March, 2015). He presently works as a Full Professor at the Faculty of Life and Environmental Sciences, Department of Life Sciences, Prefectural University of Hiroshima (PUH), Japan (April, 2015-).Professor Yuan-Yeu Yau obtained his Master and Ph.D. from University of Wisconsin-Madison, USA. He worked as a post-doc and a Specialist at University of California-Berkeley and Plant Gene Expression Center (USDA-ARS) at Albany, California. Worked in areas of plant biotechnology, plant breeding, plant biochemistry and plant physiology. Dr. Yau worked on projects with grants supported by NSF (National Science Foundation), NIH (National Institutes of Health), USDA, Cotton Incorporated, California Fresh Carrot Advisory Board, Northeastern State University. These projects include carrot breeding for fresh market, cotton-seed gossypol (a toxic compound) removal, development of Clean-Gene technology, and development of stroke drug using molecular farming. Dr. Yau has more than 20 years of experiences in research, mentoring researchers, scholars and students. He discovered the critical gene related to carrot root sweetness, and developed co-dominant markers for screening this trait in carrot industry. Dr. Yau joined Dr. David W. Ow's team (UC-Berkeley) in developing an operation system for precision transgene integration, stacking (at same locus) and deletion (ex. removal of SMG) using microbial site


Chapter 1. Introduction.- Chapter 2. Global warming, climate change and greenhouse-gas mitigation.- Chapter 3. Historical development of biofuels.- Chapter 4. Perspective of biofuel production from different sources.- Chapter 5. Potential biomass for biofuels from wastelands.- Chapter 6. Predicting high and stable biomass production by calorirespirometry: a novel approach.- Chapter 7. Appropriate rural technologies: 1. agricultural waste to charcoal 2. strategies for biogas production from organic garbage.- Chapter 8. Biofuel production: Lignocellulosic feedstock improvement for biofuel production through molecular breeding and biotechnology.- Chapter 9. A review on first- and second-generation biofuel production.- Chapter 10. Critical evaluation of biodiesel production initiatives in India.- Chapter 11. Biofuel sector in Malaysia: challenges and future prospects.- Chapter 12. Assessment of non-plantation biomass resources potential for energy in India.- Chapter 13. Agrotechnology, production and demonstration of high quality planting material in three tier system for biofuels in semi-arid and arid conditions.- Chapter 14. Alternative biomass from saline and semi-arid and arid conditions as a source of biofuels: 1. Salicornia in Gujrat.- Chapter 15. Alternative Biomass from saline and semi-arid and arid conditions as a source of biofuels: 2. Calotropis species in Rajasthan.- Chapter 16. Potential of lignocellulosic materials for production of ethanol.- Chapter 17. Agro industrial lignocellulosic waste: an alternative to unravel the future bioenergy.- Chapter 18. Third-generation biofuel: algal biofuels as a sustainable energy source.- Chapter 19. Recent progress in the genetic engineering of biofuel crops.- Chapter 20. Bioresources and technologies that accelerate biomass research.- Chapter 21. Biotechnological research in Cryptomeria japonica.- Chapter 22. Cinnamyl alcohol dehydrogenase deficiency causes brown midrib phenotype in rice.- Chapter 23. The distribution, evolution and transposition of the mariner-like elements in bamboo.- Chapter 24. Novel molecular tools for metabolic engineering to improve microalgae-based biofuel production.- Chapter 25. Synthetic and semi-synthetic metabolic pathways for fourth-generation biofuel production: Future projections.
Professional/practitioner
versandkostenfreie Lieferung
---
235,39 €

(inkl. MwSt.)
Lieferfrist: bis zu 10 Tage
Aufgrund der Corona-Krise kann es in Einzelfällen zu deutlich längeren Lieferzeiten kommen.
---
Webcode: sack.de/729zw
Bitte ändern Sie das Passwort