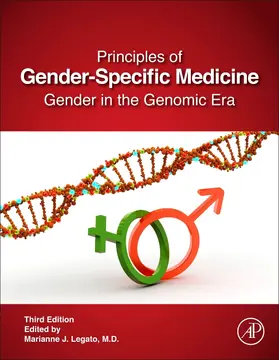 Legato
Principles of Gender-Specific Medicine
Gender in the Genomic Era
3 ed
ISBN: 978-0-12-803506-1
Verlag: Elsevier Science Publishing Co Inc
Seite exportieren
---
Buch, Englisch,
792 Seiten, Gebunden, Format (B × H): 220 mm x 284 mm, Gewicht: 2407 g

Gender in the Genomic Era

3 ed, 792 Seiten, Gebunden, Format (B × H): 220 mm x 284 mm, Gewicht: 2407 g
ISBN: 978-0-12-803506-1
Verlag: Elsevier Science Publishing Co Inc

Seite exportieren
---
(inkl. MwSt.)
versandkostenfreie Lieferung
Lieferfrist: bis zu 10 Tage
---
---
---
---
---
---
The announcement that we had decoded the human genome in 2000 ushered in a new and unique era in biomedical research and clinical medicine. This Third Edition of Principles of Gender-Specific Medicine focuses, as in the past two editions, on the essentials of sexual dimorphism in human physiology and pathophysiology, but emphasizes the latest information about molecular biology and genomic science in a variety of disciplines. Thus, this edition is a departure from the previous two; the editor solicited individual manuscripts from innovative scientists in a variety of fields rather than the traditional arrangement of sections devoted to the various subspecialties of medicine edited by section chiefs. Wherever it was available, these authors incorporated the latest information about the impact of the genome and the elements that modify its expression on human physiology and illness. All chapters progress translationally from basic science to the clinical applications of gender-specific therapy and suggest the most important topics for future investigation.

This book is essential reading for all biomedical investigators and medical educators involved in gender-specific medicine. It will also be useful for primary care practitioners who need information about the importance of sex and gender in the prevention, diagnosis and treatment of illness.

Winner of the 2018 PROSE Award in Clinical Medicine from the Association of American Publishers!



- Outlines sex-specific differences in normal human function and explains the impact of age, hormones, and environment on the incidence and outcome of illness
- Reflects the latest information about the molecular basis of the sexual dimorphism in human physiology and the experience of disease
- Reviews the implications of our ever-improving ability to describe the genetic basis of vulnerability to disease and our capacity to alter the genome itself
- Illustrates the importance of new NIH guidelines that urge the inclusion of sex as a variable in research protocols
Herausgeber


Legato, Marianne J.
Dr. Marianne Legato, Professor Emerita of Clinical Medicine at Columbia University is an internationally known academic physician, author, lecturer, and specialist in gender-specific medicine. She is founding member of the International Society for Gender Medicine and also the founder and director of The Partnership for Gender-Specific Medicine at Columbia University and its next iteration, The Foundation for Gender-Specific Medicine. She has published extensively on gender and sex specific medicine, both scientifically and for the lay public. She is also the founding editor of the journal Gender Medicine, and the journal Gender and the Genome, published for the scientific community. In 1992, Dr. Legato won the American Heart Association's Blakeslee Award for the best book written for the lay public on cardiovascular disease. She is a practicing internist in New York City and has been listed each year in New York Magazine's "Best Doctors" since the feature's inception in 1993.


1. Normal and variant sex development 2. Gender DiagnosesJack Drescher 3. Gender Identity in Disorders of Sex Development 4. Female sexual function: the role of animal models in assessing female sexual dysfunction 5. Fertility Treatment and Preservation in Transgender Men and Women 6. Standards of Care for the Health of Transsexual, Transgender and Gender-Nonconforming People: An Introduction 7. Sex-dependent and -independent Mechanisms in External Genitalia Development 8. The Transsexual Adult 9. Sexual and gender minority individuals in health care: strategies to include sexual orientation and gender identity in health professions education 10. Sex Influences Exist at All Levels of Human Brain Function 11. Sex differences in the brain: Focus on developmental mechanisms 12. Sexual dimorphisms in the nervous system of the nematode Caenorhabditis elegans 13. Oxytocin and Brain Plasticity 14. Emotion and Gender-specific neural processing in men and women 15. Behind the Mask: the experience of assessment, diagnosis and living with autism for girls and young women 16. The significance of gender in perinatal medicine 17. Intrauterine Development of Sex Differences - Fetal Programming 18. Battle of the sexes: How the selection of spermatozoa in the female reproductive tract manipulates the sex ratio of offspring 19. All Cells have a sex: Studies of sex chromosome function at the cellular level 20. Sex-specific implications of exposure to an adverse intrauterine environment 21. Immune response - Impact of biological sex and gender 22. Geoepidemiology and the Impact of Sex on Autoimmune Diseases 23. Gender and gene regulation in human immunity 24. Sex and gender specific aspects - from cells to cardiovascular disease 25. Estrogen: Impact on Cardiomyocytes and the Heart 26. The Sexually Dimorphic Characteristics of the Pathophysiology and Treatment of Atrial Fibrillation 27. Gender Differences in Chronic Obstructive Pulmonary Disease- Current Knowledge and Deficits 28. Cancer: Gender differences at the molecular level 29. An Updated Overview of the Gender-Specific Response to Infection 30. Gender Based Differences in Mortality in Indian Children Aged 5 to 14 years 31. Consideration of biological sex in translating regenerative stem cell therapies 32. Adipose-derived Stem Cells in Regenerative Medicine 33. Sex, Gender and Pain 34. Sex and gender differences in trauma victims presenting for treatment 35. Women Do Worse Than Men - Gender-Specific Differences in Burn Patients 36. Exercise physiology in Men & Women 37. Musculoskeletal complaints in male and female instrumental musicians 38. Nutritional Genomics and Biological Sex 39. Microbiome: Impact of gender on function & characteristics of gut microbiome 40. Sex and Gender Differences in Sleep Disorders: An Overview 41. Gender differences in bladder and kidney cancers 42. The complex challenge of blood pressure regulation: influences of sex and aging on sympathetic mechanisms 43. Gender at the Interface of Renal Aging: Physiological and Pathological Perspectives 44. Gender differences in mobility of elderly: Measurements and interventions to improve mobility 45. Personalized Medicine in Space Flight, Part I: The Space Context and Standard Clinical Approaches 46. Personalized Medicine in Space Flight, Part II: Personalized Precision Medicine Approaches 47. Robots and Gender 48. Cyborgs: Understanding and Mutual Treatment 49. Personalized Medicine and Challenges in Research and Clinical Implementation 50. Biological Sex Differences in Humans and their Importance in Pharmaceutical Drug Discovery and Development
versandkostenfreie Lieferung
---
156,50 €

(inkl. MwSt.)
Lieferfrist: bis zu 10 Tage
Aufgrund der Corona-Krise kann es in Einzelfällen zu deutlich längeren Lieferzeiten kommen.
---
Webcode: sack.de/3opjy
Bitte ändern Sie das Passwort