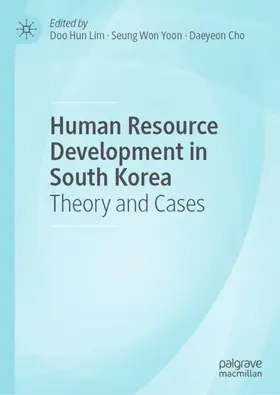 Lim / Yoon / Cho
Human Resource Development in South Korea
Theory and Cases
1. Auflage 2020
ISBN: 978-3-030-54065-4
Verlag: Springer, Berlin
Seite exportieren
---
Buch, Englisch,
288 Seiten, Gebunden, HC runder Rücken kaschiert, Format (B × H): 156 mm x 23 mm, Gewicht: 524 g

Theory and Cases

1. Auflage 2020, 288 Seiten, Gebunden, HC runder Rücken kaschiert, Format (B × H): 156 mm x 23 mm, Gewicht: 524 g
ISBN: 978-3-030-54065-4
Verlag: Springer, Berlin

Seite exportieren
---
(inkl. MwSt.)
versandkostenfreie Lieferung
Lieferfrist: bis zu 10 Tage
---
---
---
---
---
---
---
This edited book covers major trends, notable distinctions, and the challenges and needs for preparing future HRD activities in South Korea. It consists of three major sections: national and social issues of HRD, sector perspectives on HRD, and contemporary issues and trends. To cover contemporary trends and future issues, authors examine topics in diverse areas, such as the application of data analytics for HRD, action learning trends, and psychological and work climate issues affecting performance. Through theory and cases, this book will show how HRD can be successful at the organizational, industrial, and societal levels as well as the future needs required to further advance HRD in the nation.
Herausgeber


Lim, Doo Hun

Doo Hun Lim is a Professor of Adult and Higher Education at the University of Oklahoma, USA.

Seung Won Yoon is Professor of Higher Education & Learning Technologies at Texas A&M University-Commerce, USA.

Daeyeon Cho is Professor of HRD and Adult Continuing Education at Korea University, South Korea.



Chapter 1. Themes and Trends of HRD Research in South Korean Context

Doo Hun Lim, Seung Won Yoon, & Daeyeon Cho

This chapter will present the overview and synthesis of all chapters in order to guide the readers throughout the book. Three major sections will be used to describe the purpose and direction of the book: national and social issues of HRD, sector specific perspectives on HRD agenda, and contemporary issues and trends. Implications for practice and research will be briefly discussed for dealing with major issues discussed from selected chapters.



 

Part I: National and Social Issues of HRD

Chapter 2. NHRD in South Korea

Jihyun Shim, Yoonhee Park, Hui Jung Chu, & Su Jung Choi



The influence of national level policies on HRD practices has been noted significant. In order to identify the detailed information about what constitutes national HRD, this chapter will discuss the definitions of NHRD, its boundary, and a brief review about its role affecting HRD policies and practices in South Korea. The first section of the chapter will introduce the history of Korean national HRD in the following periods: 1960s, 1970s, 1980s, 1990s, 2000s and afterwards. Also, for each period, we will provide economic development, responding NHRD policies for economic development, statistics, and NHRD outcome measures. The second section will describe how Korean national HRD is deployed in terms of its systematic approach, implementation, administration, and evaluation aspects. The next section will comprise explanation on current laws and regulations overarching Korean national HRD. Also, how Korean national HRD policies are connected to labor market policies along with its achievements will be explained. Lastly, challenges and issues of recent national HRD in Korea will be presented including the limitations and new issues emerging in the labor market and industry.

Chapter 3. Aging issues and HRD in South Korea

Doo Hun Lim, Hyunok Ryu, & Chang Sung Jang

For a past decade, South Korea has faced a rapidly growing number of older employees because of aging. According to OECD, South Korea is confronting the fastest aging population among the OECD countries. The working-age population will peak in 2016 but will decrease by more than a quarter by 2050. In particular, the birth rate of South Korea has decreased quickly and aged workforce brings a critical change in the South Korean workforce. People over 65 years old will accelerate the rapid rate of aging. In 2019, 15% of the total population is aged people (older than 65 years old) (Statistics Korea, 2019). Due to the trend of a longer lifespan, many of the older generations are expected to delay their retirement to remain in the workforce. Based on these statistics, the increase of the aging workforce in the labor market has become an emerging and challenging issue for South Korean organizations. In this book chapter, we will discuss the aging issue significantly affecting the workforce of South Korea and various possible solutions to address those issues. Also, we will provide implications for future research and practice.

Chapter 4. HRD in Small and Medium-Sized Enterprises in South Korea

Sunyoung Park, Shinhee Jeong, Eun-Jee Kim

The purpose of this chapter is to examine the current South Korean policies on supporting small and medium-sized enterprises (SMEs) from the human resource development (HRD) perspective. In doing so, utilizing three core functions of HRD (i.e., training and development, organization development, and career development) as an analytic lens, we will review and discuss the governmental policies available for Korean SMEs. We will also present organizational cases on what and how the supporting policies were applied and contributed to the organizations. Lastly, we will identify both practical and research gaps and suggest future directions or recommendations in policymaking efforts. In providing future directions and suggestions, we will particularly focus on the possible HRD roles in expanding the internalization capabilities of the Korean SMEs.

 

Chapter 5. North Korean Defectors and Human Resource Development in South Korea

Junghwan Kim, Jieun You, Jinhee Choi, & Hyewon Park

This chapter aims to examine how human resource development (HRD) functions for North Korean defectors (NKDs) in South Korean society using an integrative literature review. While we analyze existing studies and technical reports regarding NKDs, we will focus on investigating "how" HRD policies and practices have managed to address the changes of the NKD population and "what" it needs to do to provide a better HRD for NKDs. The chapter will include three overarching sections, including several sub-sections: (a) overview of NKDs, (b) education and development for NKDs, and (c) future of HRD for NKDs. Our chapter will not only include a comprehensive overview of the trajectory of HRD for NKDs but also provide useful implications regarding HRD policies and practices for NKDs in South Korea.

 

Part II: Sector Perspectives

Chapter 6. Human Resource Development in Global Manufacturing: Agility and Leadership

Hae Na Kim, Sun-il Song, Yun-Hsiang Hsu

This chapter explores HRD practices in South Korea's global manufacturing company's setting. The authors of this chapter intend to provide an overview and impact of authentic leadership in South Korea's global manufacturing company which requires more agile and acceptive leaders. The company is in great needs of leaders who can provide recognition, feedback, and constant communication with general employees. Team leaders of the company are required to provide coaching for better performance and focus on performance management constantly. Reflecting this situation, the authors will interview team leaders and general employees of the company. Also, this chapter will conduct a survey find out desirable leader characteristics. This chapter will offer recommendations for other global manufacturing companies particularly about the importance of authentic leadership.

Chapter 7. Military HRD in South Korea: Current Perspectives and Future Research Agendas

Jin Lee & Junghwan Kim

Human resource development (HRD) has played a critical role in improving soldiers/veterans' careers and military organizations' capacities (Davis & Minnis, 2017; Ford, 2017; Torraco, 2016). The concept of military HRD (MHRD) has also emerged in South Korean society under its particular, sociohistorical contexts (Choi & Lee, 2007; Lee, 2005; Park, 2006; Park, 2010). However, not only the academic viewpoints about MHRD are still scattered, but also scholarly endeavors of comprehensively reflecting MHRD are limited. This chapter, therefore, aims to understand the current perspectives on MHRD using integrative literature review methods (Callahan, 2010; Torraco, 2005). Based on the classification of HRD's subfields (McGuire et al., 2012), we will examine two specific inquiries: (a) What are significant areas representing current Korean MHRD studies? (b) What are the issues that can be included in the body of Korean MHRD? We will conclude this chapter with discussions, including academic implications and future directions for MHRD.

Chapter 8. Corporate Universities: Major Engine behind the Growth and Success of HRD in South Korea

Kibum Kwon & JoHyun Kim

Particularly influential among the various factors that explain the tremendous success of South Korean industrialization are investments in human capital driven by firms and the government. More specifically, scholars consider that the rapid economic advancement of the country have been triggered by effective learning processes that have allowed individuals and organizations to obtain and utilize knowledge and skills (Bae & Rowley, 2004; Rowley & Warner, 2014). South Korean companies have adopted effective learning-by-doing processes to compete with global companies (Bae, Rowley, & Sohn, 2001). As suggested by human capital theory and its emphasis on the linear relationship between learning and earning, highly educated employees in South Korean firms may contribute to the actualization of the country's economic prosperity (Bae et al., 2001). One of the main characteristics of large South Korean firms' training and development investments is the implementation of corporate universities such as the Samsung HRD Center and the LG Academy. This chapter will present how these corporate universities are particularly common among big conglomerates or "chaebols" (Hemmert, 2012), where they promote various HRD interventions. Also, we will illustrate how corporate universities have played a significant role as learning platforms through which to manage companies' tailored HRD systems in South Korea.

Chapter 9. A New Government-Private Sector Collaboration Model of HRD in Korea: A Work and Learning Dual System Model for Talent Development

Dae Seok Chai, Sehoon Kim, & Minjung Kim

Although a continual nationwide drive to develop human resources has enabled Korea to achieve rapid economic growth, Korean society has recently faced several emerging social and economic issues at the national, organizational, and individual levels including a higher unemployment rate, a competency mismatch between the skills new employees possess and what employers require, and the required additional cost of reeducation. To address these issues, the Korean government and private organizations have cooperated to create a new government-private sector collaboration model called a work-learning dual system (WLDS). Our study explores how WLDS functions in the workplace and its influence on learning and performance outcomes at various levels through interviews with multiple stakeholders and documents collected from the organizations responsible for the implementation of WLDS.  The findings will present the key dimensions of talent development by Garavan et al. (2012), and the outcomes specified from multiple stakeholders at various levels.

Par III: Contemporary Issues and Trends

Chapter 10. Transforming HR Practices through Data Analytic Approaches

Seungwon Yoon, Chungil Chae, Sungjun Kim, Joonghak Lee, & Youngchan Cho

In some innovative organizations, HR practices are going through radical and transformational changes driven by powerful modern-day data analytic approaches. However, the speed and scope of adopting data analytic approaches in HR seem slow and narrow in comparison to other functional areas, such as manufacturing, marketing, sales, and customer relations. Why so? In examining the past, present, and the future of technology-savvy HR, this chapter will address the following questions:

·         Which data science or analytical approaches can provide what kinds of insights to the HR function?

·         Which areas of HR performance can be immediately and effectively improved from data analytic approaches?

·         What are exemplary cases of data-analytical HR?

·         What preparations are necessary for HR professionals and academic programs for HR digitization?

·         How the roles of HR will change in the connected and AI driven world?

 

Chapter 11. Research on Women in Leadership in South Korea and Implications for HRD

Yonjoo Cho & Jiwon Park

Why has South Korea's remarkable economic success failed to translate into women's corresponding status? This driving question has led us to conduct research on women in leadership in Korea since 2014 (Cho et al., 2017; Cho & McLean, 2018). In conducting interviews with 150 women leaders in the past years, we have explored the challenges and opportunities they encountered in the challenging workplace where organizational constraints and traditional values coexist. We found that women leaders are tokens (Kanter, 1977) and largely attempt to assimilate to meet men's expectations in the organization but also manage to resist in their own ways. Women leaders' efforts at assimilation and resistance in the challenging workplace are uniquely Korean phenomena, which has not been captured in research on women leaders in western contexts. Our particular attention to women leaders' resistance through rejecting dominant norms and practice, creating new norms, and going their own ways is in line with the need for "positively toned studies" (Madsen & Scribner, 2017, p. 244) that explore contexts in which the status of women is improving to provide signs of hope for the future. In this chapter, we will show how women leaders in Korea tackle challenges to create opportunities as role models for women in the leadership pipeline and provide implications for HRD research and practice.

 

Chapter 12. Psychological and Work Climate Issues Affecting Performance in South Korean Organizations

Jeonghwan Choi & Baek-Kyoo Brian Joo

Developing self-directed employees is often regarded as a key factor for achieving sustainable and continual organizational success in business. Recently, some leading business organizations have introduced and implemented autonomy supporting managerial practices. However, not all business organizations have been able to reap the benefits of those practices. The purpose of this chapter is to identify and understand the impact of employee positivity on the self-directed employees' behavior in a non-western work context. More specifically, this chapter investigates how employee perception of autonomous work environment, positive psychological capital, and self-directed behavior function to improve employee work performance in South Korean automotive manufacturing companies. Several strategic HRD interventions such as PsyCap training and performance management system improvement will be explained in enhancing self-directed employee behavior.



Chapter 13. Korean Approach to Action Learning: Current State and Future Directions

Yonjoo Cho & Hyeon-Cheol Bong

The year 2018 marked the 25th year anniversary of the launch of action learning in South Korea since LG used it for leadership development in 1993 after importing from GE in the U.S. Action learning has since boomed in the corporate sector as an innovative, experiential leadership tool (Cho & Bong, 2013; Cho, Lim, & Park, 2015) and has evolved into a powerhouse for learning and development in diverse contexts: profit, non-profit, the (central and regional) government, higher education, and K-12 schools (Cho, Bong, & Kim, 2019). In this book chapter, we will examine the current state and future directions of action learning in South Korea, particularly focusing on a uniquely Korean approach that the Korea Action Learning Association (KALA) has incorporated to diversify action learning in different contexts. After presenting qualitative and quantitative changes in action learning, we will provide three outstanding cases as exemplars in the use of action learning in business, education, and community development. We will end this chapter by discussing the import of a uniquely Korean approach to action learning whose global themes were originally founded in western contexts and provide implications for HRD research and practice.

 

Chapter 14. Confirmation Bias and Irrational Judgment: Implications for Human Resource Development (HRD) in South Korea

Ahlam Lee

Listening to others' different perspectives is a necessary skill for all people; however, in real situations, humans resist considering information contrary to their existing beliefs, a pervasive phenomenon referred to as confirmation bias (Nickerson, 1998). Confirmation bias often leads to irrational judgment (Gilovich & Griffin, 2010), which can lead to a range of undesirable outcomes, including disengagement with various stakeholders (Schneider & Shanteau, 2003). Yet the extant literature on HRD has not conceptualized well the significant role of reducing confirmation bias. With particular attention to South Korea's contemporary issues that are of interest to the general public, this study will articulate the ways in which individuals tend to choose information favoring their beliefs. To achieve the study's goal, the researcher will conduct a synthesis of various public communication sources frequented by various researchers. This study will suggest how confirmation bias training can be designed and implemented in various educational contexts.  

Chapter 15. Research Issues on HRD in South Korea: Author profiling Analysis

Daeyeon Cho & Eunsol Park

The purpose of this chapter is to present the intellectual structure on HRD research in South Korea. The author profiling, which is one of text mining techniques, is used to analyze the intellectual structure of HRD research in Korea. The intellectual structure includes information on key researchers and research groups in South Korea's HRD as a field of study. This chapter collected 1,977 papers published by 59 major authors in Korea for the past ten years (2010-2019). This chapter analyzes index from researchers' paper titles, abstracts, and keywords. Therefore, relationships between researchers and research groups are identified and discussed based on the research topics. In addition, this chapter will provide a visualization map of the intellectual structure that will help readers understand the intellectual structure of HRD in Korea.
versandkostenfreie Lieferung
---
139,09 €

(inkl. MwSt.)
Lieferfrist: bis zu 10 Tage
---
Webcode: sack.de/np4t9
Bitte ändern Sie das Passwort