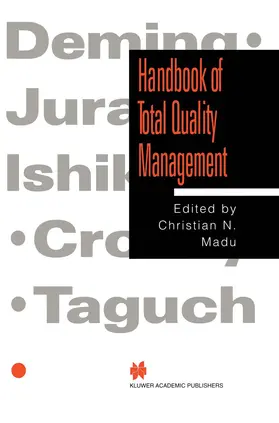 Madu
Handbook of Total Quality Management
---
Buch, Englisch,
801 Seiten, Gebunden, Format (B × H): 155 mm x 235 mm, Gewicht: 1397 g
Erhältlich auch als Buch
1998, 801 Seiten, Gebunden, Format (B × H): 155 mm x 235 mm, Gewicht: 1397 g
ISBN: 978-0-412-75360-2
Verlag: Springer
Seite exportieren
---
---
---
---
---
---
Quality issues are occupying an increasingly prominent position in today's global business market, with firms seeking to compete on an international level on both price and quality. Consumers are demanding higher quality standards from manufacturers and service providers, while virtually all industrialized nations have instituted quality programs to help indigenous corporations. A proliferation in nation-wide and regional quality awards such as the Baldridge award and certification to ISO 9000 series are making corporations world-wide quality-conscious and eager to implement programs of continuous improvement. To achieve competitiveness, quality practice is a necessity and this book offers an exposition of how quality can be attained.
The Handbook of Total Quality Management: - Explores in separate chapters new topics such as re-engineering, concurrent engineering, ISO standards, QFD, the Internet, the environment, advanced manufacturing technology and benchmarking
- Discusses the views of leading quality practitioners such as Derning, Juran, Ishikawa, Crosby and Taguchi throughout the book
- Considers important strategies for quality improvement, including initiation and performance evaluation through auditing, re-engineering, and process and design innovations.

With contributions from 47 authors in 13 different countries, the Handbook of Total Quality Management is invaluable as a reference guide for anyone involved with quality management and deployment, including consultants, practitioners and engineers in the professional sector, and students and lecturers of information systems, management and industrial engineering.
Herausgeber


1. Introduction to quality.- 2. Comparing Deming's and Juran's philosophies to the formation of total quality leaders' world views.- 3. Strategic quality planning.- 4. Quality improvement through learning curve analysis.- 5. Human resources and training.- 6. Quality management in small and medium-sized companies and strategic management.- 7. Developing attributes of quality for Internet applications.- 8. Strategic total quality management.- 9. Accounting and capital budgeting for quality.- 10. Success in AMT implementation and quality enhancement: is there a link?.- 11. Service quality.- 12. Quality, productivity and information systems.- 13. Total quality management in the supply chain.- 14. Involving the supply chain in design.- 15. Self-assessment.- 16. Process performance, appraisal and employee development planning.- 17. Introduction to ISO and ISO quality standards.- 18. TQEM - methods for continuous environmental improvement.- 19. Benchmarking: a quest for continuous improvement.- 20. Concurrent engineering.- 21. Reengineering and continuous improvement.- 22. Quality function deployment.- 23. Introduction to probability and statistics.- 24. Tools for quality control and process redesign.- 25. Statistical quality control.- 26. Design of experiments: a polymer coating process.- 27. Quality engineering: loss functions, parameter design, and robust quality.- 28. Reliability and maintainability.- 29. Total quality management in China.- 30. Total quality management in India: a tool with widening acceptance.- 31. The development of national consciousness of quality: the Singapore experience.- 32. Total quality management in Europe.- 33. Total quality management - implementation on the basis of Poland.- 34. The development of total quality management in Denmark.- 35. Total quality in Australia and New Zealand.- 36. Quality management in developing economies.- 37. Malcolm Baldrige, Deming Prize and European Quality Awards: a review and synthesis.